3 August 2022: The National Film & Television School (NFTS) is proud to be listed as one of The Hollywood Reporter's Top 15 International Film Schools of 2022 for the 12th successive year, the only UK film school featured in the round-up.
The Hollywood Reporter's annual list ranks the world's best film schools based on their reputation amongst industry professionals, the quality of teaching, facilities, filmmaking equipment, industry access and alumni achievements.
The prestigious industry bible shone a light on the recent achievements of the National Film and Television School, highlighting the launch of our "industry-first" Virtual Production course with Warner Bros. Discovery and Production Accounting Diploma with Disney, our flagship three-year collaboration with Amazon Prime and our efforts to continue championing diversity, with 32 percent of our 2022 cohort coming from ethnically diverse backgrounds.
The Hollywood Reporter also highlighted the achievements of alumni including director Lewis Arnold, composer Natalie Holt, sound mixer Richard Flynn, and director Aneil Karia for their work on Time, Obi-Wan Kenobi, The Power of the Dog and The Long Goodbye.
Other renowned international schools featured on The Hollywood Reporter's annual list include our friends at the Australian Film, Television and Radio School!
Jon Wardle NFTS Director said: "We're very pleased to maintain our position as a world leading film school by The Hollywood Reporter. The National Film and Television School consistently ranks among the top film schools globally and it always so rewarding to see our work recognised and acknowledged. These important industry accolades are indicative of the quality of training, expertise and industry connections the School provides to ensure our students can forge successful careers in film, television and games."
In light of it being our 12th year featured on the prestigious Hollywood Reporter list, check out our…
12 REASONS TO CREATE YOUR FUTURE AT
THE NATIONAL FILM AND TELEVISION SCHOOL:
1. Small is Beautiful and Highly Specialist
Become a specialist in your field and train to a high level in your pathway. The National Film and Television School offers cutting edge, dedicated workspaces for all courses, making the student experience here unparalleled.
2. Quality of Tutors
Our courses are taught by industry professionals and our tutors and Heads of Departments are some of the most successful and distinguished practitioners in the UK.
3. Amount of Teaching
At other institutions, typical postgraduate courses rack up an average of 8 hours of teaching per week. At the National Film and Television School it can be 8 hours a day! We offer extensive training, taught in small groups for focused, intense and practical tuition, which is what will make you stand out in the industry.
4. Facilities and Equipment
The National Film and Television School is the only UK institution with its own bespoke film and television studios and a recently installed cutting edge LED Wall for Virtual Production. Students shoot on a range of different cameras including Alexa's along with having access to a wide range of lighting and sound equipment. We also have multiple stages for our students to build amazing sets on including our 7,000 sq ft Main Stage.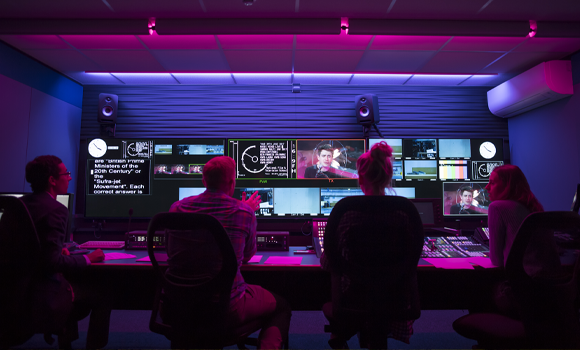 5. Unparalleled links With Industry
The School has the support of high profile industry partners including the BBC, Prime Video, Netflix, Disney, Warner Bros. Discovery, IMG, Channel 4, Sky, Pinewood Group, the BFI and many more. Companies like these help with training, funding and scholarships which proves the value they hold in what we do here while also recognising the impact our graduates have on their businesses and the shows they create.
6. Masterclasses and Q&A's
We have had some of the world's best film, television and games makers flow through the School, who make the time to encourage our students with their invaluable advice. Students have enjoyed recent access to Masterclasses and Q&A's with Lin Manuel-Miranda, Chloe Zhao, Denis Villeneuve, Phoebe Waller Bridge, David Yates, Russell T Davies, Rebecca Hall, Franklin Leonard, Phil Lord and Chris Miller, Amma Asante, Domee Shi, Danny Boyle, Louis Theroux, Asif Kapadia, Joe Wright, Neil Gaiman, Alice Seabright and Eric Roth among many others!
7. Multi-Award Winning
Not only does the School get recognised by prestigious institutions like BAFTA, which earns us spots on lists like The Hollywood Reporter's Top 15 International Film Schools year in year out, but this recognition and the recognition you will earn through the projects you make at the School will help you get noticed in the industry.
8. Over £900,000 Of Funding Available
The National Film and Television School is interested in talent and we want to ensure people from all backgrounds can come here. We know funding is a key way of making the School available to any applicant, that's why we work hard to source funding and scholarships for students across the UK. The 2022 Academy Award for Best Live Action Short Film was won by NFTS graduate Aneil Karia for his dystopic 12 minute film, The Long Goodbye with Aneil attending the NFTS with the assistance of a scholarship.
9. Over 90% Graduate Employment
We are incredibly proud of the percentage of our students that go on to work in industry jobs within the sectors they studied at the School. One example, Segun Akinola, graduated from the NFTS and within three months he was the new composer of Doctor Who. We have lots of stories like that…many students even secure jobs before they've graduated. Digital Effects MA graduate Michael Pearce was offered jobs from two leading DFX companies before he had even completed his course!
10. Friends Become Collaborators for Life
The people you meet at the NFTS can become the people you collaborate with for the rest of your working life. In the credits of Sex Education you can see multiple NFTS alumni working together including Laurie Nunn who created the show along with writer/director Alice Seabright. This was also the case with Nick Park, the creator of Wallace & Gromit. Nick met composer Julian Nott and sound designer Adrian Rhodes here at the NFTS and they still work together to this day.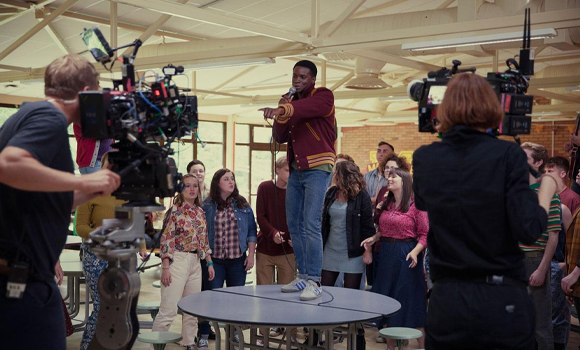 11. Our Alumni Are Sought After
Global powerhouse franchises, breakout hits and independent films all have NFTS alumni working behind the scenes. Time, the 2022 BAFTA winner for Best Mini Series was directed by Lewis Arnold, Natalie Holt became the first female composer in the Star Wars Universe on Obi Wan Kenobi, Channel 4's Derry Girls is directed by Michael Lennox and shot by Craig Dean Devine and The Power of the Dog was sound mixed by Richard Flynn.
12. The Industry Is Waiting For You!
As the boom in content continues to sky rocket along with the expansion in film and television studio space across the UK, so is the demand for highly trained professionals to create that content. The UK games industry continues to grow at its fastest rate ever and with more productions using innovative Virtual Production technology, there has never been a better time to learn a new skill or transfer existing ones, with the end goal becoming part of the exciting film, television and games industry! Head to nfts.co.uk/courses to find what suits your skillset and create your future with the National Film and Television School.
Deadlines approaching for multiple NFTS courses!
Don't miss your opportunity to study at one of the world's top film schools...
nfts.co.uk/places-available
#nationalfilmandtelevisionschool