The National Film and Television School's (NFTS) Cinematography Department was handed the Special Achievement Award at the British Society of Cinematographer's (BSC) Awards in London on Saturday 15th February.
The award is presented at the discretion of the BSC Board and is given to a person or persons for special achievement in promoting the aims of the BSC and the art of Cinematography.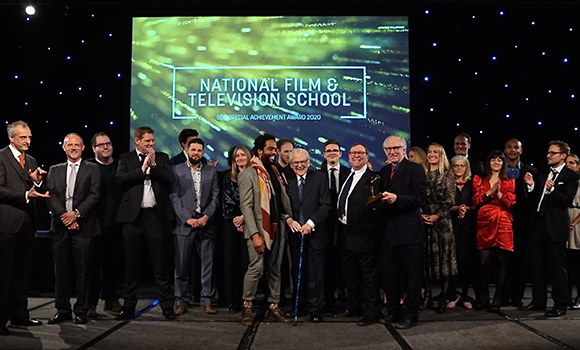 Stuart Harris and Oliver Stapleton, NFTS Heads of Cinematography, joined almost 30 alumni on stage in accepting the award and paid tribute to former Heads of Cinematography, Brian Tufano, Walter Lassally, Paddy Seale and Ernie Vincze as well as the rental and post houses that have helped the School over the years.
During the course of the evening, Brian Tufano (Head of Cinematography 2003-2016) was awarded the BSC's Lifetime Achievement award for his body of work, which includes films such as Trainspotting, Billy Elliot, Shallow Grave and Adulthood.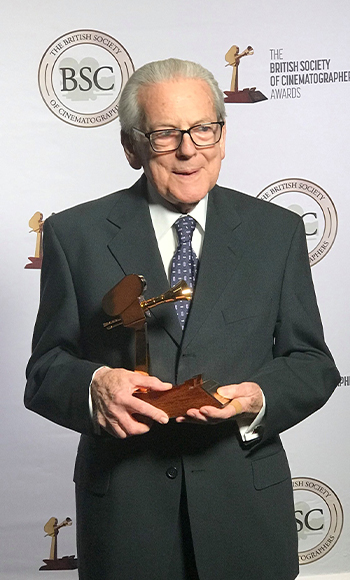 To complete the night, NFTS Cinematography alumni Roger Deakins and Jakob Ihre were awarded the Film and Television prizes; Roger for his Oscar-winning work on 1917 and Jakob for his Emmy-winning work on Chernobyl.
Oliver Stapleton, Co-Head of Cinematography commented: "We are incredibly honoured the BSC chose to recognise the NFTS Cinematography department in this way. Over 25 alumni have gone on to become BSC members and we continue to invite BSC members back so that we can continue to not only teach but explore the craft of Cinematography".
Stuart Harris, Co-Head of Cinematography said: "It was also a chance to pay tribute to those that came before us such as Walter Lassally and Brian Tufano, both of whom have helped shape the course that we run today".
Jon Wardle, NFTS Director added: "This award is brilliant. I'm so pleased the BSC have chosen to honour my amazing colleagues in Cinematography. It is testimony to their hard work and education and to the work of numerous graduates who have gone out and made their mark on the industry."
For the full list of winners click here.
Photo credit: Richard Blanchard
20/02/20