The NFTS has confirmed it is to have its first permanent Central London teaching base within the newly redeveloped headquarters of the Film and TV Charity in Golden Square, Soho.
This will give the School an opportunity to run a range of specialist courses and connect more often with those working in the capital. The British Independent Film Awards (BIFA) will also join the charity and the NFTS, taking space in the building which is set to open in early 2020.
The plans for the new industry hub will create a transformed space that will double up as a place to meet, work and explore ways to build a healthier and happier industry, creating an open and accessible hub for the film, television and cinema industry, where everyone will be welcome.
A work café will be created on the ground floor that will be open to those working in the industry, and event space and meeting rooms will be available to hire.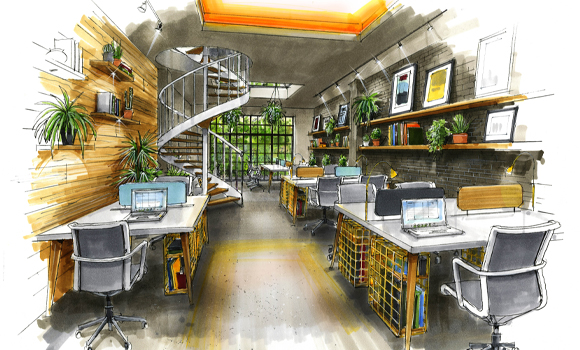 Jon Wardle, Director of the NFTS, said: "We are thrilled to be able to offer NFTS students a permanent teaching space in the heart of London. We are passionate about attracting the brightest and best to the creative industries through our courses and having a London base will amplify our staff and students' ability to connect with the industry more broadly."
The Film and TV Charity offers round-the-clock support with a range of support services and grants programmes and an industry-first Film and TV Support Line, responding to calls for help on issues including debt, depression and harassment.
The refurbishment is part of a 6-year strategy designed to offer more support to people working in the industry. In June the charity launched The Looking Glass – the UK film, cinema and TV industry's largest ever mental health and wellbeing study. The results will be published in the new year. Other tenants confirmed so far include the Auteur focused Cariad Group.
Alex Pumfrey, CEO of The Film and TV Charity, said: "Refurbishing our HQ is part of our goal to radically change the way we support individuals working in our industry. We know people feel passionately about their work, but they tell us it can be lonely and isolating too. Our aim is to create a welcoming space for everyone who works behind the scenes of film and TV to meet, work and exchange ideas. We're delighted to be welcoming the NFTS and BIFA to our new space, like-minded industry friends with shared ambitions into the building."
Now in its 22nd year, the British Independent Film Awards is a not for profit organisation that highlights, celebrates and supports the best independent British film and filmmakers.
Amy Gustin & Deena Wallace, Directors of BIFA, said: "This is an incredibly exciting opportunity for us and for independent film professionals based in and visiting London. Through extensive consultation with the industry, we know that a major problem that new and emerging filmmakers face is a lack of a suitable workplace and environment. This new space will change the way that the industry meet and work, and will allow BIFA to support the careers of Britain's most exciting new filmmakers in ground-breaking new ways."