NFTS Directing Commercials students recently took on a compelling brief from nationwide cinema chain Cineworld. They were tasked with creating a 10 second high quality film asking cinema-goers to turn their phones off before the start of a movie.
The students took on the brief with great enthusiasm, creating some very unique concepts using choirs, cardboard cut outs and even medieval guillotines!
Here, Directing Commercials student David Graham talks about bringing his idea to life using a choir and how it felt to watch his film play out on the big screen (we trust he turned his phone off beforehand!)
"My idea sees a choir rehearsing but they are all singing phone noises over the top of each other so it sounds annoying and messy. The choir leader runs in and stops them before leading them to sing 'please turn your phones off'.
I came up with the idea fairly quickly but almost discarded it as I kept thinking of others. However, I kept coming back to this concept so decided to go with it and took it to the client pitch. I used to have a job setting up community groups, choirs and clubs at an arts venue so that definitely influenced my vision.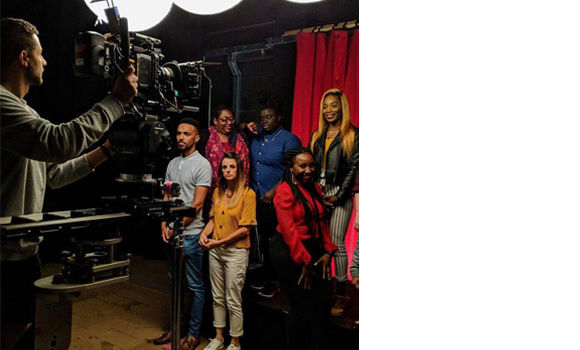 The real challenge was finding a choir, as most break up over the summer period (which is when I was looking for a group to take part). I contacted between 40 and 50 choirs in the London area and had rejections from almost all of them before a friend of mine suggested I contact a choir leader she knew. I started speaking to the leader of the Gold Vocal Collective and luckily they agreed to do it!
The film I made is now being used in Cineworld cinemas up and down the country as their pre-feature film to encourage audiences to turn off their phones. I saw it in the cinema for the first time recently when I went along to a Cineworld in Canary Wharf. It was a pretty surreal and special moment. I actually forgot that I would see it as I was preparing myself to see a movie so when it came on I dropped my popcorn! It was a bit of a shock to see something I have worked on for months actually being used for real in a public setting. It still hasn't sunk in fully that my film was picked up by Cineworld.
I'm super grateful to all the talented crew who worked on it as well as the Gold Vocal Collective for lending us their time and their talent. It was a project that was a pleasure to work on so I owe a huge thanks to Casey Cohen and his team from Cineworld for giving us such a great opportunity, seeing something in my film and giving me the best present by using it in their cinemas!"
Head of Directing Commercials Stuart Harris said: "David's idea was both brilliant and original. I am thrilled we could give him all the facilities here at the NFTS to bring it to fruition."
Casey Cohen, Head of Marketing at Cineworld added: "We were delighted to be a part of the Directing Commercials course this year. We felt privileged to work with this talented group of young film-makers who all demonstrated exceptional creativity and passion for their craft."
Watch the other films made by Directing Commercials students working to the same brief below.
The Cut Out | NFTS "Turn Your Phone Off" Cineworld Commercial
The Execution | NFTS "Turn Your Phone Off" Cineworld Commercial
Last spaces remain on the Directing Commercials Diploma for February 2020 start. For more information go to: https://nfts.co.uk/directing-commercials