26 October 2021: The National Film and Television School (NFTS) is a hub of creative activity where no one day is the same.
The experiences that each student has during their time at the School are completely unique and like the films they produce, no journey is alike. So what better way to hear about life at the School than for our students to tell you themselves!
Introducing The NFTS Dispatch, a series of blogs written by NFTS students. Inspired by the recently released The French Dispatch, written and directed by Wes Anderson, this series will explore our students own personal thoughts and experiences of their courses and the School. Made all the more relevent by the NFTS' close involvement in many Wes Anderson films. Many NFTS graduates and NFTS Model Making Course Leader John Lee have worked on multiple titles by the acclaimed director and a handful of graduates having worked on The French Dispatch itself (Compositor Gillian Simpson, Set Designer Joelle Aoun and Lead Compositor Nicolas Zisimos.)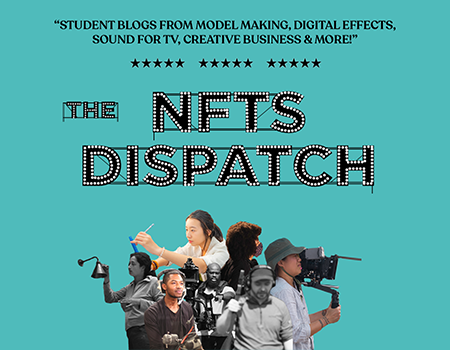 The NFTS Dispatch kicks off with Elspeth Graham, a current student on the NFTS Model Making Diploma, who started her studies in September this year. Keep reading for her insights on the course so far!
FOUR WEEKS IN...
Four weeks in and feels like half a year that existed in half a second! I am one of 12, all offering something different, yet equally useful and interesting. To paint a picture of myself: I'm 22, one of the youngest, and a recent illustration graduate. I have been 'making' since childhood, and squeezed a lot of that 'making' into my degree. I think I realised what I wanted to do when I began crying not only at sad or happy bits in films, but visually beautiful bits (pop-up book in Paddington…I'm looking at you) - but given all my experience being self-taught, I honestly wasn't sure I stood chance on gaining a place…yet here I am and, in my own way, I am a useful cog in the mechanism of the model making team who all come from somewhere different.
I think the rest of the team would agree with me in saying the reason it feels as though we have been here so long is due to the amount we have already learnt - new tools and techniques, deciding when to use them for each individual situation….and, crucially, what to do when a power cut arrives. Nothing sends model makers into a frenzy quite like the loss of power tools, extractor fans and kettles let me tell you.
Around the Model-Making-Course-with-Elspeth in Twenty Days (…geddit??) - my experiences so far, summed up:
1. Helped create an entire white card model set from 2001: A Space Odyssey at 1:6 scale…learnt that you can do a lot with a behind the scenes photo and a quick Google search of Stanley Kubrick's height to find the measurements of…most things.
2. Felt my eyes turn into literal stars every time John told us about the experiences in film he's had.
3. Listened to the score from Atonement at my desk and then literally met Dario Marianelli the very next day (life = peaked).
4. Helped to make a dent during 'Cake Gate'… in which six cakes were brought in for one singular birthday due to a miscommunication (even though just days before we had managed to communicate well enough to build the aforementioned white card model…)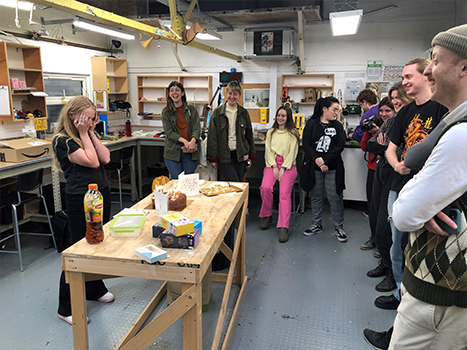 5. Learnt to plaster drag my own cornices…and that plaster dragging is a feat of serious team work and hugely satisfying.
6. Chose a highly complicated door to make at 1:6 scale..lived with the repercussions.
7. Googled 'average size of an onion'.
8. Realised that mm is the only acceptable unit of measurement.
9. Made a miniature vase on a lathe…fell in love with the lathe.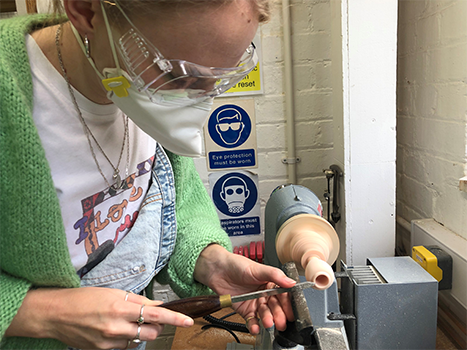 10. Discovered that despite having the upper body strength of a flea, I am more than capable of using power tools.
11. Was given a commemorative Peppa Pig mug to celebrate 50 years of the NFTS (which was created by graduate of the School Mark Baker!)
12. Gained so much knowledge my mind feels like it will burst…but in the very best way.

You can apply today for the NFTS Model Making for Animation Diploma and get the opportunity to have experiences like Elspeth!
Location Beaconsfield
Duration 1 year
Commitment Full-time
Next intake September 2022
Application deadline 5 May 2022

Scholarships available
#NFTS