The prestigious 63rd BFI Film Festival (LFF) opens today (2nd October 2019) with the eagerly anticipated gala premiere of Armando Iannucci's 'The Personal History Of David Copperfield'.
For the next 12 days, the LFF will present an impressive 229 feature films from some of the world's greatest filmmakers and emerging talent. Of these, 28 will be World Premieres, 12 International Premieres and 28 European Premieres, welcoming an impressive line-up of first-class filmmakers and acting talent.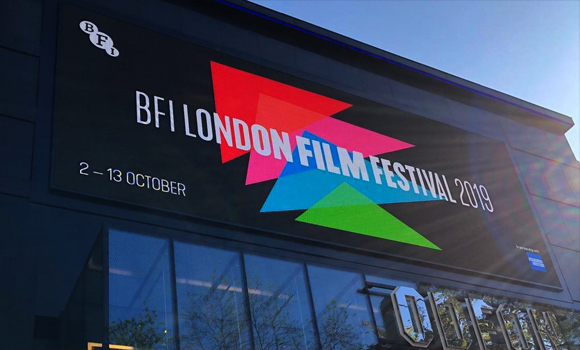 With many NFTS graduates involved across an incredible number of films including Saint Maud, Calm With Horses, Rocks, Perfect 10 and Wet Season, there is no shortage of screenings to attend!
NFTS first year students on our Film Studies, Programming and Curation MA have combined their curatorial talents to hand-pick their essential guide to the must see international and home grown films at this year's festival. Selecting, programming and reviewing films lies at the heart of their studies, with many of the students aspiring to work as curators and programmers upon graduating. Here are their LFF highlights:
I Lost My Body, directed by Jérémy Clapin, France
Part coming-of-age drama, part absurdist horror/adventure hybrid, I Lost My Body (Jai Perdu mon corps) is a strange beast of a film, one that balances poignancy with imaginative spectacle. Crosscutting between past and present, the film's parallel storylines revolve around Naoufel, a delivery boy who falls in love with a librarian he delivers pizza to one night, and his anthropomorphic, severed hand's quest to find him. It's a peculiar premise, to say the least, but Jérémy Clapin's directorial debut, which made quite a splash this year when it won the top prize in the critics selection of Cannes, takes full advantage of its animated medium to heighten the peril posed by rats, pigeons, and oncoming traffic. Yet the most surprising thing about I Lost My Body is its disarming melancholy as Naoufuel contends with trauma and grief in his own personal quest for self-fulfilment. Both slyly touching and ceaselessly inventive throughout its brisk 81-minute running time, I Lost My Body is an absolute trip that's worth taking.
(Nicholas Kouhi - twitter.com/kouhifilms @KouhiFilms)
House of Hummingbird, directed by Bora Kim, South Korea
If anyone is interested in watching an East Asian film from a new voice this year, this debut feature from the promising South Korean female director Bora Kim would be an excellent choice. It won the Grand Prix of Generation 14plus session in Berlinale, which is one of the buzziest titles among different audiences during festival tours. Eunhee is a 14 year-old girl living a bleak existence. Her invisible life is surrounded by a dysfunctional family, a feckless boyfriend and fragile friendships. This tumultuous life is unchanged until the appearance of her tutor Kim Youngji. Besides the story, the hidden torn sighs, collapse and the specific society background in 1994 are also carefully set to be reckoned with through the film. This calm tone film explores the painful but moving queer adolescence and society change through the subtle female perspective from Eunhee. I believe that this honest film will find success with the film fans in LFF.
(Xiao Gu)
Days of the Bagnold Summer, directed by Simon Bird, UK
I love a good coming-of-age film, so of course Simon Bird's Days of the Bagnold Summer, caught my eye. It tells the story of grumpy teen heavy metal fan Daniel (Earl Cave) who must spend his summer holidays with his reserved librarian mother Sue (Monica Dolan). The two must spend six excruciating weeks trying to figure out how to relate to one another. A strong premise, but I was even more attracted to the film once I heard that the soundtrack was to be provided by iconic Scottish indie-pop band Belle & Sebastian. I am really looking forward to seeing how Bird's feature length directorial debut deviates from his broad, gross-out comedy work on The Inbetweeners - although I do hope that it will maintain the well observed humour rooted in banal aspects of British life that The Inbetweeners captured so well. Bird has cited some great films such as Submarine, Rushmore and Welcome to the Dollhouse as influences. With all of this in mind, I just had to grab a ticket for this one.
(Isobel Harrop)
Ema, directed by Pablo Larrain, Chile
Three years after Jackie (2016) and the sublime Neruda (2016), the Chilean director Pablo Larrain, one of most distinctive voices of contemporary cinema, leaves the form of the biopic to create an explosive movie, a hypnotic musical-melodrama, which wants to reflect on the role of the family in today's society. The film tells the story of a young dancer named Ema (an astonishing Mariana Di Girolamo), who decides to separate from Gastón (Gael García Bernal) after giving up Polo, the son they had adopted but who were unable to grow. On the streets of the port city of Valparaíso, the girl goes in search of desperate love stories that help her overcome the guilt. We can see Ema as a modern version of Pier Paolo Pasolini's Teorema, where a bewitching figure seems able to follow only her own desire and revolutionise every pre-established order. But this work is also the complex and fascinating result of the artistic collaboration between Pablo Larrain and Nicolas Jaar, the renowned Chilean-American composer and recording artist. Ema becomes a real electronic/reggaeton jam session, as well as a film on motherhood, seen as a force of creation but also of destruction, symbolised by a fire that constantly returns to the scene.
(Nicola Passarotto – IG @nicolapassarotto)
Portrait of a Lady on Fire, directed by Céline Sciamma, France
Sciamma's directorial prowess sets the screen alight in a film that is arguably the most beautiful work of her career. Marianne (Noémie Merlant), a young painter in eighteenth century France, is commissioned by the mother of Lady Héloïse (Adèle Haenel) to paint a portrait of her daughter. With the aim of using the painting to secure a potential suitor, Héloïse constantly refuses to sit for portraits. Introduced as a walking companion, Marianne is forced to paint her subject in secret. As time passes, both women create an intimate space in which their smouldering love is threatened by the world they inhabit. With the promise of director Sciamma and cast members Merlant and Haenel to attend, Portrait of a Lady on Fire will be this year's BFI Flare Special Presentation screening in association with Sight and Sound.
(Nidhi Shukal)
Temblores and La Llorona, directed by Jayro Bustamante, Guatemala
Jayro Bustamante's previous work, Ixcanul (Volcano) was highly acclaimed in 2015 at the Berlinale, positioning the eyes of film critics in Guatemala. Now, Bustamante is back with two new features. While Temblores (Tremors in English) explores the problems of being a gay man in modern Guatemala, La Llorona is a powerful criticism of the dictatorship that took place in the same country.
(Sergio Martinez Esqueda)
A Hidden Life, directed by Terrence Malick, United States
A Hidden Life is a historical drama written and directed by Terrence Malick, winner of the Palme d'Or for Tree of Life. His latest work is about an Austrian farmer Franz Jägerstätter facing the threat of execution for refusing to fight for the Nazis during World War II. Without the battlefields and concentration camps, this war film speaks about the fight of a conscious Christian's resistance against his country's demand to comply with their order for serving the war. Competing for Palm d'Or at the Cannes Film Festival this year it hasn't received much hype, yet it's a must-watch for its call to contemporary conscience. I recommend the aisle and front seats too for the most immersive experience.
(Monica Gyamlani)
On A Magical Night, directed by Chrisophe Honore, France
I have been lucky enough to attend the Cannes Film Festival two years in a row, and both times I have blindly wandered into an incredibly charming film by director Chrisophe Honore. In 2018, it was Sorry Angel, a romantic drama about three gay men in 1980's France, and this year it was Chambre 212, or, as it's titled in English, On A Magical Night. You could describe the film as a rom-com, but rather than being about a blossoming romance, Chambre 212 is about a couple who are already married. When Maria (Chiara Mastroianni ) is caught cheating by her husband Richard (Benjamin Biolay), the two decide to spend the night apart. However, Maria does not go far - she takes up a room in a hotel directly across the street from her marital apartment, allowing her to see her estranged husband through the window. As the title suggests, something magical occurs that night, Christmas Carol style, when their ex-lovers and younger selves appear in their respective rooms, and both are forced to (literally) confront their past, present and future. It's a theatrical set up, and its whimsical style may not be to everyone's taste. However, I found this truly unique take on the realities of love and long term relationships to be a thoroughly enjoyable experience.
(Isobel Harrop)
The Warden, Directed by Nima Javidi, Iran
The second film by writer-director Nima Javidi, The Warden tells the mysterious tale of a recently evacuated prison in southern Iran, set to be demolished for a forthcoming airport, thrown into disarray when an inmate on death row inexplicably vanishes. The titular protagonist (Navid Mohammadzadeh), who has the promise of a promotion hanging in the balance, leads the search, all while finding himself in the early stages of romance with the prison social worker (Parinaz Izdayar). Navidi proved himself adept with generating tension in tight spaces with his debut feature Melbourne, and it looks like The Warden continues that tradition with a larger sandbox to play in, so to speak. Add to this its feat of winning both the Best Film and Best Actor prizes at the 21st Iran Cinema Celebration and The Warden has tremendous potential to be one of the highlights of the festival as a socially astute crowd-pleaser.
(Nicholas Kouhi - twitter.com/kouhifilms @KouhiFilms)
Monos, directed by Alejandro Landes, Colombia
As Variety says, Monos is the result of The Lord of the Flies plus Apocalypse Now in the Colombian never ending guerrilla. Its slow, surrealistic and hypnotic rhythm explores the Latin American wilderness following The Lost Boys, a guerrilla group that have an American doctor as prisoner. Since its opening at the Sundance Film Festival, Monos has been positioned as one the best Latin American films of the year.
(Sergio Martinez Esqueda)
If you have been inspired by our students' choices above, why not apply for our Film Studies, Programming and Curation MA, which is delivered in partnership with the BFI. Applications are open now until 20 Oct 2019.
https://nfts.co.uk/film-studies-programming-and-curation