In this heartfelt obituary, Lord David Puttnam and Roger Crittenden reflect fondly on memories of their much loved friend and colleague Colin Young, founding director of the NFTS who passed away on Saturday 27th November 2021 aged 94:
"Colin Young, the Founding Director of the National Film and Television School, came to that position by a circuitous route. He was fond of quoting Heraclitus: 'no man ever steps in the same river twice, for it's not the same river, and he's not the same man.' If that was his mantra as a graduate in philosophy from St. Andrews University he certainly did his best to prove it true.
Even before graduating in 1951 Colin was writing theatre and film reviews in Aberdeen, before, the following year, leaving for New York, bound it seemed to continue his studies at the University of Michigan. The six days crossing gave him time to reconsider, to the extent of continuing his journey to Los Angeles, where, penniless, he worked as a gardener to earn sufficient money to study film at UCLA.
Colin finally graduated and working as a technician, made his way up through various departments in the industry until he was commissioned to make short children's programmes for NBC before eventually being asked to return to UCLA as a teacher for six months. Those six months were extended until 1964 when he was put in charge of the Department of Theatre Arts.
Despite the politically volatile situation in California especially the student protest that accompanied Ronald Reagans' Governorship, Colin was able to guide a brilliant generation through the school, including Jim Morrison, Francis Ford Coppola, John Milius, Barry Levinson, Lawrence Kasdan, Haskell Wexler and Paul Schrader. He was particularly involved in the creation of UCLA's Ethnographic Film Program, launched in 1966 with the intention of bringing film and anthropology together, an initiative that he would build upon at Beaconsfield.
In 1970 he was invited to apply for the post of Director of the newly established National Film School in England. UCLA wanted him to do a second stint as Chairman, but he agreed to be interviewed. Not, he confessed later, because it was such a wonderful thing to start a school from scratch, but because his mother was seriously ill in Scotland, and it was an opportunity to be far closer to her than California.
Accepting a three year contract from the British Government, in the secure knowledge that he retained tenure back in California, Colin had little to lose in inventing a School dedicated to the idea, as he put it, that 'filmmakers should be missionaries for a better way of life'. This translated into 'an open curriculum' - an opportunity to learn through practice rather than be taught any predetermined approach to the craft.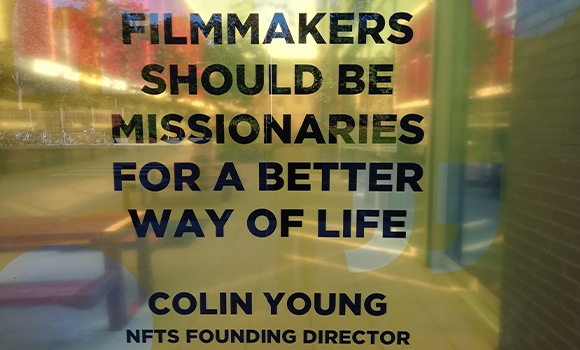 Whilst he faced a good deal of local inbuilt scepticism (early 1970's Britain could hardly have been more different from 60's California!) what Colin couldn't have known was that several factors mitigated in favour of his approach. The National Film School (alongside the Open University and the National Theatre) was an initiative of Jennie Lee, Minister for the Arts, under the previous Labour Government. She established a committee, chaired by Lord Lloyd of Hampstead, which made several crucial recommendations. Notably that the School should be an independent institution, in its own premises, training to the highest level in all creative aspects of filmmaking and receiving a grant from, and responsible to, the Arts Minister - crucially not the Department of Education.
It should also be a 'partnership between government and industry' avoiding the dictates of one or the other. The only measure of success would be the eventual career paths of graduates. This unique combination of circumstances was tailor made for Colin's approach. He knew he had three years before the first cohort graduated to deliver the first iteration of his 'open curriculum'.
Luckily a core group of the first students understood the agenda they faced. So not only did Michael Radford design his own experimental exercises before making a proper 'film' but he also did the camera work for Jana Bokova on films in Paris. Roger Deakins not only shot for Michael but he made his own documentary on stag hunting in North Devon. The more perceptive of them realised that the generosity of a shared learning environment brought the greatest rewards. The truth of this approach was maintained over the years perhaps climaxing in the extraordinary team around Lynne Ramsay, which stayed together throughout her first features.
In the abandoned and derelict Beaconsfield Studios the physical School was built from zero – on the ghosts of filmmakers past. For someone seeing this evolve from the beginning it was both enormously exciting and simultaneously terrifying. When the School welcomed its first twenty students in September 1971 the empty unheated and leaking Stage 2 boasted twenty five folding directors' chairs and a portable projector. For staff, Colin deliberately recruited the essential craft practitioners: camera, sound and editing to begin with, followed by production, and an engineer to keep the technology, such as it was, working; but no 'creatives' - in the mould of screenwriters or directors for that first period. The ideas for films would come directly from the students. Whatever was made would be up to them. Teaching or more accurately, 'learning' happened in open-ended conversations discussing ideas for films and, more coherently, grouped around a Steenbeck when films were being edited. If there was a model that people understood it was the freedom in art schools in the sixties, but that approach had long since lost credibility, or the nerves of those involved had simply failed them.
No written curriculum and no limit on hours or set term times. All night meetings to decide what might happen the following week. This on premises in a dormitory town for stockbrokers who, when some of those first students decided to set up a mock customs post on the road into town, dutifully turned their Chelsea tractors round and went home for their passports...and seemed happy to be filmed doing so! For Colin who had survived the occupation of his campus by Reagan's National Guard, this was more like an Ealing Comedy.
For a time Colin occupied the caretaker's flat in the Studios but before long he was forced to move into London since his availability 24/7 whilst great for the students, played havoc with his family. Not that Chalk Farm was any safer from the students who visited, and as often as not stayed the night since conversation and food were both on tap – not to mention good wine and malt whisky. However, much of Colin' time in those early years was spent dealing with the school's enemies in Government, academia and Industry – all of them sceptical of its value, challenging its elitist profile, critical of its assumed political bias, and most of all of its ridiculous cost per student. For a number of years financial support of the School was greatly under threat, along with the status of graduating students. Colin marshalled arguments often built around the experiences of similar institutions abroad that had already justified their existence through the successful careers of their graduates. As the School began to thrive a new threat emerged in the form of the envy of those running similar courses in Britain which, in some cases, had expected to be the home of the School. All of this was a constant source of irritation, and called for a fair amount of diplomacy.
Colin's early attempts to inform students about the history of cinema by recruiting both Basil Wright and Thorold Dickinson – notable filmmakers and writers, largely fell on stony ground for a generation principally interested in 'the now'. It was only when Colin himself decided to show and discuss a film that the student body roused itself and joined in animated debate. For instance when a late night screening of Peter Watkin's controversial anti-establishment film Punishment Park was arranged at the Chelsea Cinema in 1972 Colin chaired a discussion with both Peter and his camerawoman, Joan Churchill, herself a former student of Colin's at UCLA, in front of an audience overflowing into the aisles consisting of various pacifist and left-wing supporters each wanting to claim the film as supporting their party-line. Peter had a migraine and could hardly speak and Colin filibustered for almost three hours until the manager of the cinema insisted the proceedings end at one in the morning. Even then it was Colin who had to calm the crowd to avoid violence breaking out.
This was an extreme example of the charisma that Colin exhibited. But charisma is too vague a notion. In fact Colin's life and work accumulated the tools with which he could apply the force of his personality to many diverse challenging situations for which he seldom had either the enthusiasm or opportunity to prepare. He once told me that on each of his visits to Rice University in Houston Texas, where he was a visiting professor, he would be expected to get off the plane and, as he was led to the platform in the main lecture theatre, he would be told the subject for that session. Several hours later his extemporised lecture would end. Colin's preference to catch life on the run extended to all aspects. If you caught a plane with him he would prefer to arrive in the departure lounge as the plane was taxiing for take-off. At least twice I stood amazed whilst a plane was returned to the stand to allow us to board. I still don't know why or how this was possible.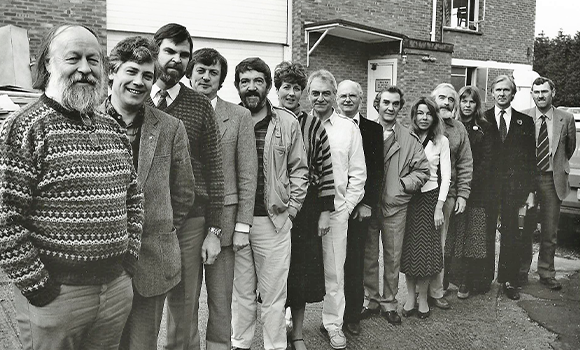 Those trips which grew in frequency distracted Colin from the day-to-day progress at Beaconsfield but had the important bonus of enhancing his reputation both around the world but also crucially in the seats of power at home. One of the places we flew to during the Cold War was East Berlin. We arrived early for once at the Cecilienhof, scene of the Potsdam Conference after the end of the 2nd World War when Churchill, Stalin and Truman sliced up the map of Germany between them. This fortified house, then surrounded by watchtowers with machine gun posts and searchlights, was to be the place for a meeting of CILECT, the international organisation of Film Schools of which Colin was later to become President. It was frustrating that there were several hours to kill with no refreshment. Fortunately we had availed ourselves of duty free to present to our hosts. One of these – malt whisky of course - was duly breached and we drank it down by the time dinner was taken with the other guests from around the world. The meal was frequently interrupted by delegates rising to toast the GDR with vodka – downing a glass in one go in the Russian tradition, and telling elaborate anecdotes which became more and more incoherent as time and liquor passed. This was clearly an international competition. The toasting revolved around the table until Colin became the sole survivor sounding more and more Scottish but totally articulate to the end. Considering that the food was largely inedible and therefore nothing soaked up the alcohol, this achievement was monumental. Not for the first time a Scot vanquished all comers in the name of the British.
Respect is gained in many ways.
At one time Colin was in the habit of introducing himself to audiences in imitation of John Ford with the line: My name is Colin Young; I make film schools. This was no idle boast because as well as UCLA and Beaconsfield he was instrumental in presenting a report which led to the Australian National Film School being established. Other countries were eager to solicit his advice. There was even an initiative by Fuji-Sankei in Japan to establish a film school on Hokkaido with English as the language for teaching, and Colin as its director.
Despite the growing demands on Colin's time abroad and in Britain, not least in his native Scotland where his Chairmanship of the Edinburgh Film Festival was prominent among many commitments, he was always able to see clearly when he needed to take an initiative in the School. Thus when the RCA offered a place to one of a pair of animators but turned down his partner, Colin sourced a rostrum camera and created an animation department to take them both. In this way Nick Park had somewhere to prove his talent, and Wallace and Gromit were born. Or when Trevor Jones, studying music composition in York wanted to specialise in film music for his final year Colin created a scoring department, which now boasts an Oscar winner in Dario Marianelli amongst its graduates.
Sometimes Colin would return to the School after a prolonged absence abroad to find rumblings of discontent which needed quelling. Perhaps the most dramatic was the time when a cell of the Workers Revolutionary Party had been formed of a few members of mostly part-time staff and a group of revolting students eager to see Colin stripped of power and a collective decision making process instituted - including who was brought in to teach, and how students were chosen. With typical sang-froid Colin made it clear to the student body that anything that threatened his authority actually threatened the very existence of the School. The challenge soon dissolved into thin air.
By the nineteen-eighties the Colin formula for success was paying off. Graduates were winning prizes around the world and the movers and shakers were offering to be involved. Stephen Frears acknowledged publicly that teaching was one of the few remaining honourable activities and was running regular workshops in direction. Mick Audsley became a familiar figure in the editing rooms and Walter Murch visited to hold masterclasses. Ossie Morris and Billy Williams ran camera workshops. Sandy Lieberson was Head of Producing and his friend and former partner David Puttnam became first a Governor and then Chairman. Jan Fleischer a veteran of the Czech New Wave took over Screenwriting. Soon successful graduates like Jim O'Brien, co-director of the fabulous Jewel in the Crown series for Granada, were returning to become tutors to a new generation. Producers and agents were now falling over each other for invitations to screenings where they might grab the stars of each graduation show.
Colin knew that the most important job each year was to find and choose the right students. The senior staff would agonise for weeks over the offer of places. Inevitably this would bleed into all night sessions until those less able to retain a perspective under such pressure would reach breaking point. Colin would quietly remind everyone that we were simply there to advise him, but we all knew that not only were we deciding the fate of individuals but setting the tone for each next generation of students. These were emotionally raw discussions with no one willing to compromise.
The side effects of creating an environment in which the individual student had to be self-motivated to find where their talents lay was that, alongside the phenomenal success of many graduates, in a number of cases the student changed direction whilst at the School and in some cases that meant realising filmmaking was not for them.
Far from this implying a waste of resources, the provision of a space in which the likes of Malorie Blackman, Michael Rosen and Tim Pears could develop the self-confidence to become award winning writers has surely enhanced our cultural landscape. Colin would certainly argue that creative development is not a mechanical process and that filmmaking is not a place to pigeonhole people.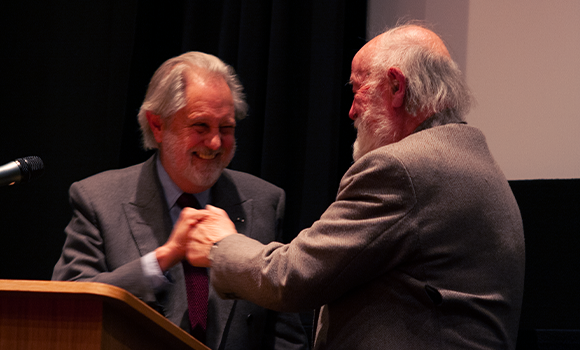 It was for the value of these wider benefits that Colin resisted demands from the industry to move from a general intake and admit students in specialisations. When he bowed to these requests to protect funding he included documentary as a separate discipline, knowing that it would be difficult to sustain under the banner of direction, and brought a former student, Herb Di Gioia from the US to run it in the spirit of observational film that he had pioneered at UCLA. From Nick Broomfield at the very beginning documentary graduates like Molly Dineen, Kim Longinotto and Sean McAllister have continued to be the living testimony to Colin's determination to let reality speak for itself.
For members of his staff Colin's inexhaustible support for students was often maddening since he always believed that developing a talent takes the time it takes. Much in the spirit of how many people does it take to change a light bulb in California? Answer; none: if it wants to change it will change. This open-ended attitude to learning and development was only sustainable whilst Colin held the reins and in 1992, having reached 65 the Government insisted he retire. Colin might then have quoted again from Heraclitus who said nothing is permanent except change.
Following Colin's advice the Board were able to persuade Henning Camre to move from the highly successful Danish Film School and over time a tighter structure was instituted, delivering a written curriculum that eventually lead to the establishment of an MA. Meanwhile Colin moved on to create the Atelier du Cinema European (ACE) with premises close to the Hotel de Ville in Paris bringing new life to feature film development across the continent and allowing him to move to France for a while appropriately occupying a residence in a village not far from where Jean Renoir (whom Colin had known in California) was living when he made Une partie de campagne in 1936, that passionate but sad celebration of life and love. Colin's own life had already acquired a new loving focus when he married Conny Templeman, who had been a student at NFTS, and they soon had two children, Keir and Zoe.
Despite a serious illness some years later which necessitated a quadruple-bypass, Colin's indomitable spirit never wavered. There was no lengthy interruption of his involvement with the School and he has continued to meet with the new documentary students each year whilst serving as a supportive Governor of NFTS in the sure knowledge that his legacy was secure and flourishing. The initiative to establish a Film School in Scotland as an adjunct to NFTS must have pleased him no end. His spirit has truly made its way home."
By Lord David Puttnam and Roger Crittenden
YOUNG, Colin, born 5 April 1927; son of Colin Young and Agnes Holmes Kerr Young; Education: Bellahouston Academy, Glasgow; Universities of Glasgow, St Andrews and California (Los Angeles). Married 1st, 1960, Kristin Ohman; two sons; 2nd, 1987, Constance Yvonne Templeman; one son one daughter. CBE 1994 (OBE 1976); Michael Balcon Award, 1983, Fellow, 1993, BAFTA. Chevalier de l'Ordre des Arts et des Lettres (France), 1987 Head, Motion Picture Division., Theatre Arts Department, UCLA, 1964-65; Chairman, Department of Theatre Arts, 1965-70. Director, National Film and Television School of Great Britain, 1970-92; Senior Consultant, Ateliers du Cinema European, since 1996 (Director, 1993-96); Research. Associate, Centre National. de Recherche Scientifique, Paris, 1984 and 1987; Andrew W. Mellon Visiting. Professor.in Humanities, Rice University, Houston, Texas, 1985-86. Vice-Chairman., 1972-76, Chairman, 1976-91, Edinburgh Film Festival; Chairman, Edinburgh International Film and Television Council; Governor, BFI 1974--80. Member: Arts Council Film Committee, 1972-76; Public Media Panel, National. Endowment for Arts, Washington, 1972-77; General. Advisory. Council , BBC , 1973--78; Council of Management, BAFTA, 1974--81; Executive Committee, Centre International de Liaison des Ecoles de Cinema et de Television, 1974--94 (President., 1980-94); National. Film Finance Corporation., 1979-85; British Screen Advisory. Council, 1990-. Consultant, Goldcrest Films & Television Ltd, 1985--86. Fellow of BKS 1975. London Editor, Film Quarterly, 1970-91 (Los Angeles Editor, 1958-68).