On Tuesday 21st June, key figures from across the UK film and television industry were dressed to the nines to celebrate the incredible work of the National Film & Television School at this year's annual Gala, held at Old Billingsgate in London.
Sponsored by BBC Studios, the Gala is the National Film and Television School's principle fundraising event for scholarships, which provide crucial financial support for future film, TV and games makers. Funds raised on the night also go towards meeting the many challenges of providing the world leading training the NFTS is globally renowned for.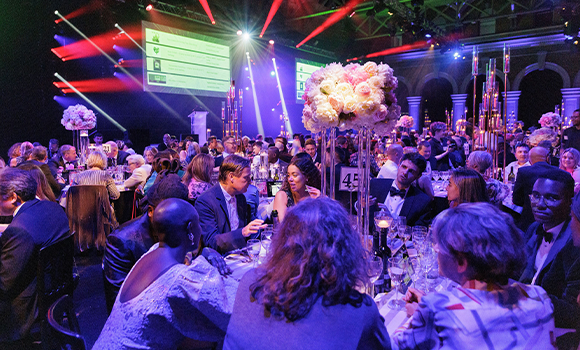 Over 650 industry guests from the UK's leading film and television companies attended the Gala, including Channel 4, BBC Studios, Sky Studios, Netflix, Amazon Studios, Disney+, Neal Street Productions, All3Media, Framestore and Pinewood Studios, coming together to generously raise a total of £300,000 for the School over the course of the evening.
The Gala was jointly chaired by All3Media's Jane Turton and Sara Geater, the former having recently been awarded an OBE in the Queen's Birthday Honours for her services to television production (our congratulations to Jane!)
Fellow Gala Committee members were producer Alison Owen, CEO of House Productions Tessa Ross, President of Sony Pictures Television International Production Wayne Garvie, and CEO of New Pictures Willow Grylls, who all volunteered their time over months of planning to ensure the Gala was a huge success.
Over 30 NFTS students were on hand to help run the Gala, with the evening also providing them with a valuable opportunity to network and connect with industry contacts. Many companies offered NFTS students 'a seat at the table', opening the door for soon-to-graduate students to build meaningful connections as they prepare to enter the industry.
As the cost of living continues to soar, the demand for NFTS scholarships and funding assistance has increased exponentially, while the pressure on the School's finances has never been greater. Attendees were encouraged to go the extra mile by pledging funds to support students through their studies at the NFTS and make a life-changing impact on emerging talent.
Quizmaster for the evening was impressionist and comedian Rory Bremner who compered the IMDb Quiz. Over four rounds, each table tested their general knowledge of film, television and games and the NFTS. It was International Literacy Properties (team name Agatha Quiztie) who clinched the title of the winning team - congratulations to all involved!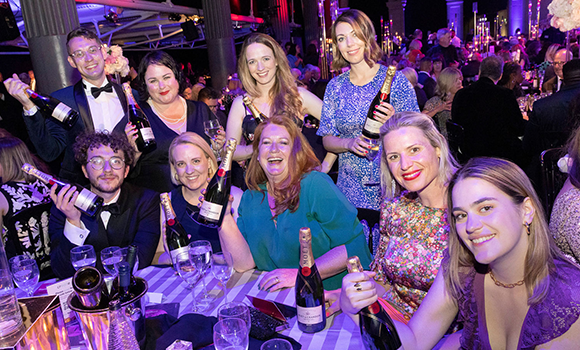 Throughout the evening, an exciting Silent Auction took place with guests bidding for a wide range of items, with our friends and partners in film, television, sport, theatre and hospitality generously donating a host of 'must have' lots.
Big ticket items created a frenzied buzz of bidding for access to the red carpet premieres of highly anticipated Prime Video and Disney releases, VIP tickets to Glastonbury Festival, lunch with Adam Kay, creator of the BBC's This Is Going to Hurt, a rare OMEGA Seamaster 007 watch complete with signed card from Daniel Craig, signed Arsenal football boots and a chance to name a character in series two of ITV's Trigger Point and in Sally Wainwright's next television project.
Commenting on the importance of future-proofing the National Film and Television School, Joint Gala Committee Chairs, Sara Geater and Jane Turton said: "It's difficult to believe that this award-winning School, renowned the world over for its exceptional training, is a charity that relies entirely on funding and donations. We are both passionate about securing the ongoing support the NFTS needs to continue its fantastic work.
Countless students have benefitted from attending the School through scholarship and bursary awards. Without these schemes, many would have no other means of pursuing their dreams of studying at the NFTS or benefitting from its first-class facilities and equipment, leaving the industry devoid of fresh talent and vibrant new voices."
See more photos from the evening here:
drive.google.com/drive/folders/1X1OHS7MmSOtKaq95Jl1DunNCrSBfu99l?usp=sharing
Funds raised at the annual NFTS Gala changes the lives of many aspiring film, television and games makers by providing opportunities for new and diverse talent.
It's not too late to contribute to help make the National Film and Television School as accessible to as many as possible. Any donations can be made via our JustGiving page and would be greatly appreciated by both staff and future students of the NFTS.
justgiving.com/film-televisionsch
Apply for a course today and get ready to join us in September 2022 or January 2023 to see how the award winning work of the NFTS could make an impact on your life! nfts.co.uk/courses
#NFTS