NFTS Games Design and Development MA students have won 'Best Game' for the second year running at the highly competitive UKIE Student Game Jam organised by UK Interactive Entertainment, the only trade body for the UK's games and interactive entertainment industry.
First and second year Games Design and Development MA students Mike Murray, Katy Morgan, Raphael Pimlott, Patrick Xu, Matt Kelsey and Natalia Lada teamed up over the 36 hours to create Happy Hollow, scoring highly across the marking criteria board, especially for visual impression where they received full marks.
With UKIE setting the theme this year as 'change', winning game Happy Hollow is based around the idea of two states; dark and light.
"When the world is dark, you are defenceless and must run away from the creatures that keep spawning to come after you. When the world changes to its lighter, peaceful version, you become the monster in turn. Those creatures keep spawning, so if you don't destroy them now, the hordes are sure to overwhelm you when the world becomes dark again!"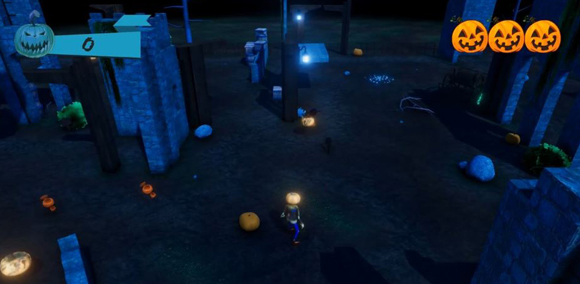 Student Michael Murray says: "Working as project manager with our team during the UKIE game jam this year was a pleasure. Working with other Games students is always my favourite part about creating games, as the comradery is so strong. Everybody is focused and has such high energy for the 36-hour project. Happy Hollow was inspired by the season of change within the pagan traditions of Halloween; playing as a scarecrow character that flees from danger until he transforms into something much worse."
Ukie Student organiser, Leon Cliff says: "This year was the most astonishing showcase of games talent ever seen in a Ukie Student Game Jam! The judges were unsurprisingly overwhelmed when choosing a winner this year."
The judging panel included Marcia Deakin, Games Partnership Director at NextGen Skills Academy, Gorm Lai, President and Co-founder at The Global Game Jam, and Ishai Smadja, Product Manager at King and Ian Hamilton, Accessibility Specialist.
Made up of over 260 students participating in the Game Jam spread over 55 Teams from 15 educational institutions, UKIE provides a platform for game developers to compete for their game to be crowned the cream of the crop and awarded with a plethora of prizes.
Head of NFTS Games, Alan Thorn says: "The UKIE Game Jam is a highly prestigious event where high-calibre student talent across the country, and throughout the games industry, is showcased. I'm delighted that NFTS games students have again delivered stellar results and won the UKIE Jam for the second consecutive year. This reflects their hard work, talent and dedication. By coming onto our games course, students immerse themselves in a highly collaborative and creative environment, which prepares them for becoming future Innovators. Here, our students grow using relevant industry technology and by the mentorship of experienced professionals."
If you want to be part of our exciting Games department, apply now and start in January 2018! More info at www.nfts.co.uk/games