Recent NFTS Games Design and Development MA graduate, Ana Ribeiro – whose grad project, Pixel Ripped was recently nominated for 'Best Game' at the VR Awards – was welcomed back to the School to deliver an inspiring masterclass for our Games students.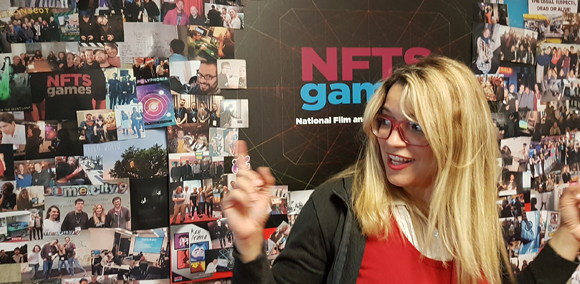 Since graduating in 2015 Ana has been working tirelessly on Pixel Ripped, and this year, with the help of Brazilian interactive narrative studio Arvore saw the first episode completed and available to buy across Steam, Oculus and PSVR.
In a masterclass with the current students Ana talked about her journey from working in an office to her small pie business all the way up to where she is today. A tale of passion and perseverance, Ana is a shining example of what can be achieved with dedication and hard work. Pixel Ripped is the first NFTS graduation project to be commercially available on Oculus and PSVR.
Applications are open for the NFTS Games Design and Development MA until 12th November for a January 2019 start – apply at www.nfts.co.uk/games For more information about Pixel Ripped, please visit http://www.pixelripped.com/
More content you may be interested in...