NFTS Graduation film, November 1st, written and directed by Directing Fiction 2019 Graduate Charlie Manton, took home a Bronze award at last week's 2019 Student Academy Awards in Beverly Hills.
Starring Lindsay Duncan, November 1st sees a mother and daughter travel across state to witness a long-overdue execution.
Charlie, alongside his fellow NFTS graduates and collaborators Teodora Shaleva (Producer), Molly Manning-Walker (DOP) and Sophia Harrington (Costume Designer) flew out to L.A to collect their award.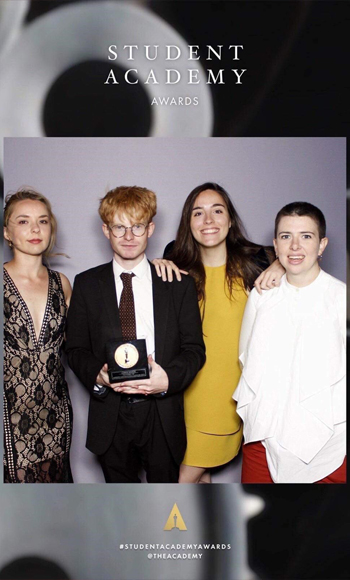 We caught up with the team straight after the awards, with Charlie describing it as "a whirlwind experience." He commented: "I never thought I'd get to thank the Academy on stage. And I'm so happy I got to share it with some of the crew who made it all possible."
Producer Teo added: "It's been such a reaffirming and exciting time. When we got the call, Charlie and I were stunned. I'm really proud of our whole team and hope this is just the first step in a bigger and even more exciting journey."
DOP Molly commented: "What an incredible experience. We never thought when we were making the film that we'd be in LA a year later, welcomed by the Academy. Meeting some of our idols has given me drive and excitement for what's ahead."
The Bronze award for November 1st is a seventh win for the NFTS, the most successful International Film School in the world at the Student Oscars.
Congratulations to everyone involved! Watch the video below to see Charlie deliver his speech:
For a full list of this year's Student Academy Award medallists please go to: https://www.oscars.org/news/medalists-revealed-2019-student-academy-awards