NFTS Directing Documentary MA alumnus James Newton has scooped a TV BAFTA for 'Best Single Documentary' with docu-drama Gun No 6 which follows the story of Britain's deadliest illegal gun, charting every shooting of Gun No 6 and exposing the realities of modern gun crime. The BAFTA Television Awards took place on the 12th May at the Royal Festival Hall and were hosted by Graham Norton.
The BBC Two documentary traces the journey of Britain's deadliest illegal gun which has been used in 11 shootings and three murders. Mixing testimonies of loved ones left behind with interviews from former offenders revealing why they became involved in gun crime, the bold hybrid of documentary and drama charts every shooting of Gun no 6 and confronts us with the realities of modern gun crime.
James said: "When you talk to a lot of people about guns, there is a lot of bravado and a lot of surface, so doing reconstructions opened something deeper up. Sometimes you would give them a replica gun to hold and they would start shaking with fear because they hadn't touched one for so long. It unlocked an honesty to them about the past that had been hidden away."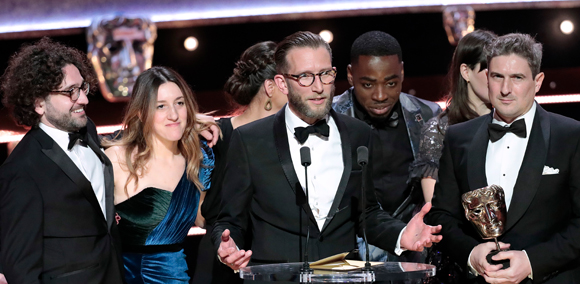 Gun No.6 also credits NFTS alumna Natalie Holt as composer.
Other nominees in the 'Best Single Documentary' category included: Driven: The Billy Monger Story (BBC Three), My Dad, the Peace Deal and Me (BBC One) and School for Stammers (ITV).
James also directed The Detectives; a three-part series following detectives in Great Manchester Police as they investigate rape cases, which was nominated for a 2016 TV BAFTA in the 'Factual Series' and 'Factual Director' categories and nominated for a 2016 Royal Television Society Award in the 'Factual Series' and 'Craft in Photography' categories.
For more information on the NFTS Directing Documentary MA, please visit www.nfts.co.uk/documentary
Photos by: BAFTA/Guy Levy