This year's Oscars heralded a dramatic evening of glamour, a now infamous altercation and a hugely inspirational win for National Film and Television School Directing and Producing Television MA graduate, Aneil Karia!
Aneil's dystopic 12 minute film The Long Goodbye starring Riz Ahmed was nominated in the Best Live Action Short Film category, beating four other titles to win the coveted golden statue at Sunday's awards at the Dolby Theatre in Hollywood.
The Long Goodbye features a South Asian family in the middle of a typical day at home in suburban London as they prepare for a celebration. But what begins as a light-hearted look at a close-knit family gathering quickly turns sinister as news reports begin depicting scenes of violence. A right wing march reaches the family's door, leading to a devastating outcome. Aneil's film addresses the alienation of immigrants, and what can be the terrible consequences of hate speech.
Watch The Long Goodbye
The Long Goodbye has already been the recipient of several awards, including the BIFA Best Short Film Award, the London Critics Circle Best Short Film Award and the Grand Prix at the Hollyshorts Film Festival.
A few years before finding himself walking the red carpet at the 94th Academy Awards, Aneil attended the NFTS with the assistance of a scholarship, awarded by the Lew Grade Foundation. His graduation film, Spilt Milk, won the Royal Television Society Student Award and was later broadcast by the BBC.
Since leaving the NFTS, Aneil has enjoyed a varied career, directing music videos, premiering his award winning short films Surge and Beat at festivals around the world including Sundance and directing episodes of Top Boy for Netflix. Aneil will direct BBC One's upcoming heist drama series The Gold, inspired by the iconic true story of the Brink's-Mat robbery and the decades-long chain of events that followed.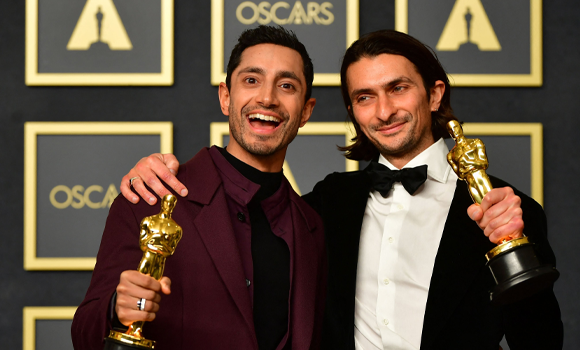 Speaking backstage after the ceremony, Aneil said of his win: "It feels really quite odd, I think I'm still processing it. It's a mad one, it feels good." Reflecting on the reaction to The Long Goodbye he added: "It's kind of blown our minds."
Everyone at the NFTS is hugely proud of Aneil's achievements on the world stage. We wish him our congratulations and continued success for the future!
Each year, the NFTS awards over £900,000 of scholarship funding. Do not let financial worries stop you from applying, we are here to help you navigate each step and answer any questions.
To follow in Aneil's footsteps, applications are now open to study the NFTS Directing and Producing Television MA starting in January 2023.
For more info: nfts.co.uk/directing-and-producing-television-entertainment.
Funding and Scholarships info: nfts.co.uk/funding-guide
#NFTS