26 April 2022: The National Film and Television School (NFTS) is thrilled to see many of our 2022 graduation films appearing in festival nominations and selections across the world. Our most recent cause for celebration is the announcement that graduate animation Spring Roll Dream will enjoy its world premiere at the highly prestigious 2022 Cannes Film Festival.
The nine minute short has been selected for the 25th edition of the La Cinef section and is one of only 16 films chosen from over 1,500 entries from film schools all over the world, reflecting the diversity of filmmaking education globally.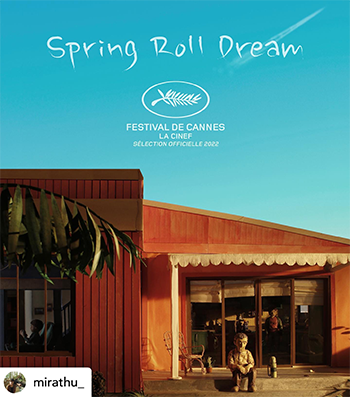 Spring Roll Dream follows Linh, a Vietnamese single mother who has successfully forged a life for herself and her son in America. But when her father visits from Vietnam and insists on cooking the family a traditional Vietnamese meal, Linh is confronted with the past and culture she left behind and the question of where it belongs in her family's new life.
The film is one of only three animations that are screening at the festival and one of only two films from the UK, screening in this category and the Short Films competition.
Huge congratulations to the NFTS team for making the tenth NFTS film to be selected at Cannes in 11 years!
NFTS Crew

Director/Lead Animator Mai Vu
Producer Thijme Grol
Screenwriter Chloe White
Cinematographer Martyna Jakimowska
Production Designer Nathalie Carraro
Production Manager Nikoleta Slezakova
Lead Model Makers Ellen Beaufoy, Jo Sperring
Model Makers Charlie Allwright, Emily Brook, Michelle C Cranwell, Jennifer Dingwall, Danielle Duncan-Rosembert, Aga Fraczak, Callum Higgins, Olivia Savage
Editor Mira Thu
Sound Designer/Dubbing Mixer Carlos San Juan
Composer Sam Rapley
Colourist/Online Editor Karolina Matela
Applications are open for the National Film and Television School courses involved in making this incredible animation including Screenwriting, Directing Animation, Model Making and Visual Effects and Colour Grading.
Find out more and apply for these courses and many more at nfts.co.uk/courses
Application deadlines approaching!
#NFTS