NFTS Directing Documentary MA graduate, Kate Stonehill has won the prestigious All3Media Best Student Documentary Grierson Award for her graduate documentary film Fake News Fairytale.
Fake News Fairytale is a short, hybrid documentary that takes us to the unlikely epicentre of fake news: Veles, Macedonia; telling the true story of 'Sashko,' a bogus news writer from Veles, and in doing so, is a playful meditation on truth, lies and politics in a globalised, internet world. Since the run-up to the 2016 U.S. presidential election, teenagers in Veles have been creating fake news stories to generate thousands of hits on social media. These young entrepreneurs have made money off of advertising revenue generated from their fake stories going viral, introducing a 'digital gold rush' to the country.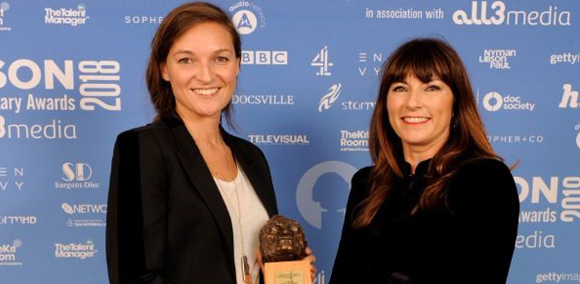 Kate says: 'I knew I wanted to make a film about fake news and after reading an article about what was happening in Veles, I became intrigued by the idea of teenagers in Macedonia pumping out bizarre political clickbait. I also wondered whether the media had overstated their role in getting Trump elected. This subject matter presented an opportunity to play with the idea of what makes stories believable; a theme so intrinsic to filmmaking.'
The win comes after a successful 2018 season for Fake New Fairytale, which has been part of official selections for BFI London Film Festival, Sheffield Doc Fest, DOC NYC and Hot Springs Documentary Film Festival.
For the tenth year running, NFTS students have made the nomination stage of the Grierson Awards, with three out of the four nominations in the All3Media Best Student Documentary 2018 category being NFTS graduation films. Additionally, NFTS graduates have won the All3Media Best Student Documentary award five times since the category started in 2011.
Comedian and writer Susan Calman hosted the 46th British Documentary Awards at the Queen Elizabeth Hall, London on Monday 5th November.
The Grierson Trust organises the annual British Documentary Awards and commemorates the pioneering Scottish documentary filmmaker John Grierson (1898 – 1972), famous for Drifters and Night Mail and the man widely regarded as the father of the documentary.
If you are an aspiring documentary maker, find out more about our Directing Documentary MA and how to apply at www.nfts.co.uk/documentary