All NFTS courses in Beaconsfield, London, Leeds and Glasgow have transitioned online and our students have been hugely receptive to this new way of working.
As we now deliver all our teaching virtually, the NFTS has quickly adapted to operating in different ways for current students and prospective students alike.
Courses - APPLICATIONS ARE OPEN!
If you are interested in studying at the NFTS, you can still find out about our courses and student life. We have extended our application deadline to 31 May for all diploma courses starting in September 2020. Applications are open across all of our courses. The NFTS runs more than 30 MA, Diploma and Certificate courses - as well as numerous short courses, some of which are also available virtually - across a range of film, television and games disciplines so there's sure to be something that covers the specialism you're interested in. For more info go to nfts.co.uk/courses and nfts.co.uk/places-available
Interviews may take place online - we will confirm this closer to the time.
We welcome your application and should you have any queries, please email registry@nfts.co.uk.
For more info on Short Courses please email Nathan Pawley npawley@nfts.co.uk.

Open Days
You can still join us for our new Virtual Open Days! 'Meet' the Heads of Departments and current students; have your questions answered and see examples of student work.
A list of our upcoming Open Days can be found at nfts.co.uk/opendays
Once you book your place, you will receive a link to join the event an hour before it is scheduled to begin.
Please email openday@nfts.co.uk, if you have any questions.
We look forward to virtually meeting you!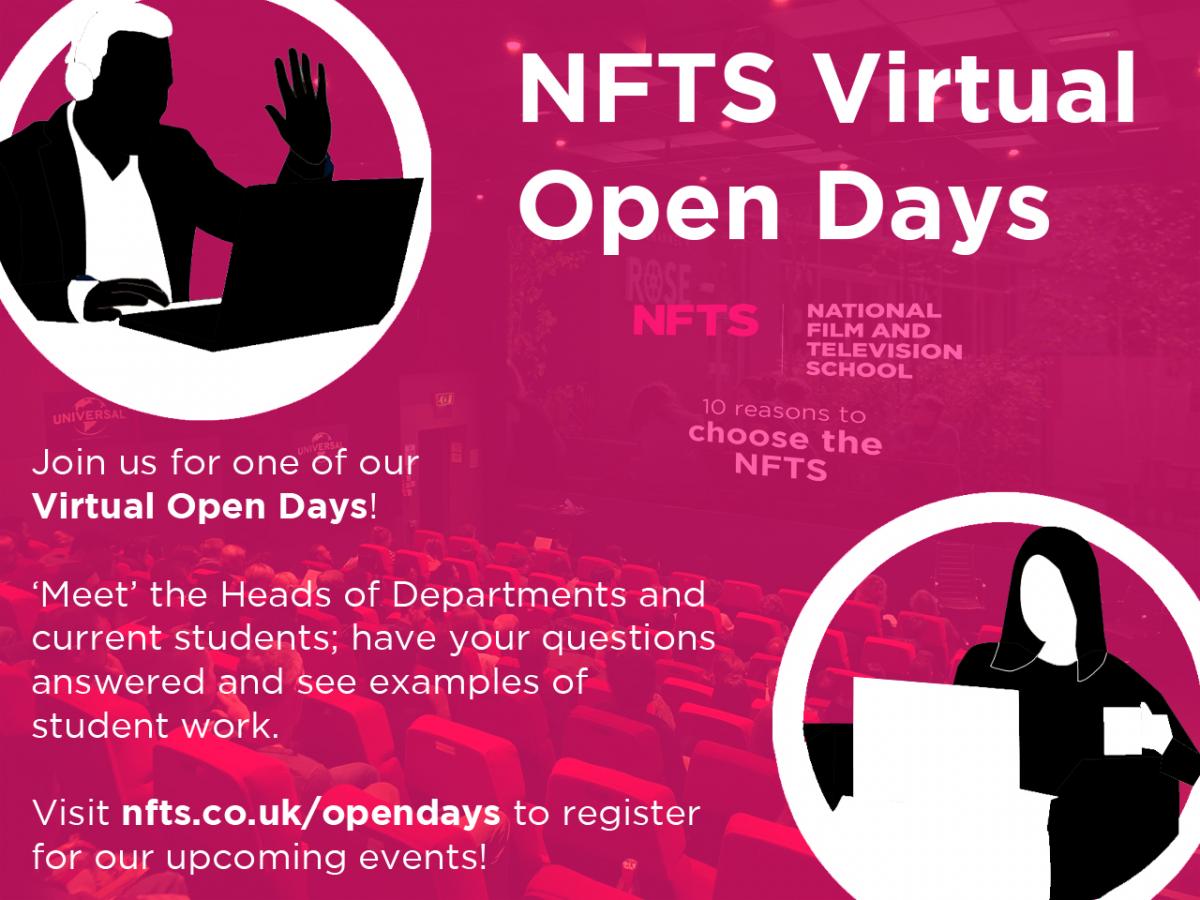 Masterclasses
Students at the NFTS benefit from once in a lifetime Masterclasses, hearing directly from acclaimed Film, TV and Games makers from around the world. During this period, we are working hard to deliver virtual Masterclasses to our students as they study from home and are busy lining up some fantastic names with Sally Wainwright, David Fincher, Ricky Gervais, Edgar Wright, Nainita Desai and Jesse Armstrong having already hosted for us via Zoom!

For more info visit: nfts.co.uk/masterclasses
Don't forget to visit us on social media for updates on Instagram, Twitter, Facebook and LinkedIn.