The NFTS has introduced a new Certificate Course in Location Management for Film & TV Production – the only one of its kind in the UK – to meet industry demand. We caught up with experienced Location Manager and 1st AD, Richard Lingard to find out more about the 12-week course, which starts in May 2018: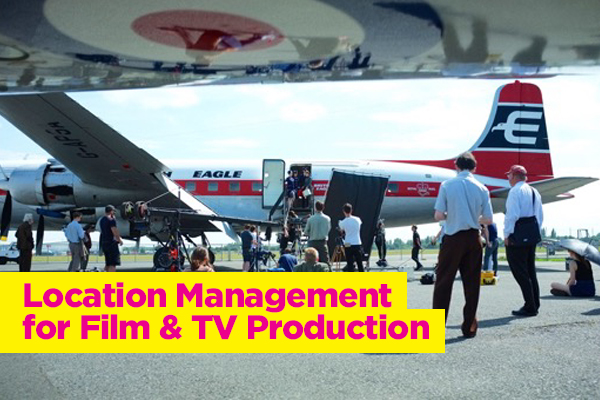 Why has the NFTS introduced a Location Management Certificate Course? "We identified that location management was a missing piece of the production jigsaw at NFTS. All departments are represented from Production Management to Assistant Directing but we've never had a dedicated locations
department. This function has previously been undertaken by producers and production managers but by the time the graduation films come around in the summer, they have too much on their plate with getting the shoot up and running so a dedicated locations department will be an enormous help as well as a great career launch pad for budding location managers.
There is also a big demand in the industry for trained location managers. Whilst it's a career option that is often overlooked by the industry, location managing can be very successful and rewarding. A good location manager can be very hard to come by, especially at the moment given the recent boom in productions so there are plenty of opportunities out there."
How is the course structured and what will students learn? "The 12-week course is timed to overlap with NFTS graduation films by 4-5 weeks. The first 4 weeks will consist of intensive workshops seminars and visits from key industry players including heads of production and organisations such as Film London. Students will learn essential skills such as how to photograph locations well and how to present locations to a director. They will learn how to work within budgets and manage contracts and health and safety issues. In a nutshell, the course offers students really good ground up tuition and provides practical experience of scouting, prepping and shooting films."
Who should apply? "Applicants don't need any formal education requirements but it's helpful to have some experience with productions or locations. We're looking for candidates who understand how locations work within the overall pattern of filmmaking and have an idea of what the locations department does. There are also lots of good career progression opportunities; location managers often continue on to be production managers or executive producers. It opens a lot of doors as you become integrated into the whole production team. It's also important to be able to interpret a brief and work creatively. The location manager's work is featured on the screen; they help choose the look and feel of the film or production as a whole."
Why study Location Management at the NFTS? "This course is unique and the School is a production power house; we're shooting something all the time so there are many opportunities to get involved and build experience. All the production facilities and contacts are right here at the School and the Production Managers and Producers you meet here could be valuable employers in the future. We also have great support for the course from Location Management company, Salt Locations who have helped design the curriculum and will help provide work placement opportunities for the students."
What's are the highlights of being a Location Manager? "A location manager is integral to the production. It's a hugely responsible and key role, which makes an important contribution to the look and feel of the film and ensuring the film runs to budget. If you can't get the right location for the right price, you've got a problem."
How does the Location Manager fit into the overall team? "The location manager works hand in glove from prep to the final wrap; they are long-term players on any production. At NFTS, they will work closely with all production roles including, directors, producers, cinematographers and designers, providing all the information and support necessary for a successful location shoot from initial scout to wrap and reinstatement."
How did you start out? "I started 25 years ago working as an in-house runner at film and TV advertising production company, RSA Films, set up by Ridley and Tony Scott. At first, I made the tea and did photocopying but by the end I was finding locations for commercials. From there, I went freelance and combined location managing with being a 1st Assistant Director so I know exactly what goes into making any production work on location. I also had great fun working with American portrait photographer, Annie Leibovitz, finding locations for photoshoots for the likes of John Cleese, Judi Dench and Uma Thurman! I continue to do AD work while at NFTS on TV productions, features and commercials."
For more information and to apply, please visit www.nfts.co.uk/locationmanagement