NFTS launches AccessNFTS, a national outreach programme which is designed to find, inform and inspire a new generation of film, TV and games talent.
Universal Pictures International has signed up to sponsor the programme for the next two years.
AccessNFTS will consist of pop up events around the UK themed around different disciplines from sound to production design; masterclasses at universities and colleges; and the opportunity to connect with NFTS expert tutors, alumni and industry professionals at festivals and film, television and games industry events.
Each event will be supported by material and examples from the latest Universal Pictures International releases, including Jurassic World: Fallen Kingdom, titles from the Fast & Furious franchise, selected titles from Blumhouse and Universal's animated slate. Aimed at those looking to break into the industry, these activities are designed to find exciting new talent and help people discover new and less well-known career paths in the industry.
The inaugural AccessNFTS pop up event will take place in Glasgow at BBC Scotland on Saturday 12th October. NFTS Head of Animation Robert Bradbrook and NFTS Head of Model Making John Lee will be running talks and workshops, using assets from the upcoming Universal Pictures International film release The Addams Family, showing how model making and animation bring the story to life. Between them, Robert and John have many film credits including Star Wars: The Last Jedi, Rogue One: A Star Wars Story and Home Road Movie which was nominated for a Best Animated Short BAFTA. Both will talk about the pathways into the NFTS and career options within the industry.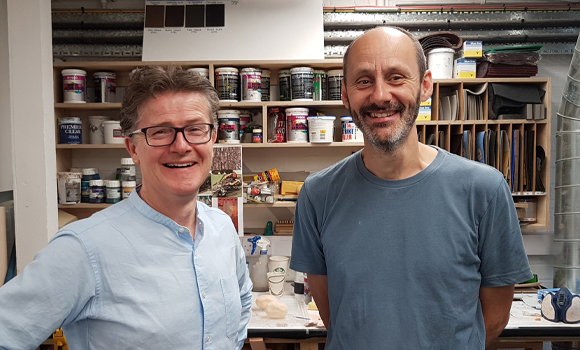 For further information and to book a place please click here: www.eventbrite.co.uk/e/access-nfts-pop-up-animation-and-model-making-tickets-73792181401
A further two pop ups themed around Screenwriting and Production Design will follow in Leeds on 30th November and London on 7th December featuring Universal releases.
NFTS Director, Jon Wardle says: "As the UK's national film and televison school, it's our mission to seek out home grown British talent across the breadth of the country and to help it flourish. We want to meet and work with the film, televison and games makers of the future – from school leavers to adults looking for a way into the industry – wherever they may come from and whatever their means so that they have the opportunity and support to reach their full potential. It's fantastic that Universal Pictures International have come on board as a Key Partner Sponsor – their insight and material will ensure AccessNFTS events are both informative and fun."
For more details, please visit www.nfts.co.uk/Access
Publicity Contact:
Mirinda Dawkins, NFTS Head of PR and Communications – mdawkins@nfts.co.uk
Notes to Editors:
About the National Film and Television School
Recipient of the 2018 Outstanding Contribution to British Cinema BAFTA, the NFTS is one of the world's leading film, games and television schools. It has been cited by some media as one of the top five film schools globally and by one as the No.1 international film school. In 1967, the government recommended the creation of a national film school for the UK and in 1971 the National Film School opened its doors for the first time focussing on postgraduate education. In the 1980s, the school officially changed its name to the National Film and Television School to incorporate the demand for courses in television production and has since added games to its remit.
NFTS prides itself on producing world-class, award-winning industry leaders. It has more Student Academy Awards (Foreign Category) than any other film school. NFTS students and graduates also regularly win BAFTAs and have won the short animation category for the five years in a row. Other prestigious accolades include multiple Grierson Award for Best Student Documentary, as well as numerous Royal Television Society student awards and Annecy Animation Awards. NFTS graduates have gone on to win eleven Oscars and 138 BAFTAs with alumni including cinematographer, Roger Deakins (Oscar winner and 13 times Oscar nominee); BAFTA winning director, David Yates, (best known for directing the Harry Potter films); Oscar winning animator Nick Park (creator of Wallace & Gromit), Oscar winning composer Dario Marianelli and BAFTA winning director, Lynne Ramsay among others. The NFTS is a registered charity (313429). For more information see www.nfts.co.uk
About Universal Pictures
Universal Pictures is a division of Universal Studios (www.universalstudios.com). Universal Studios is part of NBCUniversal. NBCUniversal is one of the world's leading media and entertainment companies in the development, production and marketing of entertainment, news and information to a global audience. NBCUniversal owns and operates a valuable portfolio of news and entertainment networks, a premier motion picture company, significant television production operations, a leading television stations group and world-renowned theme parks. NBCUniversal is a subsidiary of Comcast Corporation.