10 June 2022: Ten people based in Leeds will get the chance of a lifetime to be trained by NFTS Leeds to work on a major new Channel 4 eight-part drama being made by Leeds-based indie Duck Soup, and launch their careers in the broadcast industry.
To provide these ten opportunities, the National Film and Television School (NFTS) is partnering with Duck Soup and 4Skills (Channel 4's nationwide training and development strategy) to provide the paid full-time placements on the production.
The ten trainees will undertake a 22-week programme which will incorporate extensive training, culminating with ten weeks' working on Dance School.
From our Leeds base, the NFTS will train participants across a range of roles which could include - locations, wardrobe, production, sound and location sound, production accounting, camera assistant and assistant director.
The first stage of taking part will be through a series of workshops on the 3rd and 4th July in Chapeltown at the West Indian Centre, 10 Laycock Place, Leeds LS7 3AJ. It will also provide an opportunity to speak to people who do the jobs now and find out more about working on set and learn more about the programme.
No previous TV experience is needed as the opportunities are open to new entrants to the industry, who have possibly never considered a career in TV, but have transferrable skills or are unemployed and looking to launch their career. The initiative will also include training, mentoring, one to one sessions and career planning. Applicants should be based in Leeds, ideally the Chapeltown area, and priority will be given to those from a lower socio-economic background.
Meabh O'Donovan, Head of NFTS Leeds, said: "The NFTS is renowned for offering world class training and we are excited to bring that expertise to making Dance School a success. We can't wait to start the search for 10 Leeds based trainees who will train with us and then become an integral part of the crew. If you've never imagined film and television as a possible career, come along to a workshop in July, it could change your life and become a gateway to fantastic new opportunities within Yorkshire's screen industry."
Sinead Rocks, MD Channel 4, Nations and Regions, said: "This is an amazing opportunity for ten people to break into the broadcast industry and gain real-life work experience on a national television drama series. This really has the potential to be a life-changing moment for these ten trainees and show the kind of impact Channel 4 and 4Skills can make on people's lives."
As well as undergoing bespoke training in preparation for working on the drama, the trainees will also benefit from mentoring, one to one and group sessions, online masterclasses and a career development plan.
The drama, Dance School (working title), is a coming-of-age drama created by Theresa Ikoko (Rocks, Girls) and Lisa Holdsworth (Discovery of Witches, Call The Midwife) for Duck Soup Films.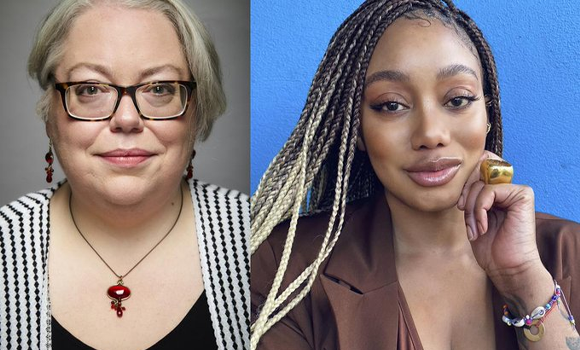 The eight-part 30' series follows an eclectic group of dance students as they navigate the intense highs and lows of coming of age in today's complex world – captured through stories which are as joyful and funny as they are raw and truthful, brought viscerally to life via irresistible dance choreography.
The drama series will champion characters who have been meticulously workshopped and inspired by true stories from the backstreets of inner-city Leeds.
Dance School is a celebration of resilience, determination, and spirit which never shies away from relevant and hard-hitting themes. The series will shine a light on the pressures young people face but also provide a dynamic and energising insight into the city of Leeds and its people.
Street casting and recruitment starts in summer and the production will shoot in the autumn in and around Leeds.
Anyone interested should follow @NFTSLeeds on Instagram and Twitter and look out for when more details are announced.
Caroline Hollick, Channel 4 Head of Drama, said: "I am thrilled that my very own home of Leeds is the hub of such a brilliant and activating series, bursting with irresistible dance numbers. Dance School is a heart-warming portrayal of the hardships young people are increasingly exposed to, but it's equally a celebration of inspiring and authentic stories that will resonate with our viewers.
"It's important that Channel 4 not only reflects the voices of the nations and regions but also continues to support growth and training to individuals. I'm delighted that by partnering with Duck Soup and the NFTS, 4Skills we can open doors to the next generation of emerging talent, ensuring the creative sector remains accessible to all."
Rebekah Wray-Rogers, Co-Founder of Duck Soup Films says: "We are beyond delighted that Duck Soup's first drama commission is born and bred in our own city and commissioned by Channel 4 since its crucial move out of London up to Leeds. Our vision for the series has had routes into the industry for Leeds folk baked into its DNA and we were overjoyed to partner with such clever people at 4Skills and the NFTS."
Dance School is a Duck Soup Films production, in association with BFI Young Audiences; All3 Media; Screen Yorkshire and Northern School of Contemporary Dance.
The series is created by Lisa Holdsworth and Theresa Ikoko, the Executive producers are Rebekah Wray-Rogers, Jessica Brown Meek, Libby Durdy, Theresa Ikoko, Lisa Holdsworth, Kathryn O'Connor and Jessica Straker. It is written by Lisa Holdsworth, Dipo Baruwa-Etti, Kamal Kaan, Zodwa Nyoni, Phoebe Okeowo, produced by Lisa Marie Russo and directed by Sara Dunlop. The series was commissioned for Channel 4 by Head of Drama, Caroline Hollick and Commissioning Editor, Rebecca Holdsworth.
#NFTS