The Locations Department of any film or television set is full of a variety of exciting and demanding roles. It has a wide and varied remit within a production, starting with the creative beginnings of a script breakdown, working alongside directors and designers and scouting locations, to the logistical and detailed planning of a shoot. It can lead to working on sets all over the world, and while challenging, it is an incredibly rewarding work environment.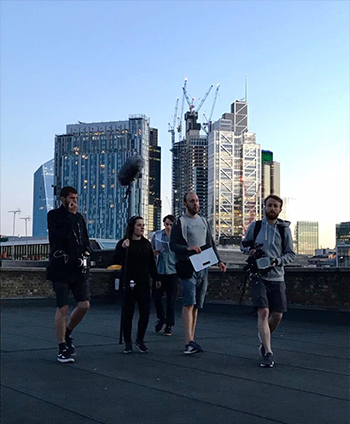 The NFTS Location Management for Film and Television Certificate, is an intensive 12 week course which trains participants in practical workshops and on-set/location drama projects and commercials. It was developed from the three week NFTS Veterans in Focus: Locations Department Course run in association with ScreenSkills.
With the film and television industry booming, if you think you have what it takes to work in Location Management now might be the perfect time to apply. The course will help teach the skills needed to be an essential and effective part of the production team, providing all the information and support necessary for a successful location shoot.
Here, we talk to past participants of the Location Management for Film and Television Certificate and the Veterans in Focus sessions to hear about their experiences and how the course has helped them in their careers.
What were you doing before you chose to study Location Management at NFTS?
Oliver Laurenson-Gore: I was working for a social enterprise locally based in Slough (Resource Productions) who develop new talent for the film and television industry. I was working there as Head of Business and was a Production Manager for around five years in corporate videos, but also short films for Random Acts Channel 4 and BBC online.
Petula Langlais: I was working as an administrative assistant for a production company.
Steve Brown: I had published a book and was promoting it. But prior to that I had been in the armed forces, worked as an expedition leader overseas so already knew about logistics.
Why did you choose the NFTS?
Oliver: NFTS was an institution that I knew of having lived and worked in the local area (I even used to recommend new and developing talent to apply themselves!) The previous year I had seen that NFTS were running a Location Management Course and had started to think this could be a potential different career path for me. There was no other course similar within the field and I was interested as it was a short enough but also long enough to fully learn and embrace a potential new career.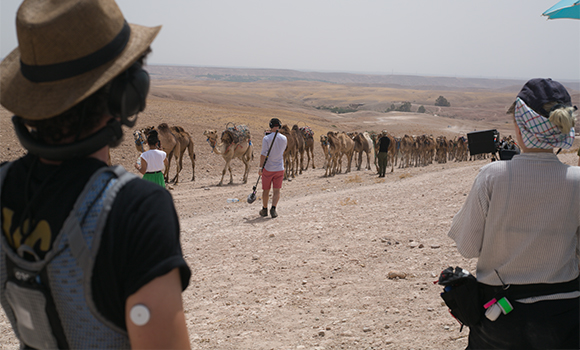 Petula: It was the only place providing an official certified course!
Steven: It chose me, thank god! A funded veteran's course became available so I jumped at the chance.
What was the most useful thing the course covered?
Oliver: Going back to basics with breaking down a script (including breaking into eighths of a page) and learning what to highlight and consider. I had never had an interest in learning about this technique before or ever actually been taught it, but now I use it all of the time. I also found leaning from experienced tutors on how to scout and what equipment and software is used extremely useful.
Steven: That's too hard to answer with just one thing. The School's general reputation is excellent, the contacts gained, the practical "hands on" approach, the after-course support.
How did the course prepare you for where you are now?
Oliver: Nothing can really prepare you for the location department on a film or TV set, every day has its own challenges. What it did prepare me for was to understand larger scale productions e.g., being taken onto set and unit base of a Netflix production and how to anticipate those challenges and opportunities. It also gave me the opportunity to develop my own network and peers. I am still working with another course colleagues nearly two years on and this is our third project together.
Petula: It was great for getting used to the terminology and the order in which things are done and the time scale in which things take place.
Steven: Since leaving last year I have worked consistently with only a three-month break for Covid. I am about to start Season 2 of Bridgerton.
What advice would you give to someone thinking of applying to the Location Management Certificate at NFTS?
Oliver: Go in open minded – bring everything that you have ever learnt whether it is from customer service, hospitality, event planning and management, photography, or logistics. If you have the right attitude, are never late and always early you will go far. Consider looking at approaching and sending your CV off to Location Managers of film and TV programmes that you have enjoyed or admired. I did just that and got myself some work experience as a Location Trainee on an ITV crime drama series whilst studying on the course.
Steven: Do it. If you want to work in Locations this is the best real working course you can get onto.
Applications are open for this fantastic course, run by experienced Location Manager and 1st AD Richard Lingard, whose credits include This Year's Love, Perfect Strangers and Rebel Heart. The application deadline is 17 March so visit our website to find out more and start your application today! nfts.co.uk/ locationmanagement
#NFTS