1 September 2021: One of the many brilliant opportunities NFTS Model Making for Animation students are given is being tasked with creating a 'real world' project for industry productions.
Set in a familiar near future, Sky One's popular comedy Code 404 follows DI John Major (Daniel Mays), a detective who is killed in action – only to be brought back to life thanks to computer technology. It's this resurrection that allows him to re-join his police partner, played by Stephen Graham for some action-packed comedy set pieces.
TV Production Designer Julian Nagel, was in the process of designing and shooting the second series of Code 404 which returns to screens on September 1st. He was looking to expand the exterior geography of the series, shooting in carefully sourced locations to create the sci-fi aesthetic of the show. He and director, Al Campbell both have a fondness for science fiction design, and part of the new series takes place in a futuristic circular prison.
The duo were finding it difficult to source anything that accurately reflected their vision and reached out to John Lee, Head of NFTS Model Making for his help and expertise. With the assistance of his 2020 cohort, John and his students were briefed to build a miniature prison which could be shot with a motion control camera against green screen and comped into a live action plate.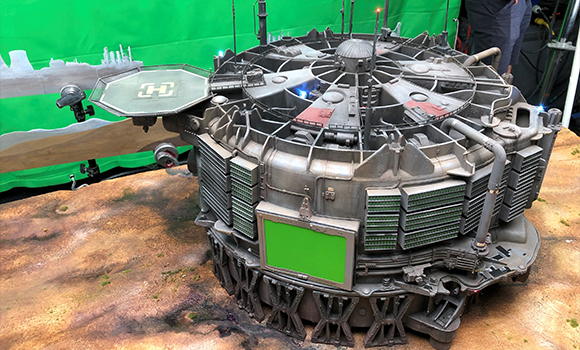 John Lee explains the process: "Initially, we talked about creating a design from scratch, which proved impossible in the timeframe, so my plan B was to re-purpose a series of found objects and enhance with bespoke items to give the necessary scale, and realism. Fortunately, I've done a lot of this in the past, on films like Alien vs Predator and Moon, so Julian knew he'd come to the right place. Re-purposing and freehand sculpting is all about nailing the scale, and using parts carefully and sympathetically to disguise and create new shapes, which the audience assume is real. We passed concept designs back and forth between Julian, Al and myself, so we knew exactly what we were aiming for. There was no time to meet in person, as we were in our own NFTS bubble, so everything was done remotely!"
Once back on site in the Model Making workshop at the NFTS, John brought in a few of his Model Making graduates to help kick start the build, before handing over to the new September 2020 intake, who had only just waved hello to each other before jumping headfirst into this exciting industry project. The main section was fashioned from the outside of a large washing machine drum, which Al had found dumped in a street whilst driving home late one night! It looked pretty futuristic from the get go, so the model makers were optimistic that it could be embellished without too much trouble.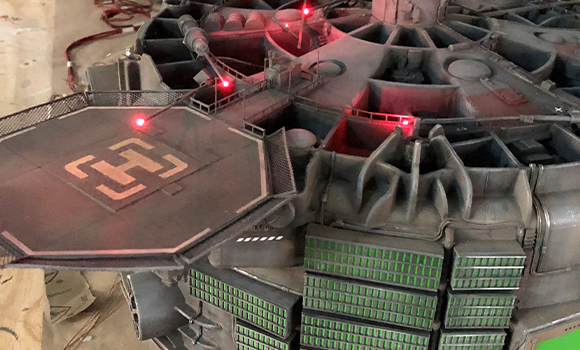 After a week of practical demos, the students created the necessary detail and scale, plus some miniature practical lighting, and a small barren landscape. The work was completed within two weeks, before taking it to a central London location for filming.
Al Campbell said, "When I initially had the idea to represent the high-tech prison for series 2 of Code 404 as a miniature, I knew that I would need someone who would bring experience and enthusiasm to the construction. John Lee, and his model making students at NFTS brought exactly that with them. As I saw the final touches being applied to the model shots in post I couldn't quite believe that it started off as a washing machine drum housing. There is so much beautiful detail on display, not just in the model but the landscape surrounding it. I couldn't be happier with the final result, and that's thanks to John and his NFTS model making team for their commitment and skill."
With Code404 S2 starting this weds, I really wanted to say how brilliant the models were from the legendary @JohnLeeRockyRd and all his talented students from @NFTSFilmTV model making course - enhanced by the fantastic people at @BLIND_LTD. Really pleased with how these came out! pic.twitter.com/vLihmJn8lx

— Al Campbell (@AlCampbeII) August 30, 2021
John added, "I'm super excited to be able to shoehorn a few real-world jobs into the curriculum, after all, it gives the students valuable experience of working in the industry, which is why they come to the NFTS in the first place. My students are looking forward to seeing the finished results of their work on screen. They'd only been on the course a few weeks and completed their first real job, which will take pride of place in their CV and portfolio."
Season 2 of Code 404 will be made available to watch today (1 September 2021) on Sky Comedy and NOW TV. Check out what some of the students thought of the project below!
"I was surprised and delighted to find within the first weeks of the Model making course that we were able to assist on a miniature to be used in a real-world shoot for the Sky TV show, Code: 404. I wasn't expecting that until after graduation, so it was a great start to the year. Once the miniature was finished I was able to assist John on the actual shoot day. This was my first TV shoot, and it was great to see how the different departments work together, including, how the model makers fit into that dynamic. I learned so much from this experience and have come away with a real-world example I can put on my CV, all in the first month of the course!" Callum Higgins
"It was so exciting to work on a model miniature for a real-world production, especially as it was one of our first projects. I had a glimpse of what my days could look like after I graduate, which only made me more excited about what's to come." Ellen Beaufoy
"It was a great opportunity to get to know each other and meet some of the other very talented students that had previously graduated last year, and exciting to know that our Prison model will be my first contribution to a piece of work that will be filmed and seen on TV by thousands of viewers, it is a genuine dream come true, and hopefully the start of many more to come in the future!" Charlie Allwright
''It was such an incredible opportunity to be able to work on a project where something I helped make will be used on an actual TV show. I am so pleased with what our team managed to achieve. Being able to create something to industry standard really boosted my confidence, and made me even more excited about future NFTS projects.'' Michelle Cranwell
"Having the opportunity to work on a real world job for a prime time TV show only a couple of weeks into the course was incredible. It was such a great chance for us to come together as a team, navigate the workshop, learn new techniques, and see a finished example of what will be needed from us in industry. It was a fun collaborative project, and it will be very exciting to see our work when the show airs." Danielle Duncan-Rosembert
"I was a brilliant opportunity to understand the importance of scale relating to filming model miniatures, and what can be achieved by recycling 'stuff' - not forgetting the flocking gadget of course!" Jo Sperring
"I am thrilled that the NFTS model making course gave me the opportunities to work on projects that will feature on TV. Working on a model for Sky TV's Code: 404 in the first few weeks of the course, was a very valuable experience that I have never had before." Aga Fraczak
Applications for the next intake of NFTS Model Making students will be opening soon so keep an eye on our website and social for when you can apply to get involved in incredible opportunities like this one! nfts.co.uk/modelmaking
#NFTS