John Lee, Head of Model Making at the NFTS was thrilled that his students were once again given the opportunity to become heavily involved in another inspired 'real life' commercial brief for SHEBA® Cat Food. NFTS Directing Animation MA student Nick Cinelli was selected to make the 60 second promo, titled 'Resistance is Futile' as part of an inaugural scholarship awarded to him by Flare Studio, Omnicom's content commissioning platform. More info here.
Nick's winning brief was to remind viewers that cats have never quite forgotten that they were once worshipped as gods. It involved an ambitious technique that included a rotating miniature set and combined live action with 3D and 2D drawn animation characters. The brief landed with the Model Making department when Nick and NFTS Bridge to Industry Executive Producer, Venetia Hawkes, realised the only way to create the very particular and innovative aesthetic they were after was to bring on board the students from the Model Making for Animation Diploma, now in its third exciting year. Nick created a tight animatic, which the model makers worked from.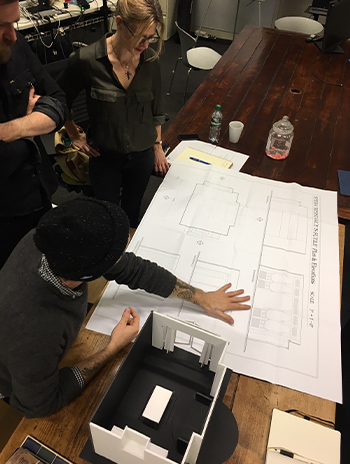 John Lee explains the process: "We created a miniature set at 1:6 scale of a pretty generic sitting room, which during the one minute story, transforms in 'real time' into an elaborate Ancient Egyptian den, complete with artefacts, sculptures, detailed ornate props and surfaces. Interior walls were 'floated' in and out so that Nick could achieve a variety of camera viewpoints during the two day shoot. The elaborate concepts and set designs were created by NFTS Production Design student Roz Gregoire, who then worked with my students on the best way to create the miniature environment in a short pre-production period. The detailed props were built by all 10 model makers, who shared out the work during a four week period. Industry prop making expert; Steve Gregory found time to share his knowledge and skills of mechanics and construction, in between his busy commitments at Pinewood Studios on the recent Star Wars film. The model was shot live action, with hand operated props and scene shift gags by NFTS Cinematography student Molly Manning-Walker, who also smoked up the interior to give it the necessary level of realism.
These atmospheric background plates were then locked in the edit before the 2D animation overlays of the Sheba cat and human characters were drawn by NFTS MA Directing Animation student Nelly Michenaud. Nelly created hundreds of hand drawn frames over the following months post shoot. My students were naturally excited to be involved in the live brief and also to work with industry experts, such as Steve, Joe Holman, and Josie Corben who were more than happy to share their expertise. Projects such as these help boost the students already comprehensive portfolios as they complete the course and prepares them to fully enter the world of model and prop making. It's every Head of Department's dream to not only deliver their own unique courses but when we get the chance to work on a real brief? Well, that's why our students choose the NFTS!"
Director Nick Cinelli who has since graduated from the NFTS, said: "Working on this project was amazing and Flare Studio gave me the creative license to run with it. I couldn't be happier with the end product, but more importantly the experience of collaborating with so many lovely people."
Watch Resistance is Futile below.
Applications for Model Making for Animation are now open for a September 2020 start!
Watch an insightful Masterclass from Head of Model Making, John Lee alongside Model Making graduate Lisa Ott, who is currently working on several projects with the award winning Mackinnon and Saunders, here.
For more info on the Model Making for Animation Diploma course click here.
#modelmakingmonday
18/05/2020