Every year, students of the NFTS Model Making Course build a replica set from a well-known film. For 2020, John Lee, NFTS Head of Model Making for Animation Diploma tasked his new cohort of model makers with replicating the interior of the 'Sarang' Lunar Base from the BAFTA winning sci-fi film Moon. Starring Sam Rockwell, the film was directed by Duncan Jones who teleported in from his LA home via Zoom to help the students with their brief!
Moon is a movie with a special place in John Lee's heart, having created many of the model miniatures used in the original film, made at Shepperton Studios in 2009.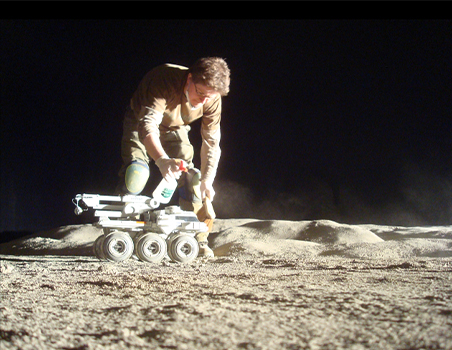 John recalls: "When researching this year's modules, I thought Moon would be ideal and also a wonderful opportunity for me to share my stories about working on the film. I was also keen to bring the film's director Duncan Jones on board in some way. During lockdown, I sent him my draft module brief, not really expecting an immediate answer. By the time I'd made a coffee and got back to the office, he'd responded saying 'sounds great, let me know what you'd like me to do.' I can't say how excited I was, so I quickly finalised the brief."
Within the first week of term in September, the model making students were in for a surprise on-line Masterclass with Duncan, who discussed his career, the making of Moon, and also set them a couple of challenges which he was unable to realise when shooting the film.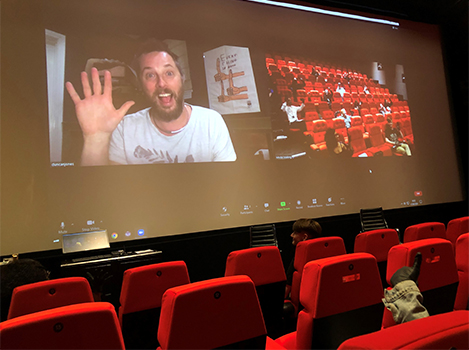 Moon's Visual Effects Supervisor Gavin Rothery designed the interior of the film's Sarang Lunar Base and the students were briefed with building a challenging 1:8 scale miniature version of it, complete with practical lighting, props and a colossal amount of onset graphics, all in just five weeks!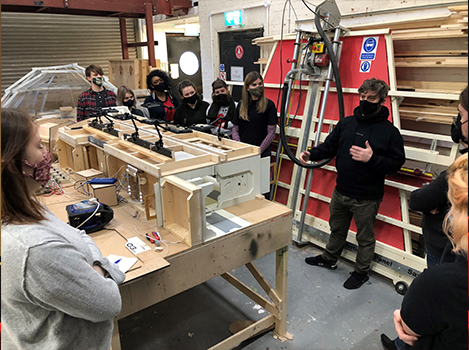 John says: "The Moon brief is as real world as it gets. It has to be accurate, crisp, nicely detailed and fool the audience into thinking they are looking at the full size set. There's nowhere to hide on this model – everything has to fit together cleanly and precisely. The wall structure and bulkheads are made as if we were shooting this as an animation, in other words, walls and ceilings can float, enabling us to put a motion control camera wherever we like."
It was the Model Makers first big group collaboration, putting into practice the machine knowledge learned during their first few weeks. The pressure was really on for the students as Gavin, original designer of the set and whose sci-fi directorial debut Archive is due for release in January, was scheduled to visit the workshop to check on their progress!
At the NFTS, many different courses collaborate together and the Moon brief was combined with the NFTS Digital Effects MA course, incorporating their Motion Capture and Motion Control workshops to create an exciting promo sequence from the film.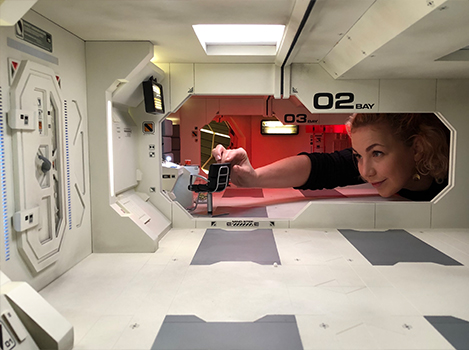 Having finished the project with incredible results, Gavin said of the students' replica: "The 1:8 scale model of the Sarang base from Moon was quite a thing to take in. It's over been ten years since Moon was released and seeing it took me right back to when we were building it back in Shepperton. Parts of it were so accurate that John's model makers even included a couple of little mistakes the construction crew made whilst building the full size version. They smashed it!"
It looks FANTASTIC, team! https://t.co/V9VH4ML4eK

— Duncan Jones (@ManMadeMoon) December 11, 2020
Head of NFTS Digital Effects, John Rowe said of the collaboration with his students: "John Lee and his students have created something staggeringly beautiful. This DFX x Model Making project truly demonstrates the successful marriage between traditional skills and the digital world. We are also incredibly grateful for continued support from both Centroid Studios, and Mark Roberts Motion Control in allowing the students to learn complex techniques from industry specialists. As for all visual effects, the combination of art and science is clear to see."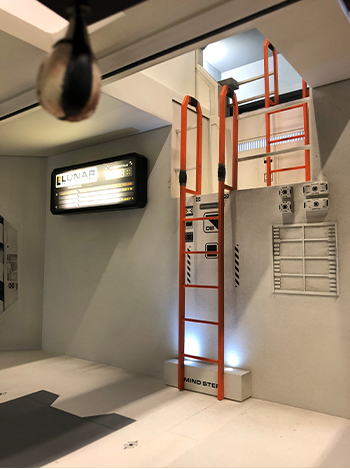 Quotes from NFTS Model Making Students:
I gained so many new skills in the duration of this project and it has really helped boost my confidence in the areas I felt that I struggled the most at. I'm still in awe at how indistinguishable our not so little model is to the set used in the film. I can peek my head in and feel like I'm in the movie. I'm so proud of what we as a team have accomplished - Charlie Allwright

It's incredible to see the scale and quality of what can be achieved in just six weeks. Before our project started, the workshop was as familiar as the surface of the Moon… But in this time my confidence, team working, technical and problem solving skills have increased enormously. It has been so much fun to see the set turn from sheets of MDF to a scale model that, when on camera, is completely indiscernible from a human-sized set. - Ellen Beaufoy

Before this project I had no idea what went into a miniature set build. I have learnt so much in a short space of time. The group really came together to bring this set to life and I am so proud of what we have achieved. It was an invaluable learning experience to be a part of the process from the first day of research and development all the way through to the tiny finishing details. - Emily Brook

Working on the Moon build was way out of my comfort zone as I have never worked on anything Sci-fi before. I learned so much in such a short time and really enjoyed all of it. Hearing stories about the actual film set from Director Duncan Jones on Zoom and Designer Gavin Rothery who made a visit to the model making department was invaluable. - Michelle Cranwell
After struggling on one particular area of the set it was reassuring to find Designer Gavin Rothery had almost identical struggles with the real set build, just on a different scale.
I'm proud of what we have achieved and I learnt so much from everyone - Jennifer Dingwall
Working on the set really put my problem solving skills to the test and I have learnt so much in such a short space of time. Creating the set brought our team a lot closer and helped us bond. Working on the Moon set was a one off experience which became a big part of my everyday life and it became a massive learning curve. - Aga Fraczack
When I found out we'd be making a model of the Moon set I was thrilled. As one of my favourite films it's been a real pleasure to be able to replicate so many different elements in miniature. I was so happy with the finished model, and so proud of what we as a group have achieved. - Callum Higgins
I had such a fantastic experience during the Moon replica build and I learnt so many new skills. For example wood working techniques, silver soldering for creating the ping pong table and scribing when fabricating the floor. This has been a great collaborative project and working to such an intricate detail has created such a satisfying finished project. Having the opportunity to merge with digital effects and cinematography has helped elevate the model to the next level and it has been fascinating to watch their processes. - Danielle Duncan – Rosembert
Moon was a very exciting module! I was able to really push myself out of my comfort zone by constructing angular wall panels for the set, whilst also learning how to fill, prime and paint the MDF to create a realistic replica. I also thoroughly enjoyed scribing the flooring to create a tile effect. I had a blast working with the team and am very proud of what we have achieved. - Olivia Savage
It has been an amazing experience creating the 'Moon' set replica as part of the Model Making course at the NFTS. Not only have we had the privilege of a Zoom meeting with Duncan Jones the director, we also had Gavin Rothery (the vision effects supervisor and Designer from the film) came in to see the finished model - he was very impressed.We paid careful attention to detail and scale, working out ways to achieve the best most convincing replica - most importantly the right way of doing it. Working together as a team brainstorming to find solutions to complete the set to a deadline gave insight into what to expect in the industry. Absolutely fabulous. - Jo Sperring
It was fun working on my first model miniature set! It taught me a lot and it's turned into one of my favourite films in the process. I particularly enjoyed making my first practical lighting effects. Good work team! - Tom Winfield