The NFTS recently welcomed renowned Commercials Director Chris Palmer through the doors of the School. Chris, who is responsible for creating some of the best-loved ads of recent years, was on site to shoot the final scene of an advert featuring the 'Deep Sleep Cocoon' jacket for experimental clothing brand, Vollebak. The jacket is designed to allow people to sleep anywhere, including while in space!
The advert features a spaceship model, which was created in just four short days by John Lee, the Head of NFTS' Model Making Department, with the help of three graduate students.
Here, John recounts his experience of turning around a tight brief in record time at one of the busiest times of the year for the Model Making department!
"Since creating the Model Making Diploma course here at the NFTS in September 2017, it has been a priority of mine to continue to foster the close relationships with my contacts in film and TV and to get my students involved in real world projects. TV producer Rupert Smythe of Gorgeous contacted me recently to see if I could help his team out by creating a spaceship model. The model would feature prominently in the advert they had been commissioned to make for Vollebak. We had an incredibly tight deadline of just four days to turn it around but I love a challenge and managed to squeeze the project into our very busy curriculum. I'm also a big sci-fi fan, and consider myself fortunate to have worked in the prop making and set decoration departments of the last three Star Wars films as well as Duncan Jones debut film, Moon. Being set in space, the brief for the Deep Sleep Cocoon spot could not have suited my sci-fi background better.
Myself and three of my graduate Model Making students; Helen Ferguson, Jake Teale and Harry Saxon, set to work making a five foot long spacecraft from found objects, recycled materials and two watercoolers! I used my past experience working in the genre to share a few secrets on how to create as much detail on the model as possible in the shortest amount of time. I was also able to utilise experienced electrician Gary Welch who helped us out with some LED lights to bring the whole thing to life both on set and on screen. Thankfully, Rupert and the Director Chris Palmer gave us lots of freedom to design the model, which is always very helpful when there simply is no time.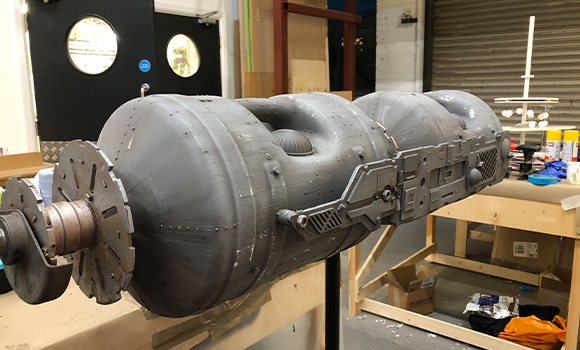 We created the spaceship in the NFTS Model Making workshop, and on the day of the shoot, filmed it on Stage 4 which also recently hosted Ricky Gervais and the cast and crew of Netflix's AfterLife.
The filming that took place on shoot day was the final piece needed to complete the Vollebak advert and went very smoothly thanks to a combined effort from NFTS staff, students and graduates. Additional thanks goes to Annalise Davies (NFTS Head of Production) who was able to pull together the necessary facilities we needed to make the shoot happen in record time.
I very much hope this collaboration between Gorgeous and the NFTS will continue now that they know how talented our Model Making students are and what they are capable of achieving."
Director Chris Palmer said: "I've always loved the NFTS so getting to shoot there was a real privilege. John Lee and his model making team were totally professional from start to finish and the end result speaks for itself. It was a really enjoyable and rewarding experience."
Rupert Smythe of Gorgeous said: "Initially we came to the NFTS for some model making and ended up getting so much more: great modelling (and so fast!); lovely crew, great studio space and compelling enthusiasm from everyone involved. We'd love to come back for more soon."
Three students from the NFTS Directing Commercials MA course were fortunate enough to shadow Chris while he was on site filming. Student David Graham said: "It was awesome shadowing Chris to see how he works on set. I love his work so it was a great opportunity to meet him and hear in person how he created different projects."
"It was great to hear his point of view on how the industry has evolved since he started working," commented fellow student Angelo Cerisara while Michele Vicente said: "Shadowing Chris was a really valuable experience."
Watch the finished Vollebak ad below - the spaceship created at the NFTS features at the end so please watch all the way through!