The great and good of the UK music video industry turned up in force to make the NFTS 2018 Music Video Day a huge success! Speakers included Emma Wellbelove, Executive Producer and Head of Music Video at one of the UK's leading production companies, Rattling Stick; Music Video directors, Eve Mahoney, George Belfield and Nadira Amrani; award-winning music video producer, Liz Kessler; Head of Music Video and Content at leading production company, Blink, Richard Grewe; Music Video commissioner and Senior Creative Producer at Sony Music, Dan Millar and award-winning filmmaker, Corin Hardy.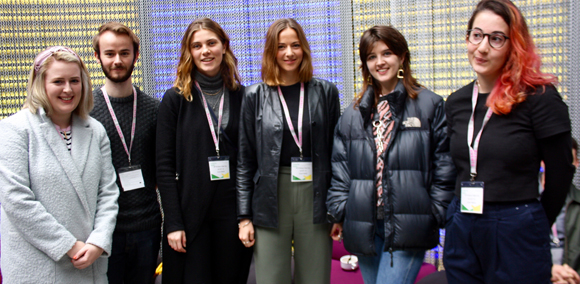 Kicking off the day, Emma Wellbelove, who also heads the Rattling Stick's new talent arm Dirty Work, talked about finding new talent and how the brief and pitch process works for music videos. She explained it was the strength of an idea that drew her attention to a director's work, it didn't need to have high production values. And that once directors were signed, a production company like Rattling Stick can support them to make work with more budget and higher production values. Once directors are on roster, she likes them to send her a 'taste bible' with artists they like and music videos they wish they'd done. "Sometimes you get a brief in and it shouts one particular director but you shouldn't pigeon hole yourself to one style."
Director, Eve Mahoney is on Rattling Stick's Dirty Work new talent roster. As well as promos she's recently directed a piece for Radio 1Extra's 15th anniversary and a series of content for Nike. Eve entertained the students by playing one of her first music videos Chicken and Chips by Conrad Kira ft Khalid Omari and counselled: "You've got to do something you really love. Don't aspire to be something you're not and be loyal to your idea." It was this authenticity that led Nike to find Eve as they liked her ability to do comedy.
Liz Kessler, who was awarded 'Best Producer' at the 2013 UK Music Video Awards, was up next. She was previously Head of Music Video at Academy and Music Video Commissioner at Island Records and has produced music videos for a whole host of artists including Jake Bugg, Goldfrapp, Kings of Leon and Paolo Nutini. Liz advised the students that "if you can put a music video together, nothing will throw you! I was obsessed with music. If you don't have a great love of music, don't go down this route. You need to be passionate about it. At its best the music video is one of the freest art forms around. It's much freer than commercials. Music videos can give a creative person a real chance to express their creative ideas." Liz played the students one of her lower budget videos, Numbers in Action by Wiley and used it as an example of how '"imagination makes music videos good. An artist like Wiley is a gift. Once he's on set, you're killing it as you can let him do his thing."
Liz also recommended to 'use your assets' when you have a lower budget. That could be an artist like Wiley who is great on camera or an artist who has great connections like Antony and the Johnsons who got Willem Dafoe to be in his video, Cut The World.
Blink, Head of Music Video and Content, Richard Grewe recommended directors to talk to the artist to ensure they are on board before shooting a music video. He also emphasised the importance of the brief and to ask for more information if it's not detailed enough. Keeping abreast of what's happening culturally is also key: "The best directors I've worked with were culturally and socially aware. If you don't have a message, it can feel shallow. You should be able to explain your idea in one sentence; you want something bang in your face that will grab you." Richard left the students with the powerful, final thought: "Don't follow trends, be the pacemaker!"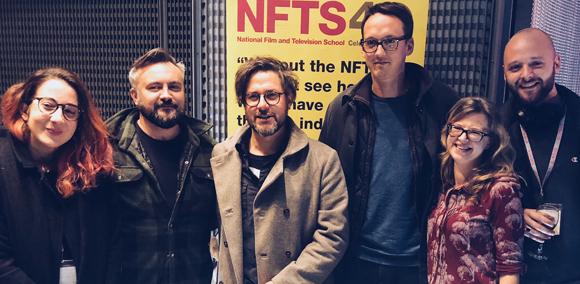 Nadira Amrani is signed as a commercial director with Blink, and also still works independently in fashion, music, documentary in photography, videography and curation, with companies including Nike, i-D magazine, The Tate, and the BFI. She's also the founder of People Of Colours - a creative collective that seeks to promote diversity in the film industry, to showcase and support POC talent in a non-competitive, encouraging space. Nadira delivered an empowering presentation to the students explaining how she started out studying architecture but made her dream of being a filmmaker happen by being proactive and not being afraid to ask people for things: "When people say no, keep going!". She showed the students a video she put together for £500 for Brother Portrait for their track, Seeview/ Rearview
Music Video Commissioner and Senior Creative Producer at Sony Music Entertainment, Dan Millar, has worked with a wide range artists such as Calvin Harris, Mark Ronson, One Direction, Craig David, Johnny Cash and Bob Dylan. Dan talked about the music video landscape and the commissioning process – with some tips on pitching. Advising students that a treatment should be able to tell its idea in 10 seconds, to use plenty of images as people want to get the gist of what it would be really quickly.
Castle on the Hill by Ed Sheeran - music video directed by George Belfield
George Belfield is a director signed to leading production company, Somesuch – which was just named Production Company of the year at the 2018 UK Music Video Awards. George has directed music videos for artists such as Tom Odell and Ed Sheeran, and most recently Max Richter's 'On The Nature Of Daylight' which features a characteristically intense performance from A Handmaid's Tale, Top Of The Lake and Mad Men actress Elisabeth Moss. George talked the students through several of his music videos, from the process of pitching through to creating the work.
The final guest of the day was award-winning filmmaker, illustrator, sculptor and writer, Corin Hardy whose film The Nun has just been top of the International Box Office for over three weeks, and is the top grossing horror in The Conjuring franchise.
Screen International said of his previous feature The Hallow, winner of Empire Magazine's Horror Film of the year - "Corin Hardy makes a slick, confident debut with supernatural horror The Hallow. Demonstrating a facility with storytelling almost as skilful as his nimble orchestration of animatronics and visual effects." In a Q&A with NFTS Executive Producer Venetia Hawkes, he discussed how his music video work fed into his feature work. Venetia began by asking him how he got started, and the students were delighted to see photos of a teenage Corin creating prosthetics in his bike shed to make his first horror films with his friends.
The Horrors She Is The New Thing- music video directed by Corin Hardy
Corin showed students a trailer for his award winning stop-motion film Butterfly which went on to be made into a music video for Keane. Showing his multi award-winning music video for The Horrors She Is The New Thing he talked about the technique of making it - he and illustrator David Lupton, one of Corin's friends who featured in his teenage zombie films, drawing all the illustrations and hanging them up round his small flat to dry after Corin had shot the band live action. The DoP was NFTS graduate Stuart Bentley.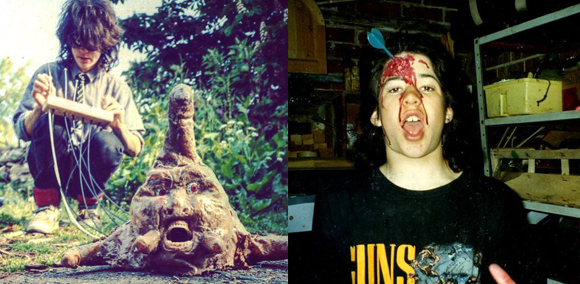 Corin explained how developing his feature ideas alongside creating music videos allowed him to build skills and relationships. He showed his video for The Horrible Crowes, 'Behold The Hurricane', which was shot by NFTS graduate Ula Ponitakos, starring BAFTA nominated actor Joseph Mawle, who went on to star in Corin's feature The Hallow.
Corin's concluding advice to the students was "Do what you love. And put your heart into it."