23 June 2021: We caught up with Dr Alex Connock, the new Head of Department for the NFTS Creative Business MA, to find out about his plans for this ground-breaking course which sees its next intake start in January 2022. Alex reflects on how the rules of the media business are being re-written post Covid and why there has never been a bigger canvas on which to study the industry.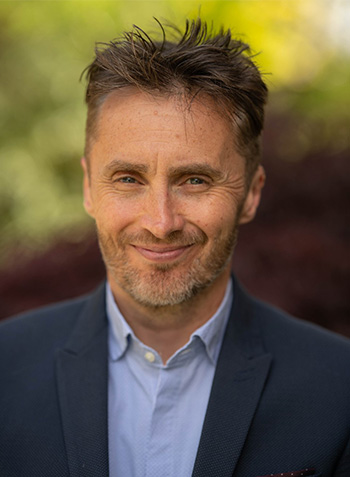 As the new head of the Creative Business MA at NFTS, how do you plan to evolve the course?
At the National Film and Television School, an understanding of the media business is critical to any course - but our Masters in Creative Business is the one that puts it front and centre. And this is an incredible time to be doing that.
The media business now spans a huge range - from art to the tech industry. The biggest media companies (Disney, Netflix) are technology companies, and the biggest technology companies (Apple, Facebook) are media producers. There has never been a bigger canvas on which to study the industry.
A New Kind of Media Companies
The rules of the media business are also being re-written in the 2020s. The tools of artificial intelligence changing in three key ways how we find the media we watch - whether that's via the Netflix or Spotify recommendation engines, or the YouTube or TikTok discovery algorithms. AI is also changing the way that media gets made - think of the Unreal Engine and its impact on the production of fantasy film and TV like The Mandalorian. And finally AI is even being used in the very creation and selection of ideas - from automated script reading to hit-making in the recording studio. We will switch up our own course to match these seismic changes in the business environment.
Finally, we will also have an eye to what has always mattered in media: stories. From theatre to video games, from Mission Impossible to Bridgerton, the standout storytellers have always been the fulcrums around whom the great businesses are created. So we will continue to look at how media businesses can curate and facilitate the greatest makers of stories.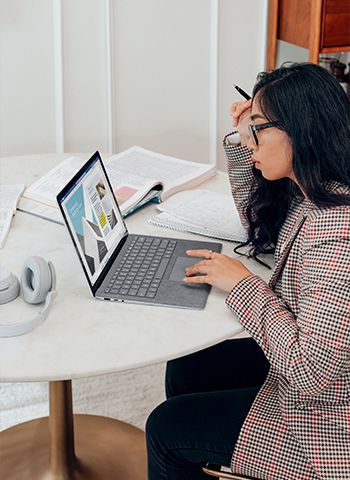 Our approach to the course will put all of that together. We will still map the landscape with our incredible opening two months doing deep dives into each sector, from publishing to theatre to social media. We will still do detailed dissertations on media business subjects the students find passionately involving. We will still do collaborations between business students and creatives on other courses like gaming. And we will still bring in incredible guests, drawing upon the tremendous convening power of the NFTS.
At the same time, we will move the course forward - with ever more precise understandings of the underlying technologies and their implications for creative business people, and ever more sophisticated understanding of what drives creative entrepreneurship in the 2020s.
Extraordinary creativity has been unleashed by individuals, teams and organisations amidst the pandemic.
How will the 2022 course harness the myriad of opportunities prospective students will be looking for to become changemakers of the future?
The pandemic speeded everything up. As the New York University academic Scott Galloway put it, we had ten years of progress in a matter of months. We saw the world move faster than we could have imagined to digital consumption and distribution. We saw the huge value of content, and great content creation, and how well it works globally. We saw how video games and video content production are rapidly merging, and we saw huge opportunities in that space. The other day I was talking to Riot Games. They have 349 job vacancies advertised on their website at the moment: that's how fast everything has moved in the pandemic. It's a golden opportunity to launch a career or a business and we aim to help our graduates do just that.
The screen and creative industries have quickly embraced innovation to address the challenges of the past 18 months.
In what way will the course amplify the creative capabilities of aspiring students?
We will give you the tools to understand the media business across multiple sectors including music, film, TV, streaming, video games, publishing, theatre, live events, Esports, advertising, social video and more. We won't make you an expert in all of them, but we will make sure you can speak the language and could work at a job in them. Then we will layer on top of that a level of entrepreneurial understanding, so that you can read a business plan, write a plan, create a company and run a company. In short, we'll give you the ability and confidence to thrive in the media business.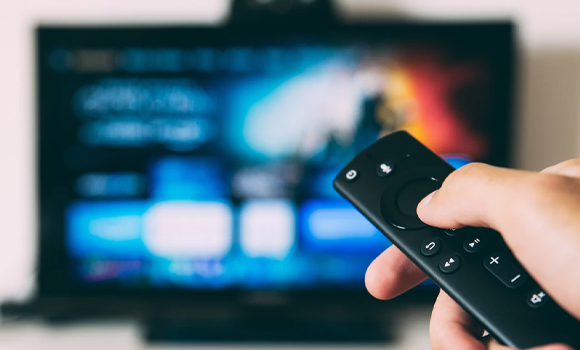 Post-pandemic, the global business, entertainment and media worlds have seen dramatic shifts.
Do you think these shifts are permanent and are we experiencing a new culture of entrepreneurship as a result?
Everyone is an entrepreneur now. Even big companies want 'intrapreneurs' and often set up new units in a WeWork around the corner from the head office to make sure that they get that start-up spirit. If you look back 20 years, or even 10 years, most of the companies that are defining the media landscape today didn't exist, or were only just getting started: Google, Facebook, Amazon, Netflix, Spotify, Snapchat, TikTok, Linkedin, Epic Games/Fortnite. That febrile environment means everyone has the chance to be there at the start of something new, and we want to help students do that, by teaching them the really useful stuff about the media business and creative industry.
What qualities does a Creative Business student need to have to succeed on the course and within their chosen career?
What I am looking for is:
Passion: we want to see that you love any part of the media business and want to make a career out of participating in that - which could be anything from football programming to musical theatre. There is a line in the film La La Land: "People love what other people are passionate about." That's very true. We want to see your passion.
Determination: we want to see evidence from your career and academic life so far that you can work hard at something and stick at it. We don't mind what that is, so much as that it shows you know how to double down and give it your best.
Achievement: we want to see that you have achieved something somewhere. Yes, that might have been getting a good degree. It might have been building a huge social media following, or getting lots of people to watch a film you made on YouTube. Or it might be to have shown that you can be a top advertising sales person or digital marketer. We have such a range of people on our course that the conversation is almost mind-bendingly wide-ranging. And that diversity is what makes this such a good media business course.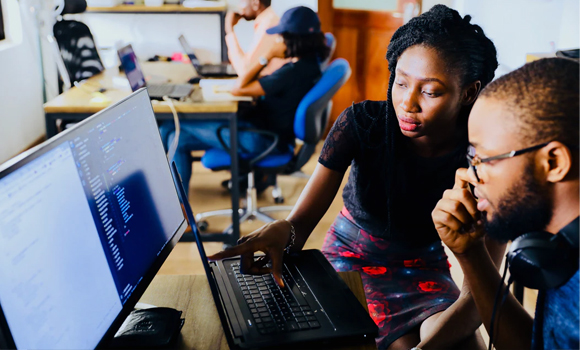 Here's what not to worry about: that you have the 'wrong' background. I don't care if you have been in the back office accounts team in a power station, or working behind the till in Pret a Manger. If I can see that you have the passion and determination for the media to bring to our course, and if I can see that you have achieved something in your life given whatever limited opportunities have been presented to you, then I will very much encourage your application. We know - because we study the media - that the best ideas and the best start-ups come from the most diverse of sources, and there is no one-size-fits-all here.
Which entrepreneurs or executives have personally inspired you and why?
I am constantly inspired by the ability of media and digital executives to innovate at speed, and meeting them is one of the great advantages of my job as an academic covering the media business. Just thinking of people, most of whom I have actually interviewed in the past year for courses I teach, I have been hugely impressed by:
Danielle Lux - co-founder of CPL productions who maintain a super-high creative quality standard across their TV output, in shows like A League of Their Own.
Jon Ridding - chief executive of the Financial Times, who has led their brilliant transformation over the past decade, from print-based business into global digital news powerhouse, when so many newspapers have fallen by the wayside.
Anima Anandkumar - an academic and executive in California who has led the world in new techniques of Artificial Intelligence which, via NVIDIA, are having a real impact on gaming, as well on how we think about diversity in the datasets which power our lives.
Charlie Parsons - a former employer of mine in TV in the UK, who went on to create the Survivor format which has been one of the linchpins of American network TV in the 21st century, even as the networks have come under pressure from streamers
Bela Bajaria - Netflix (sadly I haven't met her yet) who has led its extraordinary creative journey in production right through Ozark and Bridgerton and countless other shows. It was never automatic that Netflix would become a creative powerhouse as well as a distributor.
Rob Pierre - at Jellyfish - a UK digital agency which has now gone global with 2300 staff, and has a unique approach to staff incentives, including abandoning job titles and anonimising promotion requests.
Alex Mahon - at Channel 4. Again, a former colleague at Shine, who has done a tremendous job of positioning Channel 4 as a regionalised and streaming-first platform for viewing in the 2020s, in only a very short time at the channel.
Finally, why should prospective students apply for the Creative Business course at NFTS and what makes it different to studying a similar MA elsewhere?
The number of different roles you could do for a career in the media business is extraordinary. Just prior to this interview, I've spoken with NFTS alumni on a Zoom who were:
Curating Australian art for a global audience and programming for the Venice Biennale
Founding and running a flexible arts centre in Bristol
Running TikTok social/influencer marketing for a major record label
Developing and marketing major film projects
Running a hit digital business that is about to float on the stock market
That's the brilliant diversity of a class on the Creative Business course, and that broad range of talent and ambition is what makes this course really unique. This isn't a business course with a bit of media tagged on the end: this is a course where you will be literally steeped in content production and distribution business from the moment you join, so that you can talk confidently and knowledgeably about any field from book publishing to Esports. That's a unique attribute of this course, borne of the huge expertise within the NFTS, and our collective passion for creative business.
Applications are open for the NFTS Creative Business MA to start in January 2022!
Head to nfts.co.uk/creative-business to read more about the course, see the entry requirements and find out how to apply!
About Dr Alex Connock
Previously a senior tutor of the course, Alex has created and grown several media companies and has been shortlisted six times as Entrepreneur of the Year. Between 1998 and 2011 he co-founded, and ran as CEO media group Ten Alps (now Zinc Media) with Sir Bob Geldof - producing hundreds of programmes for UK and international broadcasters, as well as substantial digital and branded content output, including the UK government's Teachers TV project.
From 2012-17 he was Managing Director of TV and Digital Production business Endemol Shine North (now Workerbee). Most recently he founded Missile, specialised in targeted content for e-commerce. He has worked directly for BBC, ITV, Channel 4 and PEOPLE Magazine, and for hundreds of commercial clients and broadcasters via his production companies.
Alongside teaching at the NFTS, Alex is Fellow in Management Practice at Saïd Business School, co-director of the Oxford Diploma in Artificial Intelligence for Business and a Lecturer at St Hugh's College, Oxford, in Management. He has degrees from Oxford, Columbia, INSEAD and Salford.
Alex is also Vice-Chair of UNICEF UK, a director at The Halle Orchestra and a voting member at BAFTA.
#NFTS