Saturday 7th November 2020 marked a year since the passing of Nik Powell, former Director of the NFTS and executive producer of more than 40 iconic films. Nik made an impact on everyone he met throughout his life and is much missed by all those who knew and worked with him at the School.
Nik was a passionate supporter of new filmmakers and voices and on the anniversary of his death, the NFTS announced the inaugural recipient of the Nik Powell Scholarship.
Awarded to Alexander Handschuh, a first year Producing MA student, the Nik Powell Scholarship has been designed to support emerging producers in the early stages of their career to attend the NFTS, a School Nik helped shape into one of the best in the world. The scholarship will be awarded annually and was made possible via a Just Giving fundraising campaign which exceeded its ambitious target of raising £100,000.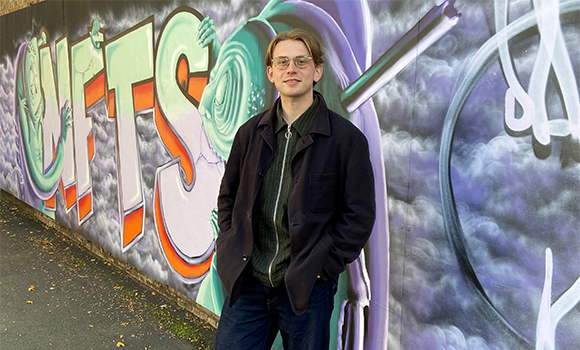 Nik was fiercely determined to help young people enter the film and television industry and reach their full potential and the scholarship will provide a lasting legacy that will create opportunities and support the producing dreams of filmmakers for years to come.
Alexander will be mentored by Stephen Woolley, multi award winning producer/director and co-founder of Number 9 Films who was also a close friend and former business partner of Nik's. Together, Nik and Stephen founded the visionary Palace Pictures, successfully releasing some of the 1980's most groundbreaking and influential films before moving into producing. Stephen will provide ongoing support and mentoring to Alexander as well as share his own personal insights into Nik's unique and sometimes maverick approach to producing.
Alexander, who started the Producing MA course in January and is the first recipient of the Nik Powell Scholarship said: "I wasn't lucky enough to meet Nik in person, but I'm completely honoured to receive this scholarship in his name. Someone who I have great admiration for and whose name is held in such high esteem not only at the NFTS but within the whole industry."
Stephen Woolley commented: "Nik would be thrilled that there is a scholarship for a producer in his name, although I'm not quite sure I can pass on all of the things that I learnt from him! His entrepreneurial spirit, which he brought with him from his co-founding of Virgin Records, was an inspiration for anyone that ever came into contact with Nik. With the current problems we face in our industry, that is an invaluable skill to help navigate our fast-changing landscape – I hope that I can pass some of Nik's wisdom in that area onto Alexander."
NFTS Director Jon Wardle added: "Nik was a leading light in his support and nurturing of NFTS students and his influence will live on for many years to come with the addition of this new scholarship bearing his name. A heartfelt thank you to everyone who donated so generously. Knowing that emerging producing talent like Alexander will have the opportunity to join the industry he loved so much would have made Nik incredibly happy."
Throughout 2020, the NFTS has awarded over £900,000 of scholarship and bursary funding to students studying our MA and diploma courses. We remain as committed as we've always been to attracting a pipeline of the UK's most promising and diverse television and film makers, no matter their background or financial circumstance.
The full story on scholarships awarded in 2020 is available to read via our latest blog piece here.
7/11/20