Recent NFTS Directing Commercials Diploma graduate Jake Sleet has directed a promo for the NFTS Be Part of the Story campaign, which is to be screened across the majority of cinemas in the UK including Vue, Odeon, Picturehouse, Cineworld, Everyman, Curzon, and BFI IMAX. The campaign highlights the wide range of specialist roles in film, TV and games development that NFTS courses prepare graduates for, and the opportunity for them to get hands on experience in a real production environment.
The promo was filmed by a team of recent NFTS graduates including Cinematography MA graduate Jonathan Flint, Directing Commercials Diploma graduate Jake Sleet, Assistant Directing & Floor Managing graduate Stephanie Bradshaw and Producing MA graduate Lenny Ortmann.
We caught up with Jake, who said: "It's a thrill to see the promo screened at so many cinemas across the UK, especially BFI IMAX, and in front of special screenings of Christopher Nolan's iconic Dark Knight Rises films. I'm really proud that it will be seen by so many audiences! The resulting roll-out of the 'Be Part of the story' campaign over these next 8 weeks is definitely well-deserved due to the hard work of all the brilliant people involved in its making."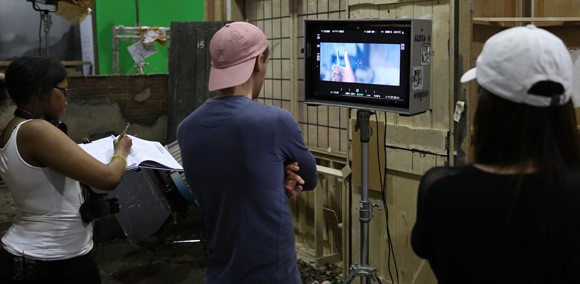 Producer Lenny added: "The promo was created as a collaboration in true NFTS spirit - lots of talented people coming together to make something they are passionate about and I think that comes across. We can't wait to see it on the big screen!"
Cinemtographer Jonathan said: "We're all thrilled to have this ad out in cinemas and proud to have been part of a great collaborative effort that was spearheaded by Jake. Having been taught at the National Film and Television School to create imagery that is catered primarily with the big screen in mind, it goes without saying that I'll be headed to my local cinema very soon to check it out!
NFTS External Relations Director Phil Reilly explained why he picked Jake's idea: "Jake is an incredibly creative and thoughtful director and he impressed us right from the moment he started his pitch. He is bursting with ideas and really got how to bring the message of the campaign to life."
NFTS Team: Director, Jake Sleet; Cinematographer, Jonathan Flint; Producer, Lenny Ortmann; Editor, Emil Joseph; Sound designer, Adam Shuttleworth; Composer, Jose Pavli; Colour Grader, Vlad Barin; DoP, Jonny Flint; 1st AD, Stephanie Bradshaw, Script Supervisor, Amelia Nicholson; 2nd AD, Yelena Guillen Ortega & Sarah Couprie; Production Manager, Alana O'Neill; 1st AC, Kit McKenzie; 2nd AC Edward Lomas; 2nd AC Josh Dadson; Production Designer, Mary Dodds
If you would like to be part of the story at NFTS, have a look at our wide range of courses at www.nfts.co.uk