Welcome to the next addition to #NFTSStories, a series of insightful blogs featuring alumni talking about what they were doing before they came to the School and what they are up to now. You can follow the series by using the #NFTSStories hashtag across Twitter and Instagram.
Nosa Eke graduated from the NFTS Creative Producing for Digital Platforms Diploma in 2015 and has been highflying ever since! She wrote an interactive narrative mobile experience, which lead to Nosa being featured within Apple's app store as one of 'Britain's Next Level Gaming Talent' in 2018. In addition she has written an episodic series on Amazon's Alexa for the BBC and her short film, Something in the Closet, had its world premiere at this year's London Film Festival.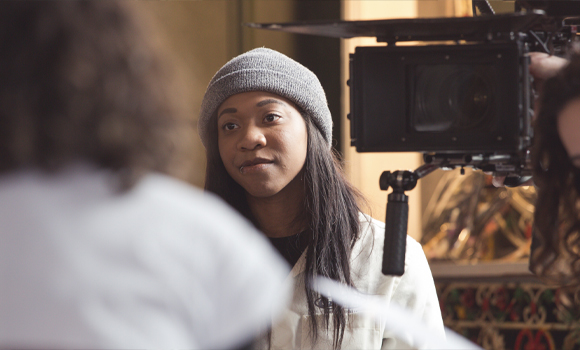 What were you doing before applying to the NFTS?
I had finished my BA and was working in Topshop Oxford Circus while writing scripts in my spare time.
Tell us more about what are you up to now?
I feel like I'm in a fortunate place in my career. That is the fruit of years of being a self-starter in the industry. I just shadowed director Destiny Ekaragha on End of the Fxxxing World series 2, and am on the path to directing a high end drama. I've got a feature film in development with the BFI and I've just had two interactive projects optioned.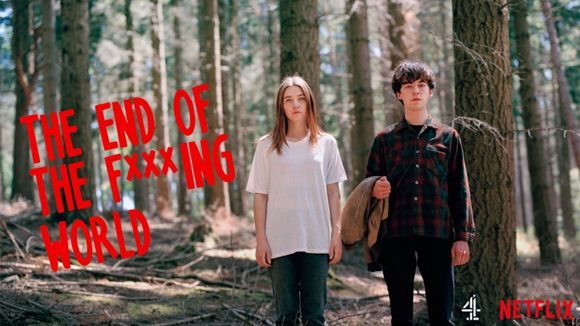 What are your ambitions for working in the Creative Producing sector?
Just to continue trying to push the boundaries in the interactive and immersive space using available technology and affordable platforms. The mainstream audience are sceptical about this sector but your target audience need to feel like they can access these stories and have no barrier to entry. My non-traditional work is always trying to bridge that gap.
Have you got any exciting projects coming up?
I'm excited about my feature film which is non-traditional in the fact that it utilises AR technology. I'm also excited for the two interactive projects I'm about to start working on. I can't say too much about them but they try to push the limits of storytelling using platforms everyone has in their pockets.
How has studying at the NFTS helped you in your current role?
The Creative Producing course gave me a great foundation to start working in the film, television and games sector both traditionally and non-traditionally. It also taught me not to wait for the gatekeepers to give me permission to start on something. It has taught me to interrogate why we tell stories in this interactive way.
My motto has become; "just because we can, doesn't mean we should". This just means that while yes, it is cool to play with non-traditional storytelling but not just because it's cool, does it make sense for the story or the characters or even the audience? If it's a no to one of these things then you probably shouldn't do it.
What trends are you currently seeing in Creative Producing?
In non-traditional storytelling, the big trend is to 'choose your own adventure' style storytelling.
What's been your biggest career achievement so far?
There's been a few! Getting to screen at Sony Pictures Entertainment in LA with my graduation project, The Grind. Being picked for Network at London Film Festival this year and having my film screened, David Yates liking my short film (I'm a big Harry Potter fan!) and making varied forms of work in the past year with great companies and broadcasters.
What was the best thing about studying Creative Producing at the NFTS?
It's so hard to narrow it down, I think aside from the course, my tutors Kim and Louise made it a time full of memories!
How easy was it to make the leap from being a student at the NFTS to full time work?
For me I think it depends on how much you're willing to be a self starter and how you push yourself to connect with people you want to work with. I was already sowing the seeds while at the NFTS of contacting people I looked up to and wanted to be working with in the future. I was also making work that I could show when I had left the NFTS as well and then sending it onto people I met at events or on Twitter/Instagram etc. Thankfully they connected with the work, which led to more and more opportunities and jobs by word of mouth or through agents.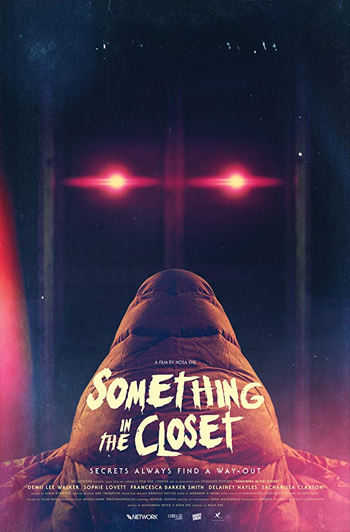 Finally, what advice would you give to an aspiring NFTS student?
Get stuck in. Don't worry about whether or not you think you're going to get in. You'll never know if you don't try. I clicked 'send' on my application to the NFTS fully thinking I'd get a rejection email back and to my surprise it all worked out. Also I'd say always have some recent work you can point to, as the number one question everyone gets is "what are you working on?" You can't say "nothing" or no one will take you seriously.
For more information about the NFTS Creative Producing for Digital Platforms Diploma, please visit nfts.co.uk/creative-producing-digital-platforms.
Places are still available for this course, applications are open until 28 November to start on 27 January 2020.