Welcome to the latest NFTS Story, a series of insightful blogs featuring alumni talking about where they were before they came to the School and what they are doing now. You can follow the series by using the #NFTSStories hashtag across Twitter and Instagram. Jonny Mutch recently graduated from the NFTS Sports Production Diploma and is now working at IMG, a global leader in sport production as an Assistant Producer for Golfing World.
What were you doing before applying to the NFTS?
Before applying to the NFTS I was at sixth form studying Media and Photography. I had always been interested in sports and was an aspiring professional snooker player. Since a young age I had been fascinated by the behind the scenes aspects of films and TV programmes, which meant a job in the film/TV industry was an attractive possible career choice. Sports Production seemed to be the ideal pathway for me as it combined both of these disciplines simultaneously.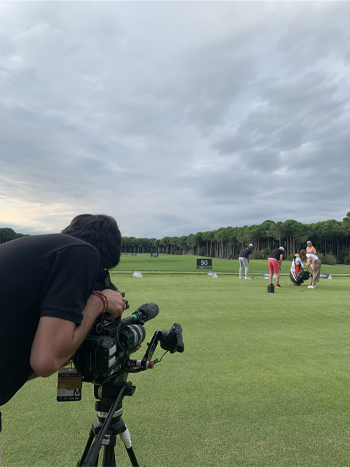 What are you up to now?
I'm currently working at IMG as an Assistant Producer for Golfing World. I must be one of the few people in the world that can honestly say they love their job! Getting to travel the world and film with top level golfers is amazing, and something I never thought I would be doing so soon after finishing the course. I feel very privileged to be able to witness some great sporting moments right in front of my eyes, such as Shane Lowry's win at The Open this year.
What are your ambitions for working in Sports Production?
The opportunities in the Sports Production world are endless, but at this moment in time, shooting, editing and producing are what I enjoy doing most and I hope to continue down this pathway for a long time.
Have you got any exciting projects coming up?
As I'm writing this, I'm packing my suitcase for a week-long shoot in Turkey, and I've got an upcoming shoot in South Africa in the first week of 2020. As the golf calendar never really ends, Golfing World is unique in that there are shoots to go on all year round. In 2019 alone I've been to six separate countries for different shoots and next year will only be busier.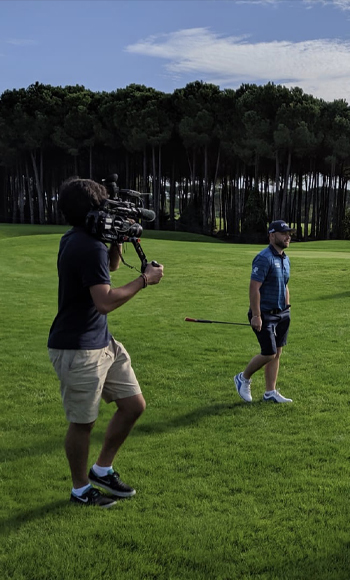 How has studying at the NFTS helped you in your current role?
I wouldn't have a job in the industry if it wasn't for the NFTS. When I started the course, I thought I was a decent shooter/editor, but with hindsight I was actually clueless! I was the youngest person at the School having just come straight from sixth form and I was naïve in many aspects.
Thanks to Tom Lewis (Course Leader) and Chris Downham's (Course Tutor) guidance and the hands-on nature of the course, I left the NFTS feeling confident in my ability to go into the industry and start working in a professional environment. The course gives you relevant knowledge needed for a career in sports TV, and thanks to the School's relationship with IMG, it allows you to start making contacts and get your foot in the door early.
What advice would you give to an aspiring NFTS student?
Be proactive and get involved with as many different projects as you can! Even if you don't feel it's relevant to the specific pathway you want to go down. You will learn something every time by working with others, and many disciplines in the industry cross over. Try and make as many contacts as you can along the way, you never know who knows who and who you might meet.
Who is your sporting hero?
That's a tough one, but it would have to be 1976 Formula One World Champion James Hunt. I've always been a fan of a maverick, and his ability to perform his craft at a high level whilst maintaining a blasé attitude is something I admire and try to emulate in my everyday life!
For more information about the NFTS Sports Production Diploma, please visit nfts.co.uk/sports-production
Applications are open until 28 November for a January 2020 start.