Second year NFTS Marketing, Distribution, Sales and Exhibition MA students recently attended MIPCOM in Cannes, the world's biggest entertainment market. From blockbuster programming to ground breaking partnerships, every October the global media and entertainment industry converges in Cannes to turn every moment into an opportunity, transforming four days of exchange and networking, meetings, screenings and conferences, into lasting business.
We spoke to Natasha Oldham, Esther Alade and Yung Chang who alongside their fellow students attended MIPCOM, the final field trip of their course. The visit is designed to fully immerse the students in the highly competitive world of B2B in Television and even resulted in them rubbing shoulders with the kings of TV entertainment Ant and Dec, alongside fellow TV presenter Stephen Mulhern!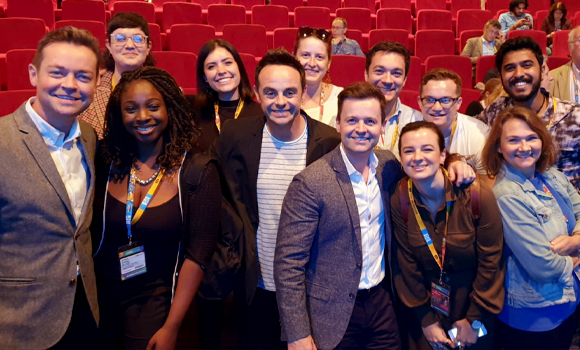 What did you gain from attending MIPCOM and how does it feed into your studies at the NFTS?
Natasha: "I learnt a lot about global emerging trends in future TV formats. It is clear that UK and US dramas lead the way internationally. HBO's Euphoria set the trend for content relating to teenage struggles with identity, invasion of privacy and mental health."
Yung: "The keynote talks were very informative and helpful in terms of getting us to understand more of the trends and hot topics in the TV industry. MIPCOM mainly focuses on TV and I can really feel how it differs from the film context we are more used to at the NFTS. It reminded me of the territory analysis report we made last year, which was a good way to start building up some knowledge of the TV industry."
Did MIPCOM live up your expectations?
Esther: "MIPCOM exceeded my expectations! It felt great to be part of the events, from the Keynote sessions which were informative to walking around the different company stands which included Disney, BBC, ITV and Fremantle among many others. We also attended the Diversity Gala awards and the networking events."
Natasha: "Absolutely! There was a global representation of companies from TV Sales and Distribution throughout the Palais. The speakers ranged from industry heavyweights like Amazon Studios, BBC Studios and Warner Media to some of the most creative minds working in the TV industry such as Jed Mercurio (Line Of Duty and Bodyguard) and Ru Paul (Emmy winning Ru Paul's Drag Race). Listening to their experiences was the highlight of MIPCOM for me."
Yung: "In terms of the overall experience (the talks and networking opportunities), I would say it was beyond what I expected. I was lucky to be able to speak to some really nice people and have kept in contact with some of them. Even as a student, it is still possible to speak to different people and pick someone's brain at the right time."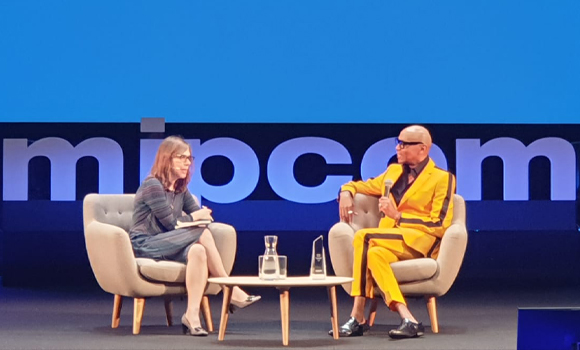 What advice would you give to next year's Marketing, Distribution, Sales and Exhibition students ahead of attending?
Esther: "Make sure you plan ahead, attend as much as possible including the Keynote sessions, try and get an invitation to the invite-only events, they are great for networking. Be confident and speak to as many people as you can. You never know where the relationship or connection will lead to. Bring at least two items of smart clothing, one for the Opening Gala party and another for any other events you might get invited to."
Natasha: "During the first two days, attend as many lectures as you can and make a list of the companies and/or people you would want to chat to on Wednesday – that's the day to grab people from your wish-list. They are less busy so have more time to chat with you. Be prepared that some may have already left."
Yung: "I tried to do some homework before going to MIPCOM. For example, check which talks/screenings/networking events you plan to attend, research some of the companies that will be exhibiting. Last but not least, go to some parties if possible. This may not be for everyone and you don't have to be at parties to socialise with people."
What formats were you excited by at MIPCOM? Did you spot any key new trends emerging?
Esther: "Key trends that stood out to me were talks around partnerships, for example, Twitter working with ITV and Buzzfeed and the importance of Fandoms when measuring ratings."
Yung: "I really looked forward to seeing TV formats in different territories, especially from the Asia Pacific region. The reality TV format is still a key trend. In terms of something new, I was surprised by the quality and development of 4K/8K content. Especially in Japan, it's in their national policy to increase 4K content over the next few years. I am very interested in seeing how technology can potentially change TV story-telling and content creation in the future."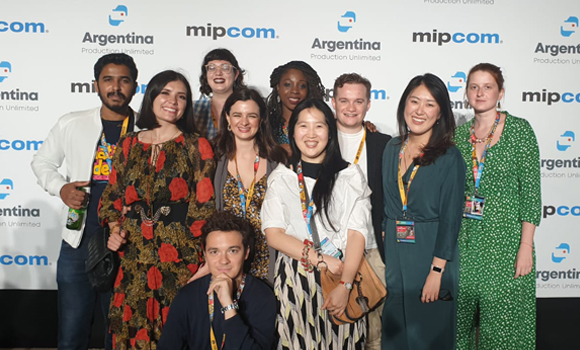 Tell us how you came to meet telly legends Ant & Dec and Stephen Mulhern?
Natasha: "We attended a talk with Ant, Dec, Stephen Mulhern and Angela Jain of ITV Studios Entertainment. When we asked for a photo with them, I came to the front as I'm one of the shortest in our group. Dec instantly said, 'yes, short ones to the front!' They were so friendly and gracious."
Esther: "Ant, Dec and Stephen had great chemistry. It really came across how much they love their careers. I was surprised that they were quite tall, I assumed they would be really short!"
Finally, any last thoughts?
Esther: "MIPCOM is not the place to be shy, you have to have your elevator pitch ready at all times and be ready to come out of your shell. It's a perfect opportunity to get a great insight into the world of TV and meet amazing people who you could end up working with."
For more information on how to apply for a place on the NFTS Marketing, Distribution, Sales and Exhibition course go to: nfts.co.uk/marketing-distribution-sales-and-exhibition