Producer Rebecca O'Brien, who runs Sixteen Films with Director Ken Loach and has made eighteen features with him, was welcomed to the NFTS recently for a powerful screening of their Palme d'Or nominated release Sorry We Missed You, followed by a Q&A hosted by NFTS Head of Screen Arts, Sandra Hebron.
Ricky Turner (Kris Hitchen) is dreaming of better things for his family when he becomes a delivery van driver. But as an 'independent contractor', he's working long hours in unsparing conditions, just like his wife Abbie (Debbie Honeywood), a care nurse, also on a zero hours contract. Living like this sees them pushed to the brink, and their world falls apart when their teenage son Sebs (Rhys Stone) starts to go off the rails.
Sandra began by asking Rebecca to outline the genesis of Sorry We Missed You which was shot in and around Newcastle: "It was very much inspired by things that took place when we were making I, Daniel Blake. We visited a lot of food banks and one of the things that shocked us, was discovering food banks were regularly used by people who were working but couldn't make enough money because they were on zero hour contracts like our characters in this film."
Rebecca explained that writer Paul Laverty and Director Ken Loach; "wanted to explore why that was the case and get deeper under the skin the way in which we now employ people. The film shows how close you are to catastrophe, it's that old adage: you're only ever three pay cheques away from disaster."
Delving into how the research was done for the film, Rebecca highlighted the importance of the writing; "it starts with the script, it's the centre of the whole thing."
Paul spent around nine months doing research, talking to delivery drivers, care workers and numerous people working in the gig economy.
Unlike with I, Daniel Blake where the team had whistle blowers who wanted to reveal what was really happening in job centres, a lot of the workers they encountered researching the film were very worried about speaking out, due to concern about losing their jobs.
Says Rebecca: "There is no union security, no back up, no insurance, you really are on your own. Everything in this film is true and everything this film portrays is actually not as heavy as it can be. We always try to toe the middle line as people just wouldn't believe it."
Most of what Paul writes ends up on the screen, with Rebecca explaining how they retain authenticity: "We always want the actors to use their own words and we don't get them to learn the script too well. We drip feed the actors. They don't know what's going to happen, we give them a few pages at a time so any surprise is kept.. We shoot in sequence and we ask them not to learn it off by heart but to understand the nature of the scene so they bring their own language to it. It ends up very close to what Paul has written."
On creating PDF (Parcels Delivered Faster) the fictional delivery company depicted in Sorry We Missed You, Rebecca revealed a lot of the workers featured in the scenes were real delivery drivers and praised the work of the Art Department. "Every handheld beeper in the warehouse worked, they made every single parcel and each one had a barcode."
Sorry We Missed You is intimately shot, a largely single camera shoot with two cameras used only during the bigger action scenes. Rebecca recalls: "It's easier to shoot with one camera, otherwise you can spend too much time on thinking where the second camera will go."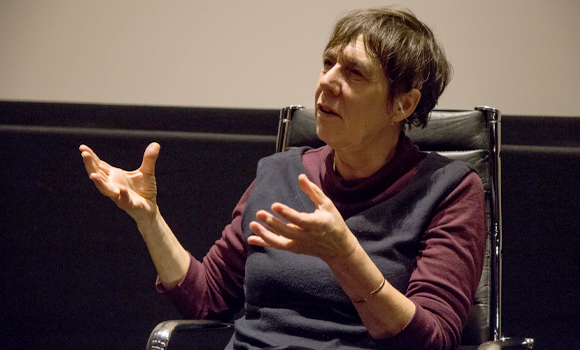 To ensure the intimacy of the scenes, Rebecca revealed that only five core production crew are ever on set during filming to; "ensure believable performances, so it feels like real life. I'm always hiding around corners and not on set. We have a unit base and if I want to know what's going on I'm given headphones and I listen in. Ken makes himself 'like a bush' and hides behind the camera."
On the editing process, Rebecca explained the methods undertaken during and after filming: "We don't look at rushes, we don't cut as we go along, in the editing room we take a couple of weeks break after we shoot and Ken starts editing from scene one. He does a fine cut all the way through the film. So it's like shoot in sequence and cut in sequence, he knows what the camera is doing, he knows what a lens is doing."
With a cast of largely unknown and first time actors, Sorry We Missed You was in competition at Cannes Film Festival and had its world premiere there earlier this year. With some nuggets NFTS Marketing and Distribution students will find useful, Rebecca touched on why Cannes is such a fantastic launch pad. "It really adds value, for commercial reasons just being in competition at Cannes means the film will have that sharp focus with press headlines, you're on the world stage and you're absolutely in the spotlight. For an independent film about Ricky and Abbie, its gold dust. To get this story onto the world stage, that is the way to do it."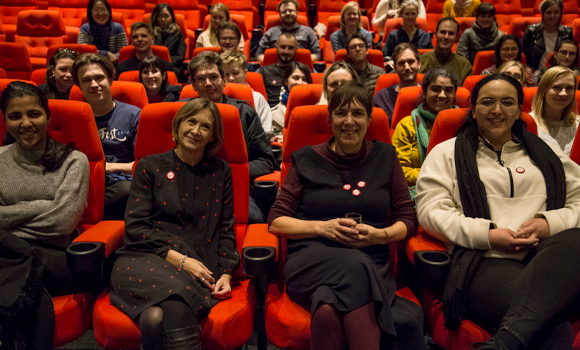 The actor who plays PDF boss Maloney (real life police officer Ross Brewster) was booed as the 'bad guy' of the film on the red carpet at Cannes, "he was thrilled, chuffed to bits!"
Debbie Honeywood's performance as Abbie has already won her a best actress award at the Chicago International Film Festival.
Of the ending Rebecca says; "I really like the ending and we were quite surgical about how that went. You need to trust the ending. We have ended it there because we want the audience to go away thinking, 'how does this end?' This is actually a slice of life and life goes on. You don't end it in a nice parcel with a bow. Life isn't like that. This is going on, Ricky is going on, he's continuing."
Sorry We Missed You is in cinemas now, released by EOne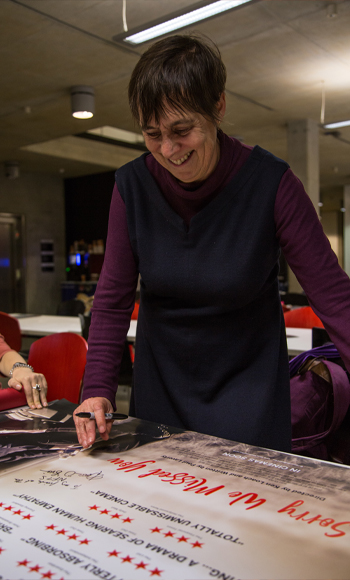 NFTS students regularly benefit from once-in-a-lifetime masterclasses like this one. For more information, visit: www.nfts.co.uk/masterclasses