NFTS students were treated to an inspiring day held at Channel 4 recently, gaining insider advice on making Music Videos from award-winning creatives in the industry.
The all-day event, hosted by NFTS Executive Producer Venetia Hawkes, featured Directors, Music Video Commissioners, Production Company Execs, a Producer and Cinematographer who all gave valuable insights across the process.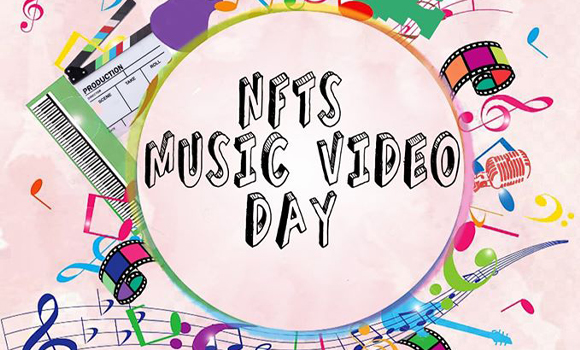 The day began with award-winning Director Adam Smith, whose work includes feature Trespass Against Us, which stars Michael Fassbender; and episodes of TV series Skins, Little Dorrit, Doctor Who and World on Fire. He talked about how he began working with The Chemical Brothers, creating concert visuals for them. He then transitioned to making Music Videos when Mike Skinner of The Streets asked him to make a visual which was more narrative so he could go off stage while the audience watched it. Adam shared the challenge Mike Skinner had given him for a later video; Blinded by the Lights – the brief was for it not to be set in a club, despite the lyrics. The resulting video Adam created won numerous awards, and was subsequently banned.
Music Video Commissioner and Senior Creative Producer at Sony Music, Dan Millar, brought music to the students' ears when he assured them: "New talent is the lifeblood of the music video industry". He also advised on how to write a treatment with the best chance of success: "Say what happens in the video and that it's going to be good! Convey it on page one and do it succinctly."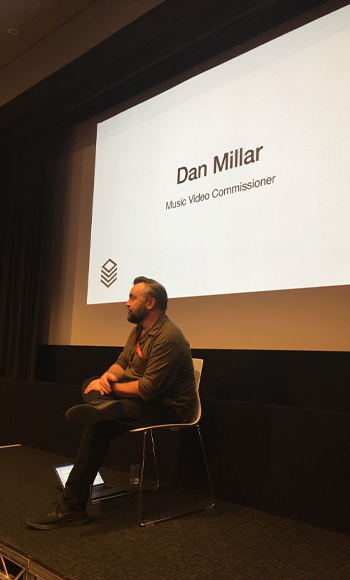 Daniella Manca from production company Caviar, exec produced Stormzy's award-winning Vossi Bop video directed by Henry Scholfield, continued with more invaluable advice on writing pitches and responding to briefs.
NFTS graduate, Cinematographer and Writer-Director Molly Manning-Walker, whose NFTS graduation film as a DoP, November 1st, directed by fellow grad Charlie Manton, recently won a Student Oscar, talked students through the importance of preparation; showing some of the behind the scenes work that went into creating the award-winning video for A$AP Rocky's Sundress, directed by Frank LeBon.
Sundance award-winning, BAFTA nominated director Charlotte Regan talked to students about how she learned her craft making low budget videos for rappers where she grew up in Hackney, East London. She stressed the importance of casting, showing a video she'd made for Wilkinson starring Thomas Turgoose (This is England).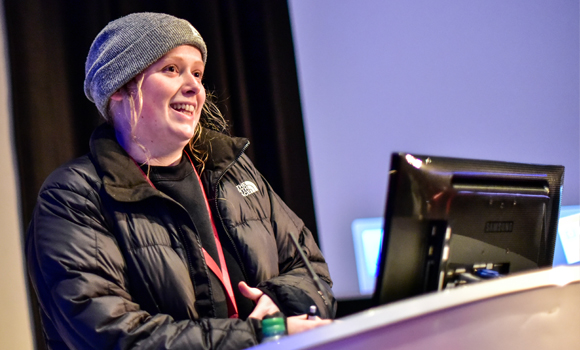 Award-winning producer Liz Kessler advised on some of the practicalities of putting together a Music Video shoot.
Oscar Hudson, who was awarded Best New Director at the UK Music Video Awards in 2016, and then Best Director the following year, chatted to students about his love of physical, experimental film-making. He showed test pieces he'd made to demonstrate techniques and advised including such tests to illustrate an idea in treatments for Music Videos. He advised students to: "find ways to make an idea interesting and fresh throughout – ideas need to work through the whole track."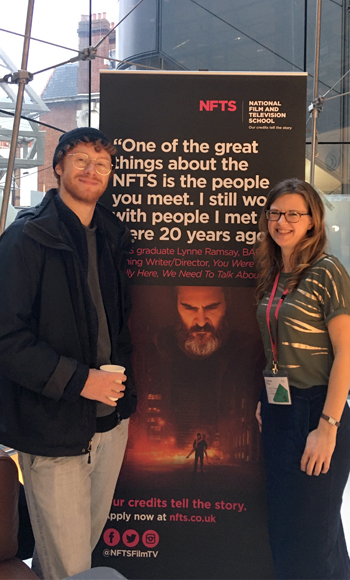 Nathan James Tettey talked to students about his journey to become a Music Video Director via being a Director's Rep, Executive Producer and Music Video Commissioner. Urging them to take opportunities when they came their way – like he did when the Director lined up for a Music Video dropped out and someone suggested he do it instead. Nathan had never directed before but grasped the chance and went for it.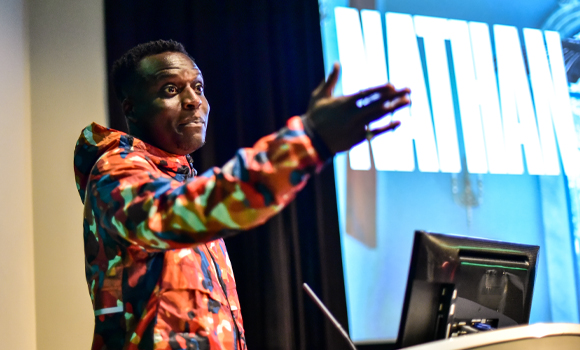 Rounding off the day was multi-award winning director Dougal Wilson, known for his much loved commercials for companies such as John Lewis, including this year's 'Excitable Edgar' as well as his Music Videos. Dougal delighted students by showing them his early music videos made for friend's bands. Leaving students with some sage advice, he said:"Try and think of a fun idea. An idea that fits the budget and is achievable in the time you have to shoot it."
NFTS students regularly benefit from money can't buy events like this one. Last places remain on some courses for a January 2020 start. Apply here: nfts.co.uk/places-available