NFTS students were treated to an early Christmas gift this week – a Q&A with Oscar nominated Writer-Director Greta Gerwig (Lady Bird), following an exclusive preview screening of her new film, Little Women which she both wrote and directed and is due for release on Boxing Day.
The much loved story of the March sisters, four young women each determined to live life on her own terms, is both timeless and timely. Portraying Jo, Meg, Amy, and Beth March, the film stars Saoirse Ronan, Emma Watson, Florence Pugh, and Eliza Scanlen, with Timothée Chalamet as their neighbour Laurie, Laura Dern as Marmee, and Meryl Streep as Aunt March.
Interviewed by NFTS Head of Film Curating MA Sandra Hebron, Greta revealed her love of Little Women stemmed from her own childhood. The classic story by US author Louisa May Alcott was one she had read many times: "I had a lot of reverence for the material, I loved the characters and Jo March was the person who made me want to be a writer. Those women felt like my sisters."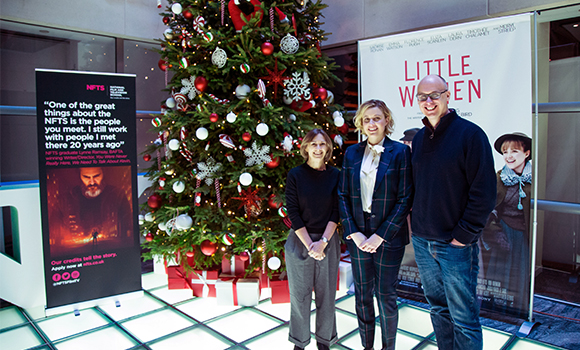 When Greta re-read Little Women in her thirties, she was struck by how relevant and urgent the themes within it still are in today's world. There were many elements that jumped out which hadn't been so apparent to a young Greta reading it years earlier: "Marmee had been angry for 150 years but no one had ever noticed it! And Amy's line, 'I want to be great or nothing' - she's measuring herself and there is anger, ambition and ego there. I hadn't seen that aspect of it before."
Even before Greta demonstrated her powerful voice with the award winning Lady Bird, she knew she wanted to adapt Little Women and had started on numerous drafts of the screenplay.
Over the years, every incarnation of Little Women has brought a unique interpretation and meaning to the story and Greta mused on putting her own stamp on the film: "It has been beloved and interpreted in many different ways and I wanted my version to stand on its own, for people who had never seen the film or read the book."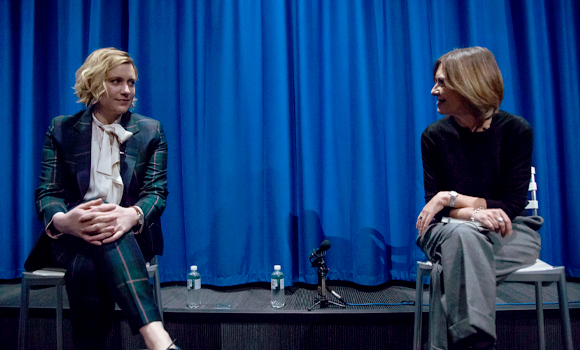 Greta approached the film as both a faithful retelling, drawing as much from the text as possible, and a postmodern one. She shakes up the story, telling it in two separate timelines, with the characters' lives as adults living alongside the story of their childhoods.
The visual style, camera work and references used within Little Women were very specific: "I knew the way I wanted to movie to look," recalls Greta. "I wanted the sections set in the present when they are adults to be more still and formal and the childhood sections to be more swirly, akin to a dancefloor; a choreographed dance with the camera."
To achieve this, Greta collaborated closely with a cinematographer, Yorick Le Saux who: "had worked on some of the prettiest movies I've ever seen and has a kinetic energy behind the camera." Together, they looked at paintings from the 1860's period and were inspired by the bold artists who were changing the way people saw the world in Louisa May Alcott's time.
On the collaboration needed across departments to make her vision work, Greta said: "All the visual references were shared between me, the cinematographer, costume and the production designer. I didn't want the aesthetic of Little Women to feel like a 'nailed to the floor' period piece."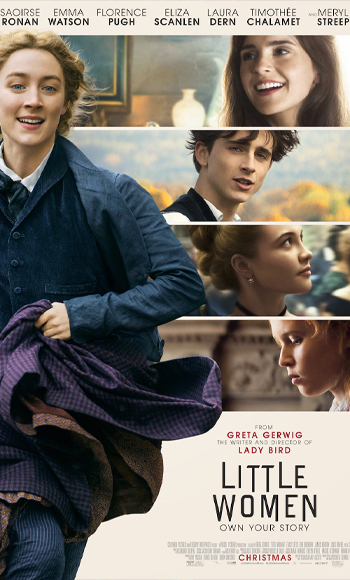 It was time for NFTS students to ask some burning questions of their own, kicking off with a query on how Greta had found working with a bigger budget. Wise advice was forthcoming for the student directors in the room: "Lady Bird was bigger than some of the things I've done before and Little Women is bigger still but it is all film making. With a bigger budget there are more 'toys' and more people but essentially, it all comes down to the same stuff. If you're shooting a movie with your iphone and editing, it's really not that different."
Greta advised that although she's acquired many skills as a director, there are no hard and fast rules to take from one movie to the next, due to each one being so uniquely different. Greta laughs: "So whatever you think you learnt from the previous project you probably didn't as you'll experience a whole new set of problems and issues to deal with on each one!"
Another NFTS student asked how Greta prepped for filming the childhood sections of the film, given the number of cast involved. "I wrote a lot of overlapping lines, akin to a controlled cacophony. We had two weeks of rehearsal with the cast, getting everyone up to speed. I wanted their lines to be there like a muscle memory so they weren't reaching for them."
Having such a long rehearsal period is unusual and as Greta recalls: "Once the clock starts running on set that's it, so having that time with the cast prior to shooting was a gift."
On the editing process, Greta had previously worked with Little Women's editor on Lady Bird, hiring him on intuition. "The editor is the person you spend the most time with. I spent months and months in a room with him, it's a relentless process. The day after we wrapped in December last year I was straight in with him in the editing room, looking from the very first shot."
Greta edits in sequence; "I start from the first shot, it's a weird process like 'whack a mole.' As we go through the cut, there are glaring problems, you fix that and then you're moving from one to another. They are satisfying problems to solve. You're not on the clock in the same way as being on set."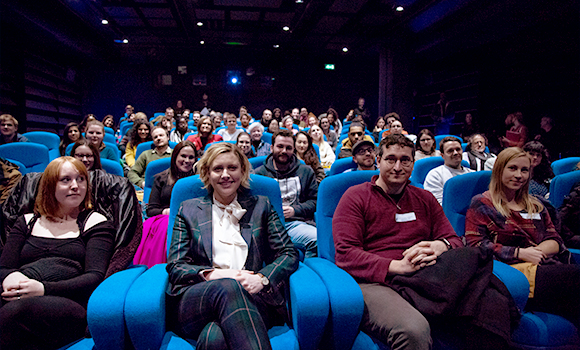 Closing the Q&A, Greta was frank when asked about her love of exploring female relationships within her writing: "I'm interested in the relationships between women. They are incredibly complex, not easily definable and so under-represented on screen."
And to much laughter in the room, Greta recalled a quote she loves, one which she says resonates deeply with her: "I forget who said it but it goes; 'men don't know what we do when they're not there!'"
Little Women is released in UK cinemas on Boxing Day. With thanks to Sony Pictures UK.
NFTS students regularly benefit from once-in-a-lifetime Masterclasses like this one. For more information, visit: www.nfts.co.uk/masterclasses
Sandra Hebron runs the Films Studies, Programming and Curation MA at NFTS. She is the former Artistic Director of BFI London Film Festival and current Programme Consultant to Pingyao International Film Festival.

'One of the most respected, creative and imaginative film festival directors in the world' The Guardian

Final Places Available for Jan 2020 | Apply now