This week saw the NFTS welcome Ricky Gervais and the cast and crew of the phenomenally successful Netflix series After Life to the School.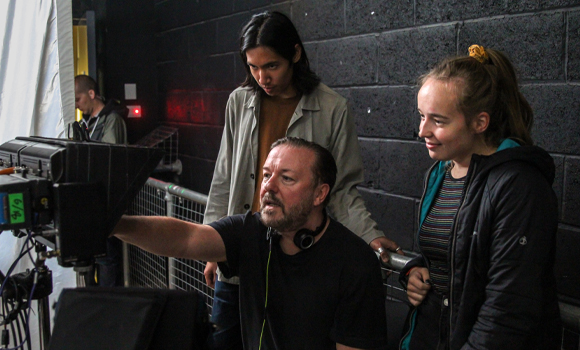 Ricky and co filmed a key scene from the eagerly awaited second season, featuring Paul Kaye who plays a very unconventional therapist and Tom Basden, who plays Matt, boss of the fictional Tambury Gazette.
Over two days, 10 second year NFTS students were paired up to shadow Ricky, who directs, writes and stars in After Life and has previously described it as "the best thing he's ever done." The first series was lauded as 'the most watched British made comedy in the world this year' with much of it filmed in and around Beaconsfield, home of the NFTS.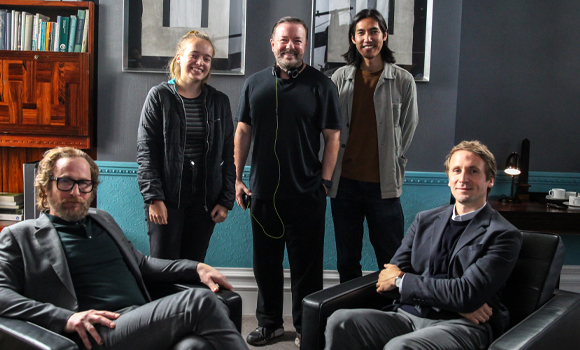 NFTS Directing and Producing TV Entertainment student Vicky Swain reflected on what she had gained from her experience shadowing Ricky: "It was a fantastic chance to see behind-the-scenes on a scripted comedy series. I was really surprised by how relaxed the atmosphere was on set and how open Ricky was to ad-libbing scenes – which were nothing short of hilarious. Everyone on set was trying very hard to contain their laughter during takes! I'll be looking out for those moments in the next series. Meeting Ricky was a real highlight."
NFTS Directing Fiction student Shane Lim said: "It was really eye-opening to see how Ricky created an environment conducive for comedy, for example shooting on a multi-camera setup to allow the actors to improvise and for funny moments to unfold organically. The cast and crew were having plenty of laughs which encouraged the actors to play and that was when they were at their best. His ability to keep the set atmosphere light, playful but also focused was perhaps the biggest lesson for me."
Everyone at the NFTS is looking forward to Ricky returning to the School later on this year when he will deliver a much anticipated Masterclass.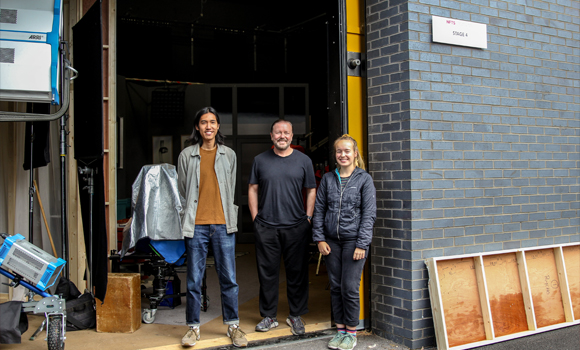 To learn more about NFTS Directing and Producing TV Entertainment and Directing Fiction courses go to: http://bit.ly/NFTSdirecting