Ahead of its release on 21st June, NFTS students were treated to a preview of Pixar's Toy Story 4 followed by a Q&A with one of the film's producers, Mark Nielsen.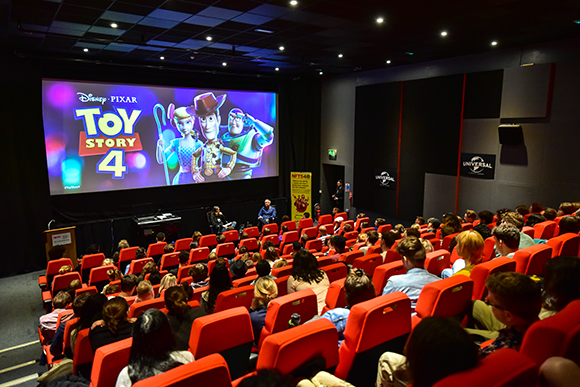 The film sees Woody, Buzz Lightyear and gang back for new adventures - a road-trip, menacing ventriloquist dummies and the challenges of growing up; along the way reuniting with old friend Bo Peep, and making new ones – from bike riding stuntman Duke Caboom to plastic spork, Forky. The Times described the film as "impeccable, layered and spirit-lifting cinema."
Talking to Dan Jolin, film journalist and Empire Magazine Contributing Editor, Mark described how he first came to work at Pixar – 23 years ago, and fell in love with animation - "I was just blown away by the craftsmanship of animation. The talent and skill and patience that goes into it." Mark started out at Pixar as a production co-ordinator on Toy Story 2, continually learning through working in production roles in different departments on different films. "I worked in the lighting department on Monsters Inc. and in the story department on Cars, it was great to get those insights into the whole process." He moved on to become Production Manager on Up and then Associate Producer on Inside Out before producing Toy Story 4, together with Jonas Rivera. Dan noted the passion, commitment and loyalty of people at Pixar. Mark agreed - "We love computer generated animation, it's the heart and soul of the studio."
Mark talked students through Pixar's process for refining stories – scripts are storyboarded and then every four months or so, filmed animatics of the storyboards are screened to a group of people at the company, analysed and re-worked, to ensure the story is as strong as possible. He revealed Pixar currently have seven films in development – all of them original stories.
Mark explained that the idea for Toy Story 4 had its origins nearly ten years ago: "Andrew Stanton, the writer, was crafting the idea for Toy Story 4 while they were making Toy Story 3. For him Toy Story 3 was never the end of Woody's journey. This is a whole new situation for Woody, he's no longer the favourite toy, he's now questioning his purpose. And the idea of a romance between him and Bo Peep was there from the start. She was always central to the story – our code-name for the film while it was in development was 'Peep'."
Mark told students that as part of the story development process for Toy Story 4 they'd looked to Raiders of the Lost Ark as a guide to finding the right balance for the relationship between Woody and Bo Peep within the film. Explaining, "Marion in Raiders is a really cool character, and the relationship between her and Indy is great, but it is part of a bigger story and fits within it, we used that as a model."
Dan asked Mark about one of the new characters, Forky – who is made at school by the little girl Bonnie out of a plastic spork. "Forky started out as a joke!" Mark revealed, "We were talking about the things our kids made at school and what it would be like if one of them came to life like the rest of the Toy Story toys. So then we thought about what would be the most pathetic thing we could think of to be made into a toy? And we came up with a disposable plastic spork."
Another new toy to join the gang is motorbike stunt-rider Duke Caboom. "We're always looking for 'toy truth'." Mark told the students, "And growing up in the 80s we were aware of how so many toys didn't live up to their commercials, and were kind of disappointing compared to what the adverts suggested they could do." The motorbike stunt-rider was a toy a lot of them remembered being a prime example of that. Next came the voice-casting process - "For some reason we decided Duke Caboom should be Canadian and we blind listened to examples of voices, not knowing who they were, to get a feel for the type of voice that sounded 'right'. We all loved the same voice, and then discovered it was Keanu Reeves! We weren't at all sure if he'd be up for doing it, but we asked and he came to Pixar to talk to us about it." Mark was full of praise for Keanu Reeves, "He's one of the most thoughtful actors I've ever met."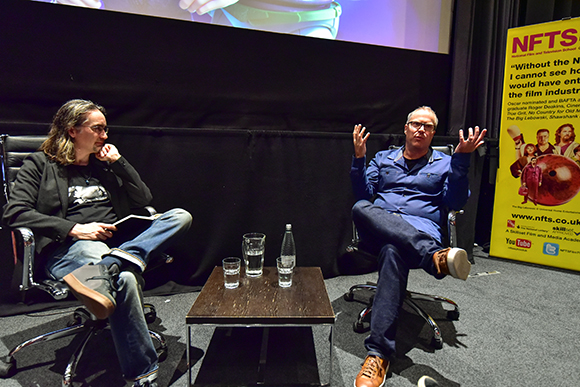 Mark delighted students by recounting the story of how at that first meeting at Pixar, when they described the kind of fixed limb plastic toy Duke Caboom would be, Keanu thought about how that kind of toy would move and then "he started striking these poses - balancing on one leg, arms outstretched. Then he jumped up onto a table in the middle of Pixar, stood on one leg and went 'I am Duke Caboom!'. So that's what led us to adding in that element of striking poses into Duke Caboom's character. He's probably the actor who's had the most influence on a character."
Asked by one of the students how they decide which stories to develop into films Mark talked them through the rigorous process: "Future directors are asked to come up with three ideas, they develop them to a certain level and then pitch them to a panel, which includes Pete Docter. The panel gives feedback and which ones to develop further, then the teams bring back those further developed ideas for more feedback and then one might be approved to go to script. Once there's a script they do a table read and after notes on that, it gets greenlit to go to the storyboarding phase, and we'll continue to work on developing the story as we screen and break down the storyboards. It's a long process!"
Following up, another student asked about how as a producer you kept everyone going. Mark acknowledged, "That is the hardest part of producing – keeping people inspired and engaged when they're spending such a long time on a project. It's tough on writers because their work is constantly getting torn down and they're having to re-write."
Concluding, Mark said, "Toy Story 4 was probably harder than anything we're ever done. It's not easier doing a sequel – it's harder! To make sure the story is engaging. But it's also very rewarding if you're a part of something that resonates with people."
Toy Story 4 is in cinemas across the UK, released by Disney