Day four of Springboard Week 2020 saw a double whammy of brilliant guests visit the NFTS. Asif Kapadia wowed the students in the morning before BAFTA nominated NFTS graduate Andrea Harkin was welcomed to the school for an evening Q&A following a screening of episode one of the recent BBC One drama, The Trial of Christine Keeler.



Andrea graduated from the NFTS Directing Fiction course in 2011 and was the lead director on the recent six-part account of the iconic 1960's Profumo affair scandal, The Trial of Christine Keeler, and directed four of the episodes. Written by fellow NFTS Screenwriting graduate Amanda Coe, the series is based around the chain of events surrounding the affair but is told from a new and rare perspective; Christine Keeler's own.

Andrea began by congratulating the new first year students for achieving their place at the NFTS, breaking the ice saying: "I remember being really chuffed when I came here, it was a brilliant experience. The most interesting two years of my life I think…it's nice to be back."

Leading the Q&A, Peter Dale, NFTS Head of Documentary, asked Andrea about the fresh take the team brought to The Trial of Christine Keeler. "The story had been told before but from a slightly more male perspective. Amanda [Coe] and the producers really wanted to tell it largely from Christine's point of view, and they were very keen to bring a female perspective to the direction. They really liked my previous work, which is what got me in the room, and then it became apparent that we all shared a similar sensibility and take on the material."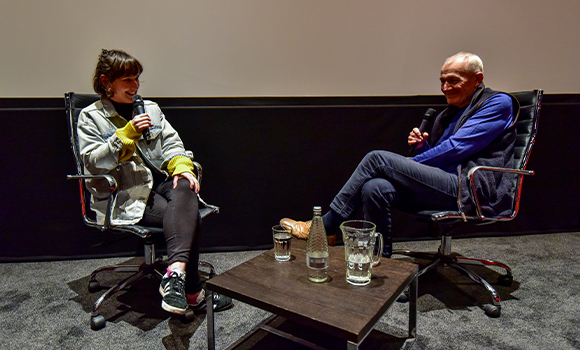 Andrea went on to describe her first impressions of the script: "It was all quite visually evocative but mostly it was a character piece with this big tapestry of really interesting characters who were based on real people." Andrea recalled after doing some research she felt it was a really important story to tell. "They [Christine and Mandy] looked quite sophisticated because the style and the fashion was still very fifties and formal, but they were just girls. They were really young, so that was one of the things we wanted to show."

Discussing Christine's character, Andrea explained how she really appreciated that Amanda didn't shy away from how complex Christine was. "We wanted to allow the character to reveal different sides of herself; and occasionally Christine being potentially perceived as annoying or antagonistic towards the other people in her life was part of that. I like that the complexity stayed, we didn't just say 'she's a victim' or 'she's a really sweet, innocent, naïve girl', she also had some agency in her own life, she was very sweet and kind but she did not want other people telling her what to do."

Moving on to discuss casting, Peter remarked how huge the cast for the series was. Andrea explained how she was involved with casting and auditioning lots of actors over many months. She believes it's really important for a director to be involved in the casting process. "You really get to know the material, everybody has a different take on the character so you get to see what works and what doesn't and the script really comes to life. That process was really useful for me."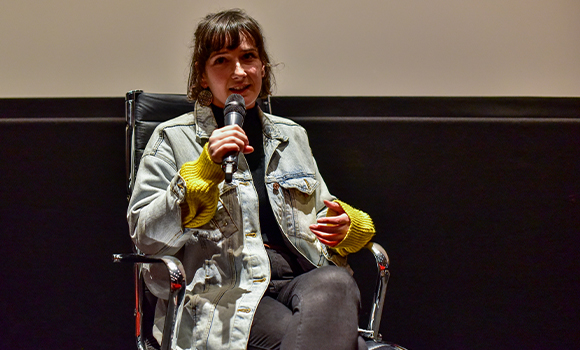 The topic prompted Peter to ask Andrea about her casting techniques. Andrea explained how there isn't usually a specific question she asks auditionees. "I try to make them feel at ease and then we just chat about the script and the character." Continuing, "I normally have about three or four notes up my sleeve about different ways the scene could be played and even if they played the scene brilliantly I'll always just throw them a couple of notes to see how they cope, if they can adjust the performance and if they can work with me."
Peter opened up the questions to the students which prompted the question: what is the margin of freedom for portraying characters and narratives when producing a film about real life people and events? Andrea explained the BBC's take on this: 'If you're going to say anything about a real person, especially one that was in the public eye, it needs to be validated by at least two publicly acknowledged sources."
Another student asked how Andrea likes to utilise rehearsal time. She described a technique she likes to use to help actors develop their characters further and give their lines more depth. "Something I like to do when I have rehearsal time is find a scene in the script that is described but not shown and have the characters involved improvise it. For example, in episode four Christine describes her ex-boyfriend Lucky's violence towards her to a policeman and she says 'one time he even held me up with an axe' and so we improvised the scene. It was incredible and they really surprised themselves. It brought a reality to their relationship and perspective for both characters."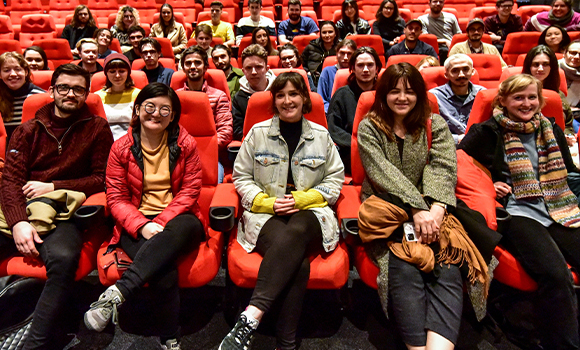 When asked about working with cinematographer Joel Devlin, Andrea explained how they had worked together previously and that they have a very similar approach to filmmaking. She went on to describe how they didn't want to 'lock down' too many specifics about how to shoot the episodes, however they always had an idea of what approach they would take. "Joel is great in that way, he's very adaptable and he will sacrifice perfection for the sake of the organic feeling of the scene."
A student complimented the score which was composed by NFTS graduate Jonathan Rhys Hill who sadly passed away a few weeks after finishing on the show. Andrea expressed her sadness and heaped great praise on Jonathan's work. "The very first thing he wrote, which he said was not to picture, was the waltz that you hear at the end and in the pre-titles. He said it just captured the feeling of Christine Keeler. And we all loved it and it stayed and became our titles music."
Reminiscing about her time at the NFTS, Andrea offered some advice to our new students. "Don't be scared. I was really scared of failure and actually here is the place to fail. I put myself through hell thinking that I had to be amazing when I was just learning, everybody is learning."

The Trial of Christine Keeler is available to watch on BBC iPlayer. Watch now.

The NFTS would like to express our sincere condolences to the friends and family of Jonathan Rhys Hill. We are incredibly proud to have had Jonathan as a student, his passing is a great loss to the industry.