The NFTS announces it has appointed Caroline Hollick, Channel 4 Head of Drama; Pukar Mehta, ITV Studios Commercial Director; Sara Geater, All3 Media Chief Operating Officer and Siobhan Reddy, Co-founder and Studio Director of Video Game Development Studio, Media Molecule to its Board of Governors.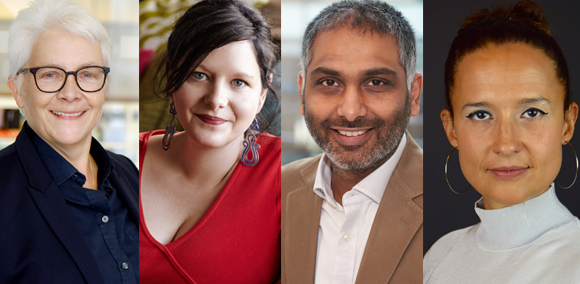 Caroline Hollick, Pukar Mehta, Sara Geater and Siobhan Reddy join the Board at an exciting time for the School which won the Outstanding British Contribution to Cinema BAFTA in 2018 and in the same year opened StoryFutures Academy, the UK's National Centre for Immersive Storytelling, which is funded by the government's industrial strategy challenge fund. NFTS Scotland, its new hub at BBC Scotland's studios in Glasgow has now been open for a year and has welcomed over 170 students through its doors across 22 courses, significantly enhancing the vital skills provision arising from the expected growth in film and television production in Scotland.
Caroline Hollick says of her appointment: "It's a pleasure to be joining the NFTS board of governors. We're always looking for the next generation of talented writers, producers and directors at Channel 4 to help ensure we have an exciting pipeline of new drama coming through and it's fantastic to be given the opportunity to play a part in championing that new talent."
Pukar Mehta says: "I'm honoured to be asked to join the NFTS board of governors. The School does so much for the UK broadcast industry by delivering high quality training and real world experience for its students and graduates across such a wide range of behind-the-camera roles and I can't wait to make my contribution."
Sara Geater says: "I'm delighted to be joining the NFTS board of governors and having the opportunity to give continued support to the fabulous work the School does in developing and nurturing talent across all sectors of the TV, Film and games industries – they are the lifeblood of our industry".
Siobhan Reddy says: "It's fantastic to be asked to join the NFTS board of governors. The School is doing so much to promote the huge contribution that games development and immersive technologies make to the wider creative industry. I'm particularly excited to see what opportunities the new National Centre for Immersive Storytelling based at the NFTS can deliver for students and the industry."
Patrick McKenna, NFTS Chairman says: "I would like to add my welcome to Caroline, Pukar, Sara and Siobhan and look forward to working with them. It's vital to have a board that represents all sectors of the industry so that the School can continue to attract the world's best creative talent onto its teaching programmes and further build its worldwide reputation for delivering excellent film, TV and games education and skills. Building on our track record and expertise the NFTS aims to ensure that Britain remains a world-leader in the production of all forms of audio-visual content."
For more information, please visit www.nfts.co.uk