As part of our regular #NFTSStories blog series, we caught up with current NFTS Sports Production Diploma student, Flynn Hamilton who has just completed his work placement at course partner, IMG Media, one of the largest producers of sports programming in the world.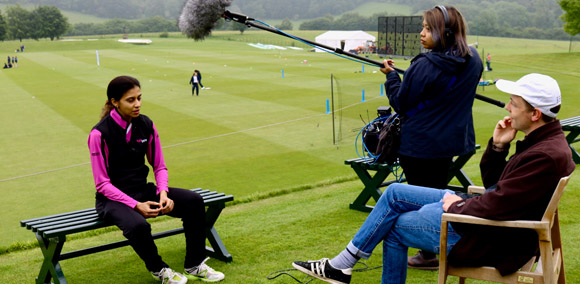 What did you do as part of your IMG work placement?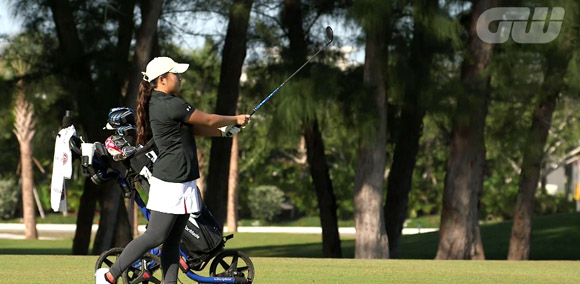 As part of the Sports Production Diploma, all of the students have a month on placement at IMG. For my placement, I worked on the show Golfing World which is broadcast internationally, with takers including Sky Sports and NBC. Whilst at Golfing World, I performed a number of roles, from camera assistant to assistant producer, and I spent a lot of my time out on shoots. I was given the opportunity to produce, direct and edit my own short features, all of which were put in the running order for the show and broadcast worldwide!
What were the highlights of your IMG work placement?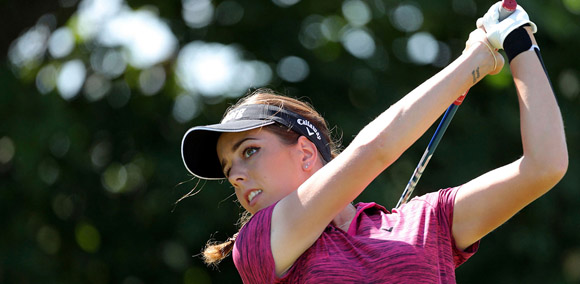 I loved every second of my placement, and was rather sad when it all ended! I wasn't expecting to have so much to do, and so much responsibility, so it certainly exceeded my expectations. There are almost too many highlights to mention, but the moment that springs to mind immediately is flying out to Sweden in the first week of my placement to interview Henrik Stenson, who is currently ranked at 17 in world golf. I then scripted and edited a feature from the interview, which was broadcast on the show. As well as this, I went out on a shoot with Georgia Hall, who won the Women's British Open this summer. From the shoot, I was expected to produce and edit a player profile, so everything hinged on my interview with her. All in all, I produced three features in four weeks, all of which are being broadcast worldwide, and I spent half of my working days out on shoots, so I suppose the overall highlight was being given so much responsibility and being trusted to provide quality content for the show.
Has the placement helped you decide what you want to do when you graduate?
My time at IMG has definitely helped me decide the path I'll look to pursue when I graduate. I have always seen myself going down the AP/producer route, which is something which has really been encouraged by Tom Lewis and Chris Downham, my tutors at the NFTS, and the opportunity to take on those roles in a proper working environment has totally convinced me that I am following the right path and that I do want to go into an AP style role when I graduate.
Why would you encourage someone who wants to work in sports production to apply for the NFTS Diploma?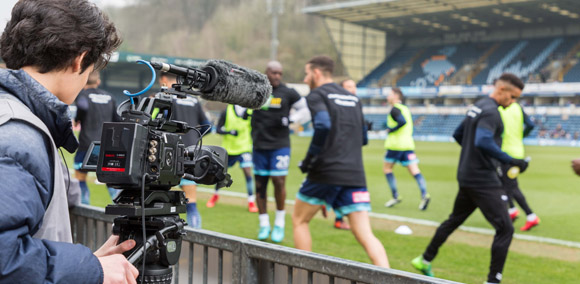 The Sports Production Diploma is ideal for anyone who wants to get into the sports TV industry. The expertise from Tom Lewis and Chris Downham is great, and the access to such established sports producers and insight from them is something that we won't have the opportunity to tap in to again - even when we're working in the industry. As well as this, we have fantastic facilities at the NFTS, ranging from a full spec studio and gallery to equipment stores kitted out with cameras which only the Sports Production students have access to. The course has brilliant links with sports teams, such as Wycombe Wanderers FC and the opportunity to shoot on their behalf is a really good way to hone your skills in every aspect of the production process. The course regularly hosts guest speakers and tutors, all of whom give a fascinating insight to the industry, and the range of people available to critique your work is a massive help in improving and finding your own style. The contacts which the course has and the links the NFTS has to industry really are second to none. On top of all of the opportunity and access, it's also great fun - I've loved my year so far.
What have the highlights of the course been so far?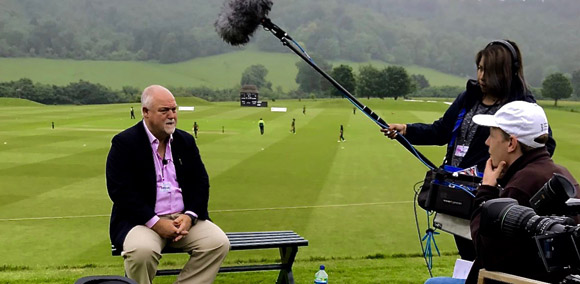 We've done so much already! My personal highlights include producing a season review for Wycombe Wanderers, who were promoted to League One last season. Being on the pitch for the trophy presentation and interviewing players such as Adebayo Akinfenwa, whilst feeling like the envy of the whole crowd was a brilliant experience, and having such an opportunity as a student is not something you'd get at any other film school. As well as working with Wycombe Wanderers, I produced a series of features around the FairBreak Charity cricket match, which had some of the best players in the women's game taking part. Meeting and interviewing players such as Charlotte Edwards, Suzie Bates and Alex Blackwell, and representatives of the match including Mike Getting and Geoff Lawson was an incredible experience! It's also been great to collaborate on people's projects and work with my course mates.
As well as loving the course, I have absolutely loved being at the NFTS - the atmosphere at the School is wonderful, and being around so many likeminded and incredibly talented people has been so enjoyable. The opportunities you get through the NFTS are exclusive to the NFTS, which has so many incredible links to industry and the amount you'll learn just by being at the School is enormous. There's not many places where you'll be sat in a Q+A with Denis Villeneuve in the morning and filming a rugby match in the afternoon!
I couldn't recommend the NFTS, or the Sports Production Diploma more highly, and I've loved every moment so far!
Applications are open for the one year Sports Production Diploma until 27th September and the course starts in January – more info and apply at www.nfts.co.uk/sports
More content you may be interested in...