Welcome to our latest NFTS story, a series of blogs featuring our alumni talking about where they were before they came to the School and where they are now (follow the series by using the #NFTSStories hashtag across Twitter and Instagram). Ibukunoluwa Taiwo graduated from the NFTS Graphics & Titles for Film & Television Diploma in 2018 and is now working as a Junior Motion Designer at BBC Designers.
What were you doing before applying to the NFTS? I originally started out with a background in mass communication in Nigeria, and mid-way through my degree developed an interest in graphics and motion. I had recently done a certificate course in Motion Graphics at Escape studios in 2016 but it was quite short and I felt like I needed something more. I knew what I wanted but couldn't initially find a course that suited me and then saw the course on the NFTS website, I immediately knew that was for me.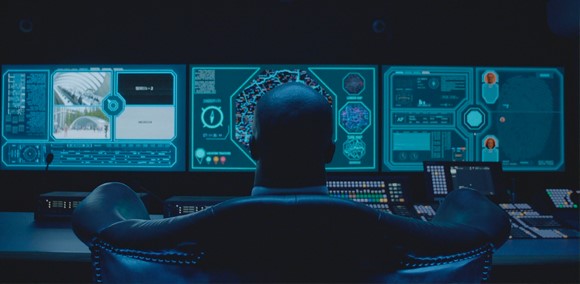 What are you doing now? I recently got a Job as a Junior Motion Designer at BBC news, right now I am just getting used the new role, learning a lot and shadowing senior designers. I am also working on a few freelance projects. I got to produce a few movie posters and worked on the graphics for a mini documentary series for social media after graduation.
How has studying at the NFTS helped you in your journey to your current career? Studying at the NFTS is just like working in the industry and has really close links to the industry which has been extremely valuable to my career and growth as a motion designer. It was quite an interesting experience working alongside with Film, Television, Marketing and game students in creating Titles, Idents and bumpers. The work experience at Sky was a unique experience in conceptualizing and pitching ideas, realizing a brief from start to delivery stage and working with tight deadlines. Now I am exposed to a lot more opportunities and knowledge than before I started at NFTS.
What advice would you give to an aspiring NFTS student? The NFTS is a world class film school and will give a good start in the creative industry, you get to work alongside other creatives, many of whom you will work with in your career, meet industry contacts and gain world-class skills. The tutors are best to none and very interested in your creative growth. While studying at NFTS is very intensive, it is exactly that extra you need to succeed in your creative career.
If you were stranded on a desert island, which film, TV boxset or video game would you take? I really enjoy laughing while I watch Korean drama series, so I will definitely take quite a few of them and the animated series Tangled.
Applications are open for the one year diploma until 7th July 2019, to start in January 2020! www.nfts.co.uk/graphics