Welcome back to #NFTSStories, a series of blogs featuring our alumni and students talking about where they were before they came to the School and what they are up to currently. Minco van der Weide will be graduating in 2021 from the NFTS Marketing, Distribution, Sales & Exhibition MA and has big plans for his future already in full swing!
What were you doing before you came to the NFTS?
I was mainly active in entrepreneurship and producing. After starting a production company in the Netherlands and receiving my propaedeutic BA from the Netherlands Film Academy, I co-founded two companies in Stockholm. When I realised my passion for the power of filmed content was there to stay, I decided to apply to the NFTS.
What are you doing now?
I'm unfortunately nearing the end of my time at the NFTS, but many exciting projects are already happening. After over a year of preparation, I recently launched my production company, Platonic (platonic.co).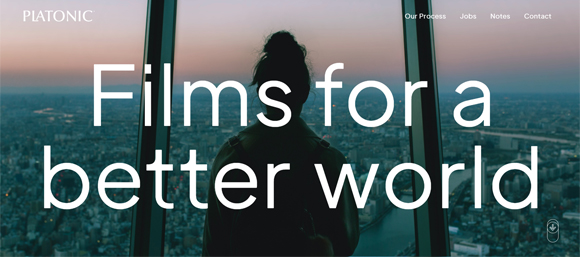 We aim to create a positive impact on the world by creating feature documentaries and commercial content for climate awareness and social responsibility. The initial responses have been overwhelmingly positive, we're working on several exciting projects, and our team has been growing ever since.
Besides running Platonic, I am also a Masters of Science in Politics, Philosophy and Economics candidate at Birkbeck College - University of London.
Tell us about your new role – what's a typical day, what projects are you working on currently?
While my colleagues mainly focus on Platonic's commercial division, I principally work on the feature film side of Platonic.
Our first feature is an exciting high-end documentary that shares a message that resembles a whole generation on what will happen this century. It's currently in pre-production, and I can't wait to be able to share more about it later on.
How has studying at the NFTS helped you in your journey to your current career?
My personal experience of the NFTS has been tremendously positive. Having sessions with fascinating people like Louis Theroux encouraged both my personal development and film knowledge.
Prior to Covid turning the world upside down, I had the pleasure of doing work placements at Universal Pictures and Picturehouse at the 70th Berlin International Film Festival. I'm very grateful to have had these unique opportunities because they shaped me and my view of the industry. Besides this, the Universal Pictures placement led me to meet my mentor, who has gone above and beyond to help me excel.
Most people I now work with are NFTS graduates. I found that it is an institution that stands for quality, knowledge and experience. While it might not tell the whole story about an individual's skills or creativity, it does give some form of guarantee in terms of experience and reliability.
While I can't say too many meaningful things about how to get in (since this is very dependent on you as an individual and the course you want to apply to) I can give a few notes on studying at the NFTS.
That leads us nicely into our next question! What advice would you give to an aspiring NFTS Student?
There are almost limitless opportunities, try to make the most out of these. Although having goals is good, I wouldn't recommend being too rigid about specific career aspirations: many people end up finding out a lot more about their strengths and weaknesses which often can come up as a surprise.
I personally learned a lot during my placements, and the mentorship program has been proven to be exceptionally beneficial. Connect with people you get along with and that inspire, be it your peers or your mentor. Try to reach out to guest lecturers as well: it's a small industry, and the people you're speaking to today might be working with you five years from now.
But most of all, absorb and enjoy. You've spent a lot of energy getting here, so do make sure you have a good time as well since you will graduate before you know it.
What's the last film/TV show you watched and would like to recommend?
Because I've been so busy with the new company and finishing off my course I've hardly had time to watch anything…however, the last thing I watched was the new Christopher Nolan film Tenet, which I'd definitely recommend!
Places are still available on the brilliant NFTS Marketing, Distribution, Sales and Exhibition MA for a January 2021 start.
Keen to follow in Minco's footsteps? Find out more and apply here: nfts.co.uk/mdse