Welcome to our latest NFTS story, a series of blogs featuring alumni talking about where they were before they came to the School and where they are now (follow the series by using the #NFTSStories hashtag across Twitter and Instagram).
George Pank graduated from the part-time Script Development Diploma in 2010 and is now working as a Producer, most recently having executive produced Asif Kapadia's critically acclaimed documentary, Diego Maradona.
What were you doing before applying to the NFTS?
I was working at Pathé with Cameron McCracken and Pierre du Plessis in the business affairs team. I was pretty green, and they just plonked me in my own office on the other side of the building and had me sorting out development and production finance deals with independent producers. I learnt a lot there, baptism of fire stuff.
What are you doing now?
I am slowly emerging from lockdown, thankfully healthy, juggling being a parent to my two very young kids, developing films (two scripted features, and one observational feature doc) and also challenging my own understanding (or lack thereof) of racism and white privilege. I'm reading How To Be An Anti-Racist by Ibram X. Kendi and have genuinely shifted the books I read to my kids each night to include more diversity. Actually, the best kids stories are kind of like documentaries - one we just found that I love is called Carmela Full of Wishes by Matt de la Pena. It's a big deal what you read to your kids, right from the start. In fact it's a big deal what you read throughout your whole life.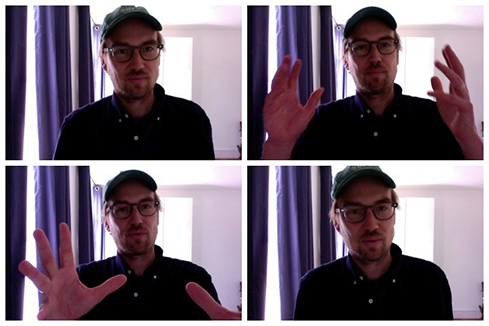 How did the working relationship with Asif Kapadia come about?
It came about through James Gay-Rees, who has produced all three of Asif's classic feature docs Senna/Amy/Diego Maradona. James and I met when I was working at Pathé and when I left that job he said I've got this gig you can't even tell your missus about. That was Exit Through The Gift Shop which led us into producing All This Mayhem together, then Asif's movies Amy + Diego Maradona.
What can you tell us about Diego Maradona and your role on that?
James Gay-Rees and I work well together on the least interesting part of the process – setting up the finance, sale and distribution in a way that the creative team ends up holding on to a good amount of the upside should the film be profitable. James and I moved quickly after the success of Amy to set up Diego Maradona in a way that actually did work out for the core team. I also watched numerous rough cuts and gave Asif and Chris King (editor) my notes on the film and helped us navigate some tricky issues that cropped up at the end of the process.
How has studying at the NFTS helped you in your journey to your current career?
I studied Script Development - essentially how to work with writers – but somehow I've ended up producing feature documentaries where there is no script. They are 'written' in the editing room. In a sense, I've found myself using the skills of script development learned at NFTS, but in the edit room. You're trying to help the director and editor find the film, which is different to trying to find it for them. I leant about that important distinction at the NFTS.
What advice would you give to an aspiring NFTS student?
You can learn a lot about the process and where your talents might be best applied through making a short (or even a few shorts). It doesn't have to be polished or win awards - the act of doing it, learning about the creative process and ideally collaboration is the important bit.
If you were stranded on a desert island, which film, TV boxset or video game would you take?
I'm finding the filmmaking of Frederick Wiseman refreshing and a little compulsive at the moment. Could I have a box set of every film Wiseman has ever made please!
Apply today for the NFTS Script Development Diploma!
Part-time, evening course
Access to new screenwriters and regular industry speakers
Work on practical development project with a screenwriter
Find out more - check out the course page.
Apply before 9 July 2020 to start the course in January 2021
06/2020