The six participants for the 2019 National Film and Television School (NFTS) Diverse Directors Workshop are announced as: Abena Taylor-Smith, Amelia Hashemi, Chloe Pope, John Ogunmuyiwa, Nichola Wong, Olivia Hetreed.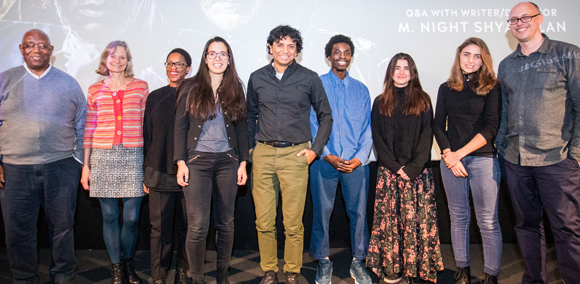 The workshop, which has no fees, is a leading diversity programme to increase the number of women, people from BAME backgrounds and those with disabilities working in screen directing. This year's programme is being sponsored by Walt Disney Studios Motion Pictures UK.
Jon Wardle, NFTS Director said: "We were once again inundated with applications for the Diverse Directors Workshop so it was hard to pick from such a talented bunch but we are extremely pleased with the high calibre of this year's participants. I would like to thank sponsor, Disney for facilitating such an amazing welcome for the filmmakers. I can't wait to see the films this year's cohort produce after such an inspiring start."
UK and Ireland Managing Director of WDSMP Lee Jury said "It's fantastic to see so many talented young film-makers applying for the programme. We are delighted to be working so closely with Jon and the team at the NFTS and we are really excited to see the work that these students will be creating."
All participants are working professionally in screen directing and want to take their career to the next level. The six filmmakers will take part in a two-day introductory session on 12thand 13th January 2019 followed by intensive training in narrative filmmaking in an innovative, two-week workshop taking place on 25th February – 8th March 2019. Production and Post of the film projects will take place in Spring and Summer 2019 and all participants will be guaranteed an interview for the NFTS' flagship Directing Fiction MA.
Taught by top industry professionals, the course is free to attend as the NFTS, alongside support from Walt Disney Studios Motion Pictures UK, EON Productions and ScreenSkills, will cover all production costs and inter-school networking. NFTS facilities will also be in place to help crew the films across all disciplines from producing to cinematography to sound and music.
The scheme has already led to success with two participants from previous workshops, Alice Seabright and Lisa Clarkson gaining highly competitive places on the NFTS Directing Fiction MA course. Alice Seabright's film Sex Ed played at BFI London Film Festival, Encounters Film Festival and Aesthetica Short Film Festival and The Arrival, directed by Annetta Lauffer was selected for Encounters.
More information at www.nfts.co.uk/diversedirectors
Diverse Directors' biographies

Abena Taylor-Smith is a writer and filmmaker. She studied Biomedical Science at Imperial College London. She is a 2017-18 participant of ShortFLIX, the talent development scheme run by Creative England, Sky Arts and the National Youth Theatre. Her 2018 short film, Ladies Day, has screened at festivals worldwide and was selected for Raindance, Encounters and LSFF. Ladies Day was shortlisted for Best British Short at the BAFTA-qualifying Iris Prize Film Festival and Best Yorkshire Short at Leeds International Film Festival. It won an Audience Award at the 2018 National Film Festival for Talented Youth (Seattle, USA).
Abena said: 'I'm delighted to be selected and to have the chance to work and learn at the NFTS, where so many talented filmmakers I admire have been'.
Amelia Hashemi is a writer and director from Leeds but based in London. Her latest short film Night Out was commissioned through Film London's London Calling Scheme and has gone on to premier at the BFI London Film Festival, win Best British Short Film at Leeds International Film Festival, was longlisted for a BIFA and has a London Critics' Circle award nomination for Best Short Film. Her previous short Don't Blame Us Cos We're famous which she directed won Best Short Film at the EEFF.
Amelia said: "I'm thrilled to be part of this year's workshop and I look forward to learning lots and furthering my directing potential."
Chloe Pope was born and raised in Kilburn, London. She has two children who live in a fish tank in the kitchen; Zeniba and Yubaba, named after the witches from Spirited Away. Her dad's side of the family grew up in the English countryside, in a small farming village in Gloucestershire. Her mum's side of the family, in Iran. Where, in the height of the summer, she could fry an egg on the pavement. Chloe has been working as a creative in advertising for seven years and is keen to start making her own films.
Chloe said: "Getting a place on the Diverse Directors Workshop is a wonderful opportunity to learn the skills needed to help make that a reality. I look forward to meeting and working with all the aspiring people on the course, and see this as a great chance to build a supportive, creative network together."
John Ogunmuyiwa is a Nigerian-born London-bred filmmaker who works in both documentary and fiction. His work draws upon a constant questioning of what it means to be normal. Using daily observations as a base, he tends to bring a tinge of surrealism into his work. All with the aim of telling untold stories from a different perspective.
John said: "To be selected for the Diverse Directors Workshop means the world as it's an opportunity to continue working on the craft with the passion that makes up a part of who I am. I'm excited to gain some knowledge, experience and just learn. It's also a reminder to take every opportunity as they come, I nearly didn't apply and would probably be kicking myself now."
Nichola Wong is a writer/director from London, her 1st short film Skinship played at over 20 international film festivals and was showcased on NOWNESS and HUNGER TV. She is currently in post-production on her second short film Murmurs and has various projects in development. Nichola likes to tell stories that are thematically challenging, emotionally resonant and aesthetically beautiful. She strives to present a new perspective and create narratives that reflect the world around us and that lead to questions about our fundamental humanness. She has a particular fondness for examining social situations/problems and presenting them in out of the ordinary, exaggerated… often extreme situations.
Nichola said: "Being selected is a huge honour and privilege. Having NFTS and Walt Disney's support is a massive vote of confidence for any upcoming director. I am incredibly excited to learn and develop under the guidance of NFTS am really looking forward to elevating my craft as a filmmaker."
Olivia Hetreed is the multi-award winning screenwriter of Girl with a Pearl Earring and Wuthering Heights. Recent international films include Finding Altamira, starring Antonio Banderas, Bosnia's first animated feature, Birds Like Us, and Mohamed al-Daradji's The Journey, Iraq's Oscar entry film this year. Olivia is President of the Writers' Guild of Great Britain, which represents over 2,000 professional writers, and a very experienced international mentor of new writing talent. Previously she was a Film Editor, working on many dramas and documentaries. Olivia is planning to direct her own screenplay of Mrs. Robinson's Disgrace as her feature debut.
Olivia said: "I am deeply thrilled to be selected for this course. It's my first step to being a director and I feel I could not be in better hands. Thank you to the NFTS and Disney for giving me this incredible opportunity."
About The Walt Disney Company UK & Ireland:
The Walt Disney Company, together with its subsidiaries and affiliates, is a leading diversified international family entertainment and media enterprise. Disney is a Dow 30 company and had annual revenues of $59.4 billion in its last fiscal year (FY18).
The Walt Disney Company has operated in the UK & Ireland for over 80 years, employing more than 3,300 people, and is dedicated to creating innovative, entertainment experiences for children and families. The Disney brand is experienced in a number of ways across the UK & Ireland including in cinemas, on stage, via its streaming app DisneyLife, on TV screens with Disney-branded channels and through a wide range of consumer products that are sold at mass market retailers and in Disney Stores. Now in its fifth year, Disney's partnership with Public Health England and the '10 Minute Shake Up' campaign has seen over 2 million kids get active with over 100 million extra minutes of physical activity being completed.