A record nine NFTS films have been shortlisted for the 2020 BAFTA Student Film Awards in Los Angeles with the NFTS garnering twice as many nominations than other film school in the world from a total of 691 submissions!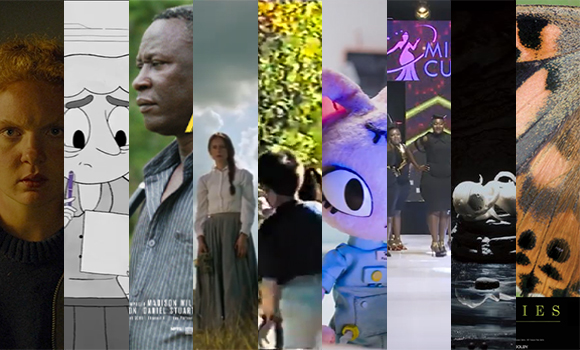 With entries from films schools in 35 countries, there was another triumph in store for the NFTS as two of the films nominated, The Flying Gold of Arabuko and Painted Ladies are non-graduation films, made by first year students of the Directing and Producing Science and Natural History MA. Congratulations to current students John Davies and Megan Brown on this amazing achievement in the Documentary category.
The remaining seven nominations are productions from the graduating class of 2020, films which premiered to industry in February across three days at Picturehouse Central in London. Read more here.
Jon Wardle, NFTS Director commented: "What an achievement for the NFTS with a record nine nominations this year. The fact that we have double the nominations of any other film school is testament to the talent, determination and hard work our students and their teams put into these incredible productions. I couldn't feel prouder and wish them every success on 16th June and beyond."
BAFTA Student Film Award for Animation Nominations:
BAFTA Student Film Award for Documentary Nominations:
BAFTA Student Film Award for Live Action Film Nominations:
The BAFTA Student Film Awards is an annual event celebrating the works of the next generation of talented and innovative filmmakers in animation, live action and documentary filmmaking. A panel of BAFTA members will review the films on the shortlist and three finalists in each category along with the Special Jury Prize will be announced on 16 June. To see the nominations in full, visit the BAFTA LA website.
In 2018, NFTS graduation animation, Inanimate, directed by Lucia Bulgheroni and produced by Lennard Ortmann won the Special Jury Award whilst NFTS Directing Animation MA graduate, Paloma Baeza and Producing MA graduate, Ser En Low both took home Short British Animation BAFTAs for Poles Apart in 2017.
If you would like to follow in our students' footsteps, applications are now open for all our MA courses for a January 2021 start. Explore our Directing Animation, Directing Science and Natural History, Directing Documentary and Directing Fiction courses for more information. Explore our courses.
Meow or Never



Synopsis
In a madcap musical, a scientist cat travels the Galaxy looking for the meaning of life, when she encounters a space pup eager to help but only gets them into trouble at every turn.

Cast/Voices
Sheila Atim, Jayne Wisener

Graduating Crew
Director - Neeraja Raj
Producer - Diana Põdra
Screenwriters - Neeraja Raj, Vanessa Rose
Cinematographer - Nathalie Pitters
Production Designer - Ann Kutzer
Production Manager - Lára Theódóra Kristjánsdóttir
Editor - Ed Coltman
Sound Designer/Dubbing Mixer - Harry Parsons
Composer - Cora Miron
Marketing and PR - Vaishagh Sabu
Lead Model Maker - Gemma Byrne
Model Makers - Helen Ferguson, Narika Jaggard, Penelope Konstantara, Grace Lawrence, Agathe Lederer, Roisin McCallum, Sophie Monks, Rosemarie Nelson, Alice Simonato, Jake Teale
CG Lead - Mafalda Soares
Compositors - Nicola Bosari, Yilin (Lesley) Cai, Eliis Kuusk, Dominik Bari, Pietro Abati
Colourist And Online Editor - Michael Pearce

O Black Hole!

Renee Zhan working on O Black Hole at NFTS


Synopsis
A woman who can't stand the passing of time turns herself into a black hole. A thousand unchanging years pass inside her warm and dark embrace. Finally, the Singularity awakens inside. Singularity sings and dances her way through the black hole on her journey to restore life and death to the Universe. An immovable woman meets an unstoppable girl in this musical quest to discover the meaning of transience and letting go.

Cast/Voices
Singularity - Emmy the Great
Black Hole - Lore Lixenberg
Vultures - Arthur Smith, Steven Hartley

Graduating Crew
Director/Writer - Renee Zhan
Producer - Jesse Romain
Screenwriter - Vanessa Rose
Cinematographer - Adam Singodia
Production Designer - Richard Henley
Production Manager - Lorenzo P. Monti
Editor - Armiliah Aripin
Sound Designer/Dubbing Mixer - Ed Rousseau
Composer - Harry Brokensha
Marketing and PR - Edoardo Pinto Bonomo
Lead Model Maker - Helen Ferguson
Model Makers - Gemma Byrne, Narika Jaggard, Penelope Konstantara, Grace Lawrence, Agathe Lederer, Roisin McCallum, Sophie Monks, Rosemarie Nelson, Alice Simonato, Jake Teale
CG Lead - Kristiāna Turlaja
CG Artists - Valerie George, Mafalda Soares, Yilin (Lesley) Cai
Compositors - Eliis Kuusk, Kristiāna Turlaja
Colourist And Online Editor - Francis Qureshi

Something Borrowed



Synopsis
Pen to paper, a sweet old woman can't find the right words. But when she lends her pen to a hopeless young chap, it's more than just words that elude her.

Cast/Voices
Jane Horrocks, Jason Watkins

Graduating Crew
Director/Lead Animator - Micky Wozny
Producer - Andrew St Maur
Screenwriter - Nathan Hardisty
Cinematographer - Twan Peters
Production Designer - Gabe Robertson
Production Manager - Malika Ruzmetova
Editor - Jan Schroeder
Sound Designer/Dubbing Mixer - Ruth Knight
Composer - Ethan Jeffrey
CG Artist - Jordan Carter
Colourist And Online Editor - Andrea Lo Priore

Isle of Us



Synopsis
Haunted by the ghost of war, a stoic Syrian barber is trying to build a home for himself and his family on a remote Scottish island. He must find a way to survive this new unfamiliar life and protect the memory of Syria for his young children.

Graduating Crew
Director/Producer/Camera/Sound Recordist - Laura Wadha
Production Manager - Priya Sidhu
Editor - Jan Schroeder
Sound Designer/Dubbing Mixer - Ruth Knight
Composer - Harry Brokensha
Colourist And Online Editor - Michael Pearce

Miss Curvy



Synopsis
Miss Curvy is a film about a Ugandan mother trying to navigate her past traumas through participating in Africa's first beauty pageant for plus-size women.

Graduating Crew
Director/Producer- Ghada Eldemellawy
Camera - Fabio Mota
Production Manager - Brendan Kavanagh
Editor - Gareth Pugh
Sound Recordist - Sam Jenkins
Sound Designer/Dubbing Mixer - João Fonte
Composer - Sarah Ann Boughton
Colourist And Online Editor - Nigel Tadyanehondo

The Flying Gold of Arabuko



Synopsis
The Flying Gold of Arabuko is the literal and living story of 'the butterfly effect'. It follows the practise of butterfly catchers and famers in Kenya and how it has become an unlikely saviour of the last and largest indigenous forest of the East African Coast. It is told through the perspective of an ex-illegal logger and poacher, Charo Ngumbao. Like many others in the area, he has left his past exploitative livelihood behind and discovered the benefits of forest conservation through sustainably farming butterflies to supply tropical butterfly houses around the world.

NFTS Crew
Director & Cinematographer - John Davies
Composer - Madison Willing
Sound Design - Markus Andreas
Grade - Francis Qureshi
ACs - Jake Davison, Daniel Stuart

Painted Ladies



Cast/Voices
Narrator - Jessica Mills

NFTS Crew
Director & Producer - Megan Brown
Composer - Fabio Amurri
Sound Designer - Zoltan Kadnar
Colourist - Marco Valerio Caminiti
Musicians - Helena Gourd, Lydia Griffiths, Samuel Rapley

Shoal



Synopsis

In an isolated coastal town, where everyone knows everyone, Eliza works shifts at the local fish factory while her fisherman dad goes out to sea. When an apparent accident happens, rumours start spreading, and Eliza has to decide whether she fully trusts her dad.

Cast/Voices
Eliza - Anna Munden
Ian - Bartley Burke
Connor - Cassian Bilton
Linda - Tracey Bargate

Graduating Crew
Director - Tammes Bernstein
Producer - Jamie MacDonald
Screenwriter - Theo Wanderydz
Story - Tammes Bernstein, William Gillies, Theo Wanderydz
Cinematographer - Adam Singodia
Production Designer - Steven X. Haber
Assistant Directors - Marguerite Poupinel, Caroline Frandsen
Assistant Cameras - Stefano Steno, Davide Scalenghe Migliarini
Production Managers - Malika Ruzmetova
Editor - Ona Bartroli Portell

Who Goes There?



Synopsis
1880: Three Norwegian sisters' trust is tested when a stranger appears on the prairie. When the eldest invites the man in to heal her dying sister, she doesn't realise that a supernatural force is crossing her threshold.

Cast/Voices
Ingrid Helland - Nina Yndis
Outcast - Liam McMahon
Liv Helland - Siri Meland
Ada Helland - Rikké Haughem

Graduating Crew
Director - Astrid Thorvaldsen
Producer - Leah Bethany Jones
Writer - William Gillies
Cinematographer - Graham Boonzaaier
Production Designer - Peter Coulthard
Editor & Online Editor - Ami Aripin
Composer - Adam Speck
Sound Designer - João Fonte and Ines Adriana
Production Sound Mixer - Nicholas A. Ager
1st Assistant Sound - Jonathan Willett
Production Manager - Amy Vearncombe
VFX Supervisor - Eliis Kuusk
VFX Producer & Colourist - Andrea Lo Priore
CG Artists - Valerie George, Mafalda Soares, Eugenio Troiani
FX Artist - Miya Shen
Compositors - Dominik Bari, Nicola Bosari, Yilin Cai, Eliis Kuusk
Assistant Colourist - Francis Qureshi
1st AD - Gabriel Lippe
2nd AD - Laura Briggs
3rd AD - Rosie Collins
1st AC - Mark Frendo
2nd AC - Romyn Sharma