StoryFutures Academy, the National Centre for Immersive Storytelling jointly run by the National Film and Television School (NFTS) and Royal Holloway University of London, announces that one of its creative partners, REWIND, a world-leading immersive production studio, will host the Academy's first work placements for a senior level professional from the film, television, theatre or games industries, following a pilot bootcamp training programme in January 2019.
The Academy, which opened its doors in December 2018 and is funded for three years by the government's Industrial Strategy Challenge Fund, will develop cutting-edge creative training and research programmes in immersive storytelling to ensure the UK creative workforce is the most skilled in the world in the use of VR, AR and MR. Work placements are a key part of the Academy's remit in addition to immersive labs, writer's rooms and co-funded productions. The Academy will run 15 training bootcamps leading to 30 paid work placements for established storytellers and senior level professionals from the film, television, games and theatre industries in key immersive production roles (from producers, to writers, cinematographers, sound designers and directors) on live productions with a range of creative partners.
The first group to take part in this cross-sector programme, is formed of 12 senior level participants from TV and the digital sector (see editor's notes for full list of participants) who have many of the transferable skills required for a producer role at REWIND. REWIND is fully involved in the running of the pilot bootcamp which will take place on 10th-14th January 2019 at both NFTS and REWIND in St Albans culminating in a selection process for the placement awardee. The bootcamp aims to get those from the more traditional sectors up to speed with latest trends and best in class examples of VR, AR, MR and 360 video work (including Grenfell: Our home from Parable, and 59 productions for Channel4, Home a VR-Spacewalk and David Attenborough's Hold The World from Factory 42 at the National History Museum), while analysing the value of these new forms of media when it comes to storytelling.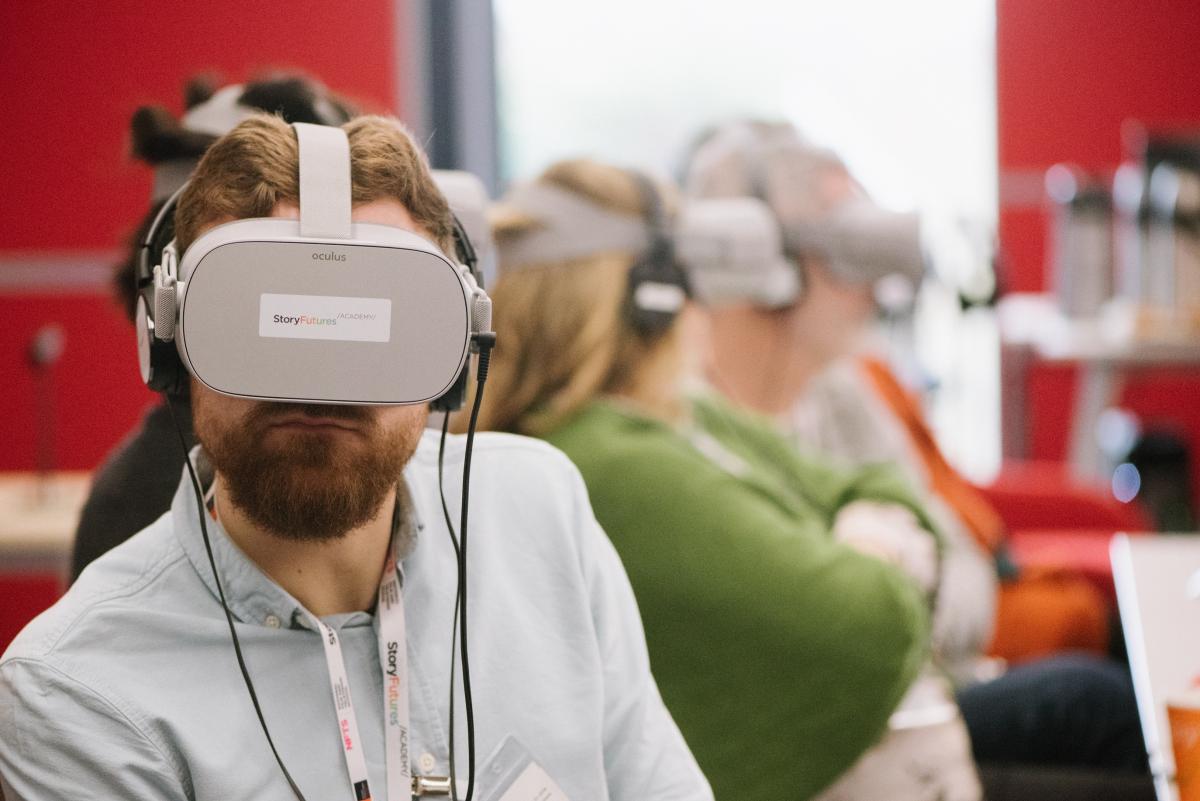 The REWIND team will share the end-to-end processes of how they approach, design, craft and deliver some of their award-winning productions. The studio has created Ghost In the Shell VR for Paramount, taken the show Silicon Valley into VR for HBO, and helped Red Bull Air Race imagine the future of the world's fastest motorsport through MR and the HoloLens. The company has also pioneered its own pipeline and tools for the creation of immersive experiences, designed to streamline the development of content and continue to push the quality bar.
The first cohort will be taken through a series of workshops on interactive design and the key principles of running projects using Agile (a project management methodology). Aside from the onward journey for one or two participants onto a live production work placement, all will become part of a pool of 'immersive placement ready' talent for a whole range of StoryFutures Academy creative partners to call upon.
At the end of the bootcamp, REWIND will host a selection panel and ultimately select one to two people for the placement within the production team. The paid placement will be for six weeks and will involve mentoring and getting hands-on with live projects.
StoryFutures Academy Executive Producer, Amanda Murphy said: "StoryFutures Academy's mission is to help the immersive sector fulfil its potential and projected growth by addressing two key barriers our creative partners have identified. Firstly, that the industry has been limited as it is technology led and needs to focus on storytelling to attract new audiences; and secondly the skills shortage and lack of a robust skills supply chain is a real barrier to growth. Bringing in seasoned storytellers and skilled people from the traditional TV, film, theatre and the games industries will allow this sector to draw on the existing vast knowledge and experience and ultimately create a much greater pool of 'immersive ready' talent. I've worked in TV and digital for over 25 years and the excitement about this is palpable. It makes total sense to harness this interest, and help the immersive sector look at new ways of telling stories, and new ways of engaging with audiences. It's fantastic that REWIND has come on board as our pilot partner; they are an extremely forward-thinking business who share our goal of making this another success for the UK.'
Sol Rogers, CEO and Founder of Immersive content studio REWIND, said: "We are excited to be StoryFutures Academy's inaugural work placement partner. It's an important pilot for the industry, the supply chain will not change unless initiatives like these are pursued. We are a prominent business in a fast-moving and growing industry and we are always on the lookout for talented and highly skilled people. This work placement is a valuable opportunity for us to bring diverse talent into our immersive world and to confront some of the challenges the industry faces around storytelling and addressing wider audiences. This new cross-sector innovative approach will help to further cement the UK's position as leaders in immersive content creation."
For more information, please visit www.storyfutures.com/academy
ENDS
Press contacts:
StoryFutures Academy: Vicky Hewlett, Head of PR and Communications, National Film and Television School – vhewlett@nfts.co.uk
REWIND: Jude Forbes, REWIND, Head of Marketing – jude@rewind.co
Editor's Notes
Bootcamp participants include: Katie Boston (Head of Production), Neville Daniel (Freelance Digital Product Manager), George Sawyer (Series Producer), Leo Gizzi (Producer/ Director MAKE WAVES), Dominique Unsworth (Producer, Resource Productions), Lisa Mac Hale (Founder and MD at new digital agency Ripple Studios Ltd.), Charlie Hayter (Senior Story Producer), Michael Orwell (Director / Interactive producer), Laura Jordan-Rowell (Unit Manager BBC Studios Digital), Sam Anthony (Creative Director), Steve Shannon (Creative Director/ Exec Producer), Paz Mendez Hodes (Producer, Kyra TV)
About REWIND
REWIND is an immersive content studio with a passion for VR, AR, MR and beyond. By fusing bleeding-edge technology with award-winning creative storytelling, REWIND leads the way in innovative content creation and delivers immersive experiences for the world's largest studios, agencies and brands. The team combines its deep-rooted heritage in VFX and CGI production with an industry-defining approach to immersive content creation and experiential marketing. REWIND works closely with Oculus, HTC, Sony, Samsung, Google, FOVE, Meta, Microsoft HoloLens and Magic Leap.
About StoryFutures Academy:
StoryFutures Academy is the new National Centre for Immersive Storytelling run by the National Film and Television School and Royal Holloway, University of London and funded by the government's Industrial Strategy Challenge Fund. The Academy will develop cutting-edge creative training and research programmes in immersive storytelling to ensure the UK creative workforce is the most skilled in the world in the use of VR, AR and MR. We believe story is the missing link and the key to unlocking audience engagement in immersive and will enable content creators to engage new audiences. StoryFutures Academy will work with established storytellers including Sir Lenny Henry, Asif Kapadia, Alex Garland and Sarah Gavron to help them experience and exploit opportunities in immersive storytelling through a series of immersive labs, writer's rooms, work placements and co-funded productions.