We caught up with NFTS Registry Co-Ordinator, Linda Peplow to find out more about funding options for NFTS courses.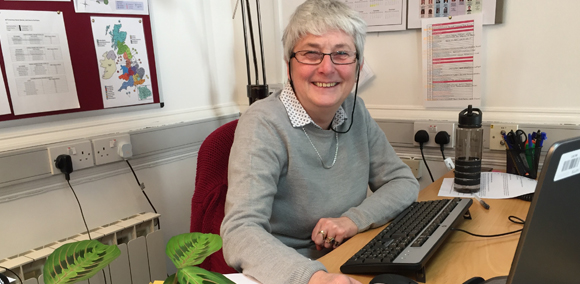 What funding options are there for British citizens applying for NFTS Diploma courses? "NFTS Scholarships are available for our full time Diploma courses starting in September 2019 or January 2020. More than £100,000 is available to support students on Diploma courses, including Assistant Directing and Floor Managing, Cameras for Television Production, Creative Producing for Digital Platforms, Location Sound Recording, Model Making for Animation, Motion Graphics and Titles, Production Management for Film and Television, Sound for Television Production, Sports Production and Vision Mixing for Television Production. This is equivalent to five full scholarships or 10 half scholarships, with the final allocations decided on the basis of need. Students who are offered a place on one of our Post Graduate Diplomas are then eligible to apply for this funding support. Scholarship applications are means tested and designed to help students, no matter what their background or circumstances, to afford their tuition fees."
What funding options are there for British citizens applying for NFTS MA courses? "All students from the UK, who are offered a place on our MA courses, are invited to apply for the NFTS MA Scholarship Programme. 8 in 10 UK MA students, who completed a funding application, received support from a fund which is currently in excess of £800,000. These scholarships are provided by a named individual or institution with connections within the industry and the School. Many of our awards carry considerable prestige, as our donors have an interest in mentoring the recipient of their award."
Do these funding options apply if I'm from the EU or other countries outside the UK or EU? If not, what funding options are available to me? "We can only offer NFTS funding and scholarships to UK applicants. However occasionally we do have some other scholarships available to EU and International applicants depending on the course you are applying for. The latest information on funding can be found on the course specific web pages on our website."
How do you make decisions to award scholarships? "Funding applications are means tested and provide help towards tuition fees. All funding applications received are considered by a panel made up of senior NFTS staff and industry professionals, many of whom are donors themselves."
Are there other institutions who offer scholarships, bursaries or funding opportunities? "Students accepted on our MAs and many of our Diploma courses are eligible to apply for the prestigious BAFTA Scholarships. The BAFTA UK Scholarship Programme is part of a charitable activity to support talented people at all stages of their career in film, games and television. Details about the BAFTA Scholarships can be found here."
I'm concerned that I can't afford my fees but I really want to apply, what would you advise? "The NFTS is committed to ensuring it is open to students of genuine ability, no matter what their background or financial circumstances. As an institution that develops the next generation of creative talent we feel a special responsibility to ensure our creative industries reflect the full diversity of our country. So if you have the talent and the commitment, we want to give you the opportunity to fulfil your potential. We don't want anybody to be put off applying for a place at the NFTS because of the cost. We will do all we can to help you make the finances work to come to the NFTS."
For more advice about fees and funding, contact studentfunding@nfts.co.uk and check out our funding guide here.