All signs of the Zodiac were in for a treat when David Fincher was one of the first to agree to host a virtual Masterclass for NFTS students who are currently studying from home due to the coronavirus pandemic.

David's online seminar blew up The Social Network of the NFTS (@NFTSFilmTV) after he hosted it live from his L.A. office on Tuesday via Zoom, talking directly to over 450 of our students. It became a trending topic on Twitter in the UK, Ireland, Canada and Australia and even garnered a tweet from the official home of the Oscars, the esteemed Academy!
​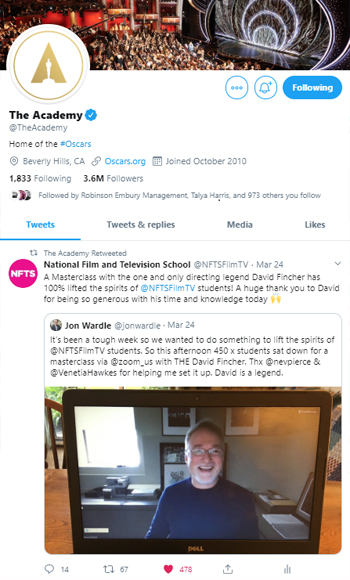 First rule of Fight Club NFTS Masterclasses is you don't talk about what's said in the Masterclass – enabling an incredible session in which David could be frank and detailed about his filmmaking process.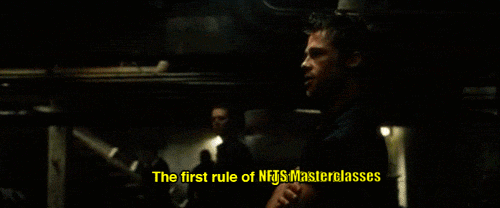 Many students were as Curious as Benjamin Button about all elements of David's film making process and he answered many of their burning questions about Cinematography, Composing, Editing and much much more.

David very generously gave NFTS students over 90 minutes of his time and like Panic Room, the whole experience of having David Fincher deliver a live, once in a lifetime Masterclass was a thrilling ride from beginning to end.

David's rare appearance generated a huge buzz around the world and was covered by numerous outlets including

Indiewire

,

People

and Dazed, with

The Telegraph

billing David's Masterclass as a 'Cure for Covidiocy.' The news that he had Gone (Girl) above and beyond to cultivate the next generation of directors via an NFTS Masterclass brought a much-needed boost not only to our students but to the wider world!

In true David Fincher style, his parting words to the students were ones that would stay in each student's Mind(Hunter) forever.
Students at the NFTS benefit from once in a lifetime Masterclasses, hearing directly from acclaimed Film, TV and Games makers from around the world. During this period, we are working hard to deliver more virtual Masterclasses to our students as they study from home and are busy lining up some more fantastic names with Sally Wainwright, Jesse Armstrong and Edgar Wright also having hosted for us via Zoom. Watch this space! For more info: https://nfts.co.uk/masterclasses
27/03/20