Students were treated to an in depth and laughter-filled analysis of acclaimed film Benjamin with its BAFTA nominated writer-director, comedian Simon Amstell, and the film's Cinematographer, NFTS graduate Dave Pimm.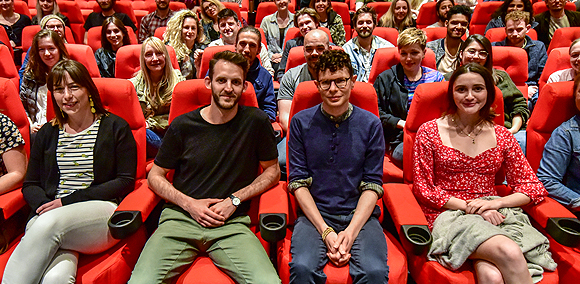 The pair chatted to NFTS Head of Documentary, Peter Dale, who began by congratulating them on the film and asking how it came about. "I wanted to write something about my failed relationships and started by simply typing up those I'd been in; two stood out – one became the film within the film and the other the Noah story." Simon explained. Benjamin's eponymous hero is a rising young filmmaker, thrown into emotional turmoil by a burgeoning romance and the upcoming premiere of his second feature, 'No Self'. The Guardian praised Benjamin as "A miraculously heartfelt love story, sweet and poignant in all its awkwardness."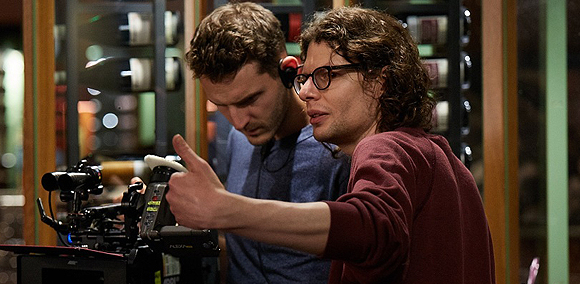 One of the producers of the film, Alexandra Breede, another NFTS alumna, recommended Dave as the cinematographer and he went along for a meeting with Simon not long before shooting was due to start. Discussing that initial meeting Dave said "It's a film about someone who's struggling with being open. I find if you can analyse a script as a cinematographer in a human way it usually means you'll connect with the filmmakers." Simon described how once Dave was on board, the two of them sat together in a café going through every scene, focusing first on characters. Between them they evolved a way for the camera's action to be an integral part of showing who each character is - moving and being used in a different way for different characters. They explained that when Benjamin is alone the camera is very static, then once Noah arrives in his life it is much lighter in the way it moves and for Billie, the hard-partying publicist, because she is like a whirlwind they chose to have the camera always panning with her to give a sense of the chaos she brings into people's lives. "We looked at the script scene by scene and what each character is about", Dave recalled, "it was very collaborative from the start."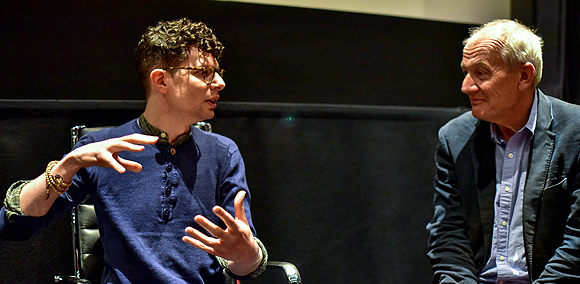 Discussing camera and lighting choices Simon said "We got to do a lot of deliberately pretentious stuff in Benjamin's film 'No Self', and one of the rules was to not do anything that Benjamin would think was brilliant.
Discussing moving from writing his stand-up monologues, similarly very self-exposing and self-exploring, to writing dialogue, Simon revealed one of his techniques was to invite friends round to improvise scenes. Another was to speak into a Dictaphone, playing the different characters himself. "It feels like it comes out more honest, you surprise yourself with what you end up saying." Simon was full of praise for his script editor Kate Leys. "She pointed out that Benjamin had surrounded himself with people who aren't able to challenge him and what he (and the story) desperately needed was someone to tell Benjamin what was wrong with him. From that I wrote the scene with his ex outside the restaurant, which then created the crisis required to get us to end."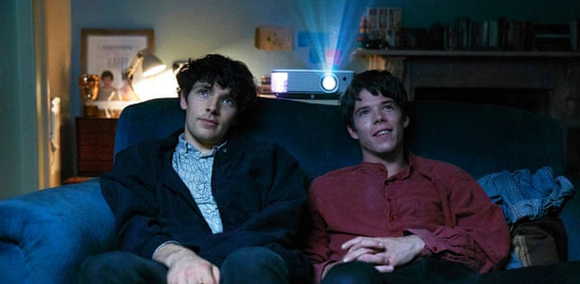 Peter asked about the way the script nimbly moves back and forth between humour and darker moments. "It's all coming from character, from the truth of the situation" Simon said, "and whether we believe that someone would act like that." Enthusing about the cast, Simon said "Colin Morgan [Benjamin] has the rare talent of being naturally funny and someone you really care for. Everything came from this truthful place. For Noah, we'd originally been looking for an English actor, we only really knew that he needed to be from 'away' and then I remembered seeing Phénix Brossard in The Departure. He came over to audition, and aside from his chemistry with Colin being incredible, when it came to moment in the script where Noah pulls his top off, he actually did and I thought, this is the guy!"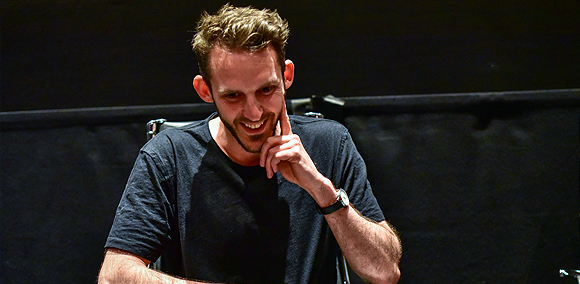 Simon and Dave discussed the importance of creating a good mood on set, "We started the day with some Oms, and it really worked!" Simon expanded "Everything you do has to be to protect the vulnerability of actors and their willingness to be so open. The aim is to keep the set as free of tension as possible. Dave added "You excel when there's no stress. I learnt here at the NFTS about retaining calmness. It doesn't help anyone if the DP gets stressy about anything – it filters through and affects everyone."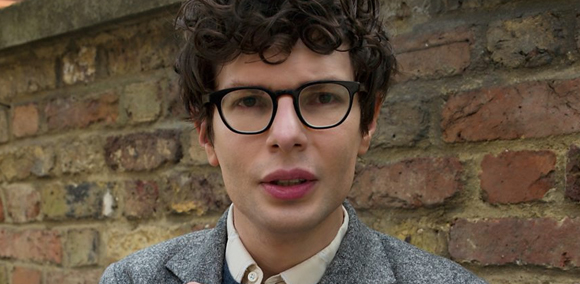 When it came to the edit Simon said it helped that because it was a low-budget film they knew they wouldn't be able to do any re-shoots, "so we made sure to have a tight script before we started shooting, and then it remained pretty close to the final shooting script. The editor, Robin Peters, was really great. There was a moment where I felt like we could just lose a scene completely because we didn't really need it and my memory from the shoot was that it hadn't gone that well. So I kept saying 'let's just cut it it, who needs it?' and then Robin insisted I go and get some lunch so he could see what was possible and when I returned he'd put together was this beautiful, incredibly moving scene, clearly vital to the film!"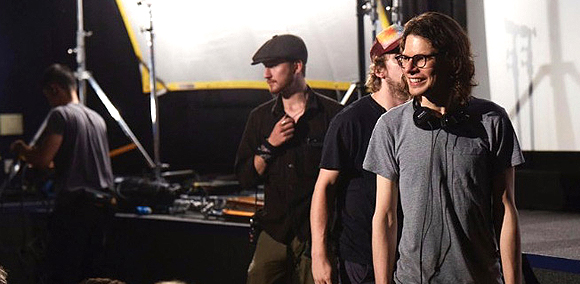 The music was created by James Righton of the Klaxons; James writing the music and Simon the lyrics. "I'd directed a music video for him and thought it would just be lovely to spend more time with him." Simon explained, "He'd never done this sort of thing before, but I sort of followed my joy, which seemed right – the answer to this film is allowing for the possibility of joy by surrendering to the moment. For the score James had this idea that it could be an extension of the music in the piano lesson Noah gives Benjamin and I loved that, because that's what the whole film is about – Noah teaching Benjamin to let go"
"I think filmmaking is about telling the story in the best, most original, truthful way it can be told." Simon told students, "And I like to let actors be very open to try things – as long as the beats of the scene are there they can do whatever they want, so long as the structure is there." Dave concurred, "We just wanted everything to feel very real and honest. And I felt very free to be in the moment and respond to what was happening."
"Tell your truth, let it all out!" Simon urged students, "You know it's good when you're thinking 'I can't possibly tell everyone that!'." Dave agreed, "Being on the edge of your comfort zone tends to lead to good work. It makes for bold storytelling."
Benjamin was released by Verve Pictures earlier this year.