Monday 7 February: The National Film and Television School (NFTS) last week welcomed a brand-new cohort of students to the School for one to two years of intense practical training across almost all aspects of film, TV and games production.
An annual tradition at the School is NFTS Springboard, an introductory week of masterclasses, workshops, film screenings and talks to get our new students completely immersed into life at the NFTS.
Springboard 2022 delivered like never before! Students were left feeling star-struck following Masterclasses from Writer/Director/Producer Asif Kapadia (Laika, Diego Maradona, Amy), Writer/Producer/Director/Presenter Louis Theroux (Louis Theroux: Shooting Joe Exotic, My Scientology Movie), Director/Producer Sarah Gavron (Rocks, Suffragette), BBC Chief Content Officer Charlotte Moore and Writer/Producer/Director/Presenter/Actor Reggie Yates (Pirates, The Insider, Reggie Yates' Extreme).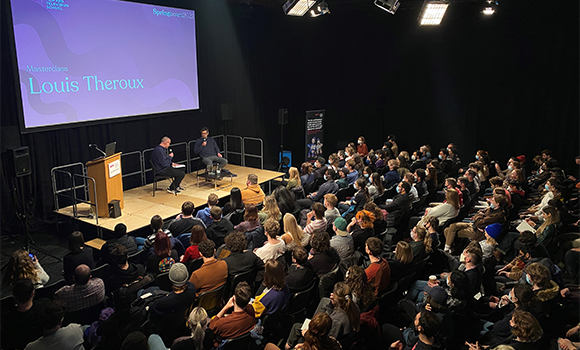 Students also got their first experience of watching exclusive screenings as they enjoyed the recently released Belfast and Cow in our full-size Dolby Atmos cinema, named after acclaimed cinematographer Oswald Morris.
On Wednesday night, courses were pitched against each other for The Big Quiz which tested their knowledge on everything from film, TV and games, to general knowledge trivia.
Over 150 students took part and the winning team was announced as the Marketing MA students with 81 points, the highest score we've ever had on the quiz. Our new TV Entertainment MA students came in a close second place with 77 points. The Games students won Best Team Name with 'Nintendon't Even Go There"!
Thank you so much to these 5 @NFTSFilmTV graduates who came back to the School today for a panel Q&A at #NFTSSpringboard2022

So valuable for our new students to hear them talk candidly about their time at NFTS & their amazing careers since leaving!#NFTS pic.twitter.com/dkDCpEUH2P

— National Film and Television School (@NFTSFilmTV) February 3, 2022
The week finished off with a day of Open House talks discussing topics including The Business of Games, Creativity and Leadership and Who Does What On Film.
We'd like to give a big congratulations to all the students who were successful in their applications. We hope you grab this incredible opportunity to study at one of the world's top film schools with both hands, create great work and also have loads of fun!
Keen to have a seat at Springboard 2023? Visit nfts.co.uk/courses to take a look at our wide range of industry renowned courses and start your application today.
#NFTS