We caught up with British Short Animation BAFTA winner and NFTS Directing Animation MA student, Paloma Baeza to find out more about her multi award-winning animation, Poles Apart, which tells the story of un unlikely meeting between a polar bear and a grizzly bear in the melting Arctic.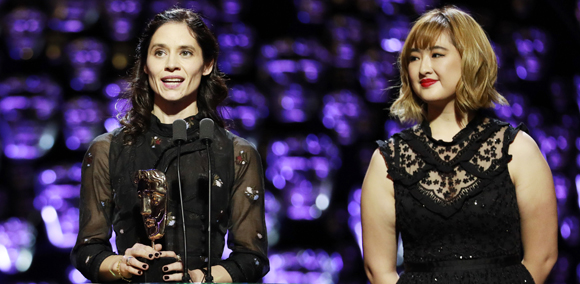 The film has also won 'Best Student Film' at the prestigious Annie Awards and the McClaren Award for New British Animation at the Edinburgh Film Festival.
How does it feel to win a BAFTA and an Annie Award?! Well it's really amazing. The film's success has surpassed our expectations and it's so great to see that it's connecting with such varied audiences.
Can you tell us a bit more about how you came up with the story for Poles Apart and what inspired you? I was looking for a story primarily about two characters since I knew that would be achievable with our time and budget. And I loved the idea of the characters being animals. I saw this article describing an Arctic landscape seen from a helicopter, with a single dark figure moving across it - a grizzly bear. It described the effects of global warming on a melting Arctic and how Grizzlies and Polar bears were increasingly coming together. This seemed like the perfect backdrop for an unlikely friendship, with a message about our changing world at it's heart.
What kind of challenges did you face when making Poles Apart? It was always an ambitious project, so we had to be very strict with our schedule and make sure we completed our weekly shots, even it meant staying late sometimes. One of the biggest issues on long shots was that temperature changes made the set move - which meant we couldn't turn the lights off mid-shot. We'd have stay until the shot was finished, sometimes taking turns to animate through the night.
You were an actress before you came to the NFTS – what was the driving factor behind your career change? I had written and directed some live action shorts, but had always been interested in animation. This had led to me experimenting with stop-motion at home, not really knowing how it worked. Eventually I felt that if I didn't explore this fully now, I never would, and I applied to the NFTS.
What were the highlights of studying at the NFTS? I loved collaborating with other students from all disciplines, and our team on Poles Apart was exceptional. I also think each project we did as we went along taught me something and I enjoyed that challenge.
What are your ambitions now you have graduated? To keep telling stories! I feel very liberated now I understand animation in the way I hoped I would, so there are several potential projects in the pipeline, from a hybrid film to a contained sitcom starring more talking animals.
If you would like to follow in Paloma's footsteps, more info at www.nfts.co.uk/animation